Dingle has to be one of the most loved towns in Ireland, adored by both locals and tourists visiting the Emerald Isle. Not only is it home to Fungie the Dolphin, and the famous Dick Mack's pub, but Dingle accommodation options mean cute Airbnbs, historic hotels, and unique homestays.
We've put together this list of the best places to stay in Dingle — perfect for a weekend escape, or longer!
Whether you're interested in sea views, farm stays, stone homes, glamping pods, or hotels with hot tubs, find out where to stay in Dingle in this guide.
For fun things to do while in town, this post should help. And, don't forget to have a look at our in-depth guide to visiting Dingle.
Here are 7 Cool Places to Stay in Dingle, Ireland:
1. The Stone Cottage – great for friends and family
This beautiful stone cottage is located just outside of Dingle Town and is a firm favourite on Airbnb. The cottage comes with outdoor decking, a BBQ area, a wood-burning stove, and of course amazing views.
This 150+-year-old cottage can sleep up to eight people and is perfect for a relaxing getaway with a rustic feel. Enjoy a coffee on the deck with fantastic views of the waves crashing against the cliffs. Bring some drinks and enjoy them by the wood-burning fire.
It's less than 15 minutes to the center of Dingle. The cottage has many of the amenities you'd want for your stay in Dingle — a laundry machine, BBQ, woodburning fireplace, and TV.
It's on Airbnb, but is often booked up. Of all the places to stay in Dingle on offer, this is one of the most unique. Click here to find out more about this gorgeous cottage.
2. The Lodge – renovated cottage stay
Located right in Dingle Town, the location of this newly renovated 19th-century cabin is unbeatable. If you want to be located in the heart of it – yet enjoy a peaceful night's sleep- when you visit Dingle town, then don't miss this lovely place.
The Lodge offers an old Irish feel, with all the comforts of the modern world. You'll find The Lodge just a 5-minute walk to the center of Dingle, yet the property is set in a quiet, natural setting.
Cozy up by the fire with a book, or watch Netflix on the TV, it's up to you. Included in the price of around €100 per night, you'll receive some basic items in the house (cereals, fruit, seasonings, oil, etc.). Find out more about this great accommodation option in Dingle on Airbnb, here.
3. Dingle Bay Hotel – room with a view
If you're looking for a place to stay in Dingle that is in the centre of town, you can't beat the location of the ever-popular, family-run Dingle Bay Hotel.
Rooms here come with an amazing view of the harbour and you couldn't be any closer to the town, all the pubs, and the ocean if you tried.
The hotel offers free parking, a stylish bar, and a restaurant serving up delicious locally sourced food including Dingle Mussels caught fresh daily.
You'll also love their hearty Irish breakfast, freshly cooked and made with locally sourced ingredients, served each morning in Long's Restaurant.
If you're in town for some live, traditional music, head next door to Paudie's Bar which has live music each night. Click here to find out more about Dingle Bay Hotel, including availability, reviews and costs on Booking.com.
4. Dingle Sea View and Walk to The Beach
Another gem to be found on Airbnb, this guest studio suite is one of the most popular and highly rated places to stay in Dingle. Located just 2.5 kilometers from Dingle Town in the hamlet of Beenbawn, you'll find the lovely cottage.
This beautiful property is just a 3-minute walk to Beenbawn beach and the cove (where you will most likely spot the resident dolphin, Fungie). If the weather is right, go for a swim or try your hand at fishing!
A 5-minute walk brings you to a pre-Christian historical fort site, while the top of Beenbawn head with spectacular views of the Dingle Bay just steps away as well.
If you're an animal lover, you'll enjoy meeting the outdoor cat, the friendly onsite dog, and the horse as well. From the kitchen, enjoy views of the sea and out to Skellig Michael, or take your tea outside to enjoy the view.
This property is one of the more affordable ones at around €75/night. Find out more about this lovely gem near Dingle here on Airbnb.
5. Old Irish Farmhouse – a rural farming experience
If you're a tourist visiting Ireland, or maybe you spend your working life in one of Ireland's main cities, then a country escape and a stay in an old Irish farmhouse might be quite the novelty.
This is another incredible place to stay in Dingle. Located on the Peninsula in the Kerry region, this beautiful place to stay offers everything from cute little lambs and beehive huts, to a yummy breakfast and ocean views.
The Old Irish Farmhouse is directly on Slea Head drive, making road trips very convenient. This is one of the more rural (and magical!) places to stay in Dingle on this list.
The reviews of this property are glowing, for good reason. Find out more about this incredible farmhouse stay in Dingle here.
6. Dingle Skellig Hotel – with pool and hot tub
For those chilly days in Dingle (and let's be honest, there are more than a few…), relaxing in a spa pool while the cool air hits your face is a great way to end the day.
The Dingle Skellig Hotel is a highly rated accommodation option set just 200 meters from Dingle Bay, and just a 10-minute walk to the center of town. The location is great.
Due to its location, you'll enjoy incredible views from the hotel itself, the dining room, and the outdoor pool and hot tub area as well.
If you're looking for a gorgeous hotel stay in Dingle, this is a good bet. Find out more about the Dingle Skellig Hotel, including reviews, availability and prices on Booking.com.
7. Glamping Pods on The Dingle Peninsula
Fancy being a little adventurous? While not exactly in Dingle itself, you can stay in some cool glamping pods in Annascaul on the Dingle Peninsula.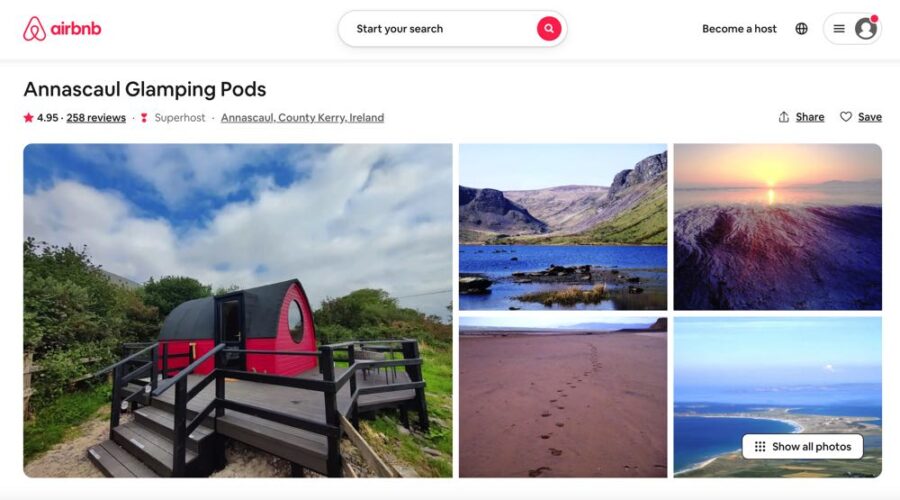 Located 15 kilometers from Dingle Town and just 6 kilometers from Inch Beach, this is a great place to be out in nature, while enjoying the comforts of your pod.
This wild area is absolutely stunning — enjoy trees and flowers right next to your pod, the river nearby and if you're lucky, you'll spot an otter. Did I mention that there's a pygmy goat on the property as well?! So cute.
This is the spot to be if you enjoy natural beauty, hiking, beaches and being away from the crowds.
The pods offer a double bed, attached bathroom, radiator for those cool days, a mini-fridge, BBQ and picnic area. Find out more about this cool place to stay in Dingle here on Airbnb.
Bonus: Best Place to Stay in Dingle with a Hot Tub
After a long day of exploring, there's nothing better than coming back to your room and soaking in an outdoor hot tub! Gazing out at the cliffs or ocean while sitting in a hot tub is pretty spectacular.
You'll find this stunning Dingle home just 5 miles (8 kilometers) outside of the town of Dingle. Here, you're close to all of the action, yet can enjoy panoramic views of the Atlantic Ocean. The house sits at the base of Mt. Brandon, making it a great area for cycling, hiking and walking.
The property offers guests the use of a coal BBQ, Ooni pizza oven, and a wood-burning hot tub on the patio area. If you don't feel like cooking for yourself, the local pub (An Bothar) is within steps of the property.
Find out more about this highly rated, beautiful place to stay in Dingle on Airbnb.
Now You Know Where to Stay in Dingle
Dingle and the surrounding areas are absolutely stunning. Whether you're interested in exploring the cute town, trying surfing or fishing, doing a road trip around the nearby Ring of Kerry and Slea Head Loop, or simply wandering around deserted beaches, there's something for you in Dingle — and an accommodation option to suit your needs.
If you didn't find a place you were looking for, you can browse Dingle accommodation on Airbnb, or if you prefer hotels, have a look at Booking.com, here. Enjoy your trip and have fun picking out a great place to stay.
Like This Article? Pin it!