After spending a massive amount of time on the Wild Atlantic Way Route last year, I have put together my top 9 must-see gems on the West of Ireland (and a few other recommendations) that you need to see this year!
I have picked gems within each county on the West to show you "must-visits" no matter where you go on your travels. This guide will bring you down the west of Ireland starting in Donegal at Malin Head, and finishing at the most southerly point of Ireland, Mizen Head.
You'll not want to miss out on these places on your next visit to the West — where arguably the best places to visit in Ireland can be found!
Driving the Wild Atlantic Way is one of the top things to do in the west of Ireland with kids, friends, or by yourself. This road trip is a must.
The Best Stops on the Wild Atlantic Way Route
1. Fanad Head Lighthouse, Donegal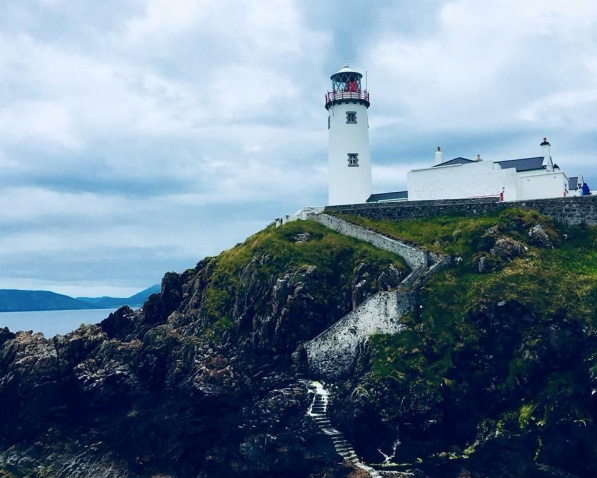 Let's start at the most northern county in Ireland, Donegal. You will be charmed by their accent and adore the quiet, winding roads that are closer to the main towns and cities than you think. Donegal is one of the most hidden secrets in Ireland. So where to go?
Malin Head is the most northerly point of the island of Ireland. This is a great place to start your adventure in the West. The Inishowen Peninsula is renowned for its rugged coastal landscape. It is also where scenes from the new Star Wars films were filmed!
You'll also find the most beautiful white beaches in the country up here such as Portsalon beach. We'd recommend spending the night at Portsalon Luxury Camping. There you can sleep out under the stars and if you're lucky you may even catch a glimpse of the Northern Lights.
I adore lighthouses, and Fanad Lighthouse is one of the best! Up there you can take the lighthouse tour to get to the top and take the wild views of the Atlantic Sea.
2. Glencar Waterfall, Leitrim
Driving down the Wild Atlantic Way, it's very easy to miss out on one small county. Snuggled in between Donegal & Sligo you will find Leitrim. It is there you can find one of the most beautiful towns in all of Ireland!
Glencar Waterfall is something you cannot miss along your Wild Atlantic Way Route. Look out for the patterned planted trees in the hill! There is a carpark on site, then simply follow the waterfall noise for a short walk into the forest. Climbing the steps to get the best view of the waterfall.
3. Benbulben Mountain, Sligo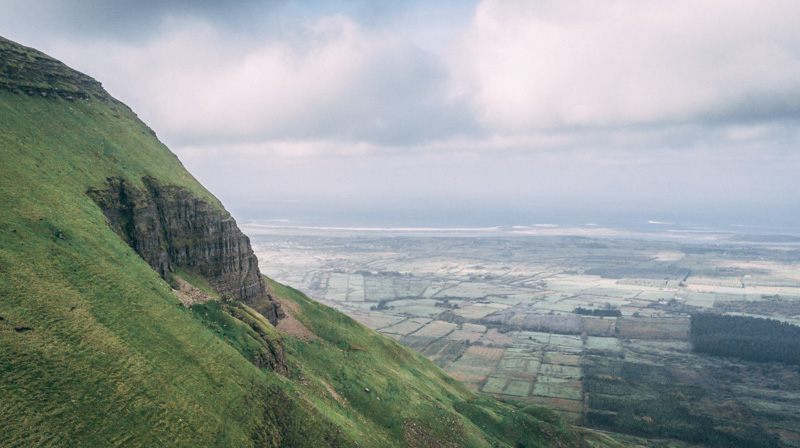 Benbulben Mountain is a sight you will not want to miss while driving from Leitrim to Sligo. The view of the mountain can is very clear from the main road but if you want a closer look, follow the sign-posts.
There is no official trail to hike Benbulben. However, there is a looped walk around Benbulben which will allow you to take it all in. Or you can head over to the nearby Gleniff Horseshoe where you will find some amazing hikes as we as Ireland's Highest Cave.
A must-do in Sligo town is taking a beach walk to Strandhill. You can park right beside the beautiful beach and then explore Sligo's beautiful dunes while watching people surfing in the ocean. There are a number of places to eat & drink on the beachfront. I would highly recommend a Shells Café. And why not try something different with a seaweed bath at Voya Spa!
4. Dún Briste Sea Stack, Mayo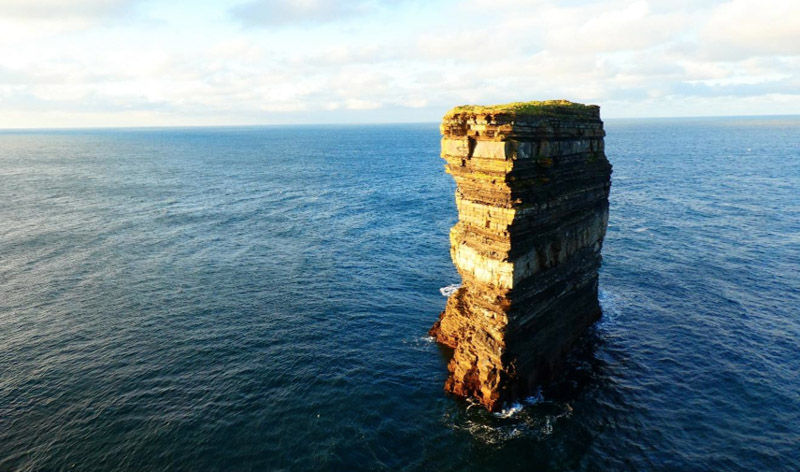 For someone who has travelled a lot of Ireland, 2018 was my first time in Mayo. This is a hidden gem that you have to see.
Downpatrick Head is a must-see in Mayo. There, you can view the Downpatrick cliffs and see ruins of the church founded by St. Patrick along with a stone cross and holy well. There's also a beautiful viewing point of a sink-hole.
But the most unmissable spot along the way is the sea-stack, known as Dún Briste (broken fort). Local legend says that when a pagan chieftain refused to convert to Christianity, St Patrick struck the ground with his crozier, splitting a chunk of the headland off into the ocean, with the chieftain on top!
The sea stack is beautiful as you can see the layers of multi-coloured rock strata.
A drive around the hills of Achill Island will transport you to a land of peace and serenity. Well, that how I felt when I arrived here in the nick of time to catch the sunset over Minaun Heights. As I said before Mayo! is magical Put it on your 2019 bucket list!
5. The Aran Islands, Galway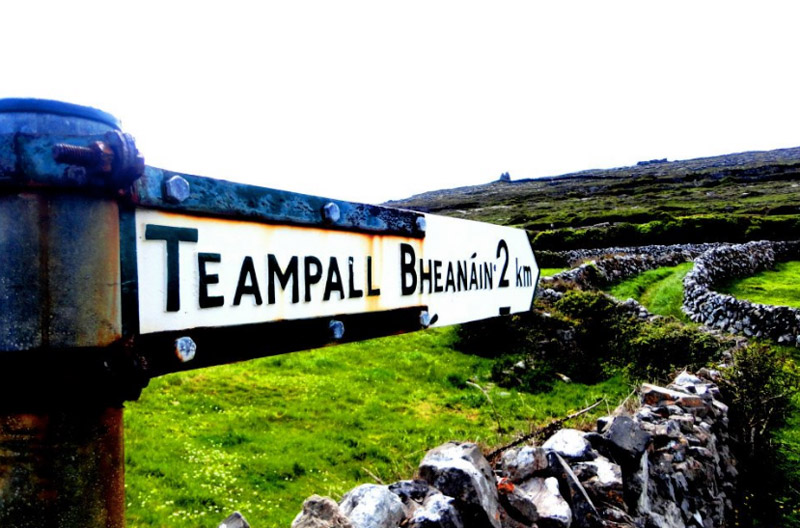 Galway is a very popular county to see in Ireland but sometimes the region of Connemara is skipped. You will need a day to feel like you're stepping back in time to the quieter life in Ireland. There is only one place for this, Aran Islands.
Take the morning ferry across to a chose of three islands, I would highly recommend Aran Mor. The largest island. There you can cycle or travel by horse and cart to where the monks lived, visit the ancient churches and stand at the edge of the world. Next stop America!
If you have a car on your trip to the West, a drive around Connemara is essential to get all the 'I'm in Ireland and it's everything I thought it would be. Connemara is as rugged & wild and is a very special place in Ireland that is not to be missed.
Do what I do and just drive. No google maps or even a map. Just go. The roads are well sign-posted if you do start going around in circles.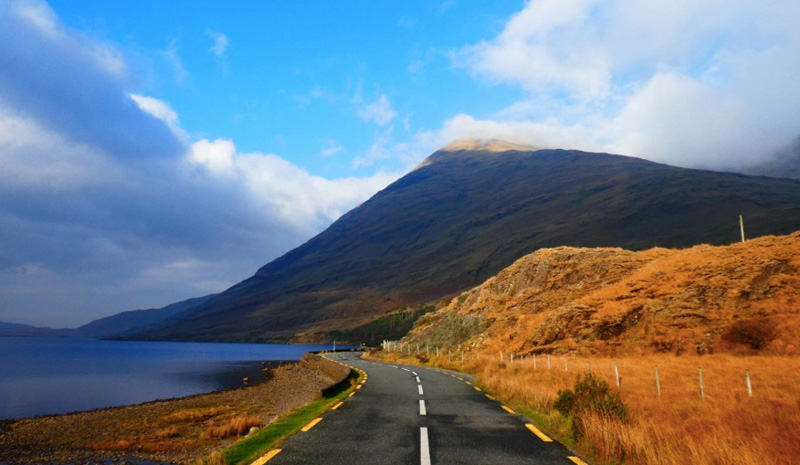 A few tips, if you do see signs for Oughterard or Sky Road Loop takes these roads! Also, take a visit to Kylemore Abbey & Diamond Hill. Diamond Hill is a moderate hike and will take about 3 hours for the loop walk. When you make it to the top, the view of Kylemore Abbey and its never-ending forestry will make the whole hike worth it.
6. Cliffs Of Moher, Clare
The most popular attraction on the West of Ireland is the magnificent Cliffs of Moher. They truly are worth a visit and if you plan your visit at the correct time of day, you will get to enjoy them without the big crowds. Their website is kept up to date and is worth checking out before a visit.
Why not take your visit to Clare a step future and explore the mystery of the landscape. The Burren in Spring is blooming with wildflowers dotted between the rocky landscape. These flowers only grow in Clare and nowhere else in Ireland! You could also visit to the oldest dated megalithic monument in Ireland found in the Burren, Poulnabrone.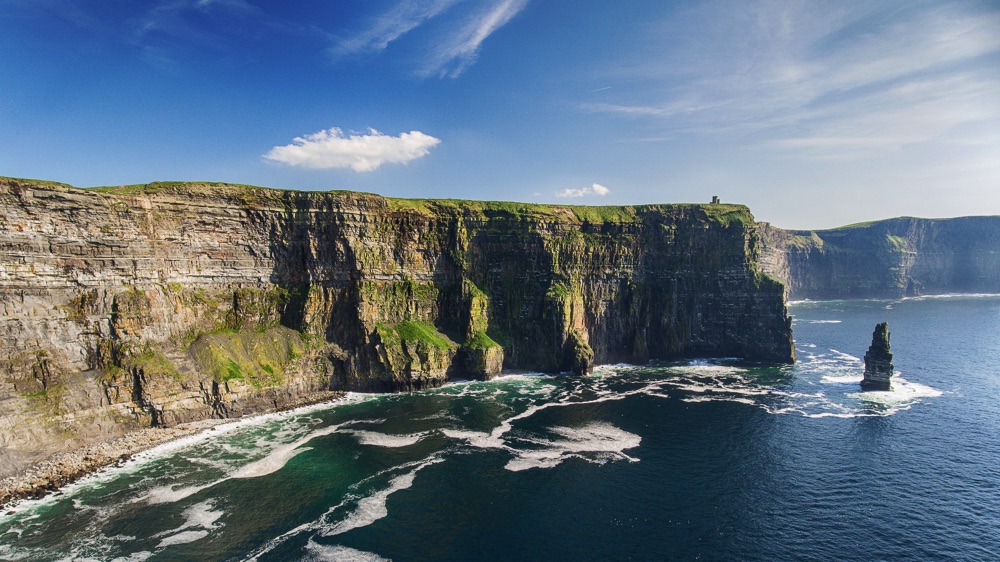 The village of Doolin is also a short drive away from the cliffs and is famous for its traditional music & the best pint of Guinness in Clare.
Another amazing place to explore this unique landscape is to stroll along Flaggy Shore or Lahinch Beach. You could also check out some of Clare's amazing caves. Take a visit to the Doolin Caves or the Aillwee Caves to understand how the land has changed and moved over thousands of years.
7. Limerick City, Limerick
A city that can be easily forgotten on the West of Ireland, but home to castles and craic!! The best thing about a night in Limerick City is the huge selection of pubs & restaurants within such a compact city. You'll find traditional music in bars such as The Locke and Flannery's.
Cocktails at House & 101 O' Connell Street are also a great idea. There are also plenty of 'old men' bars to get your pint of Guinness with the locals.
A weekend in Limerick City will help you unwind during a busy trip around the Wild Atlantic Way Route. If you get the chance, make sure to visit the Milk Market on Saturday mornings and walk around the river path, finishing with a tour of King John's Castle.
8. Dingle Town, Kerry
Kerry is the emerald eye of Ireland and home to some of the most scenic drives in Ireland. A drive around Dingle Peninsula or the Ring of Kerry is a drive you wouldn't forget! There's also one of the most photographed spots in Ireland, Dunquin Head which is definitely worth a visit.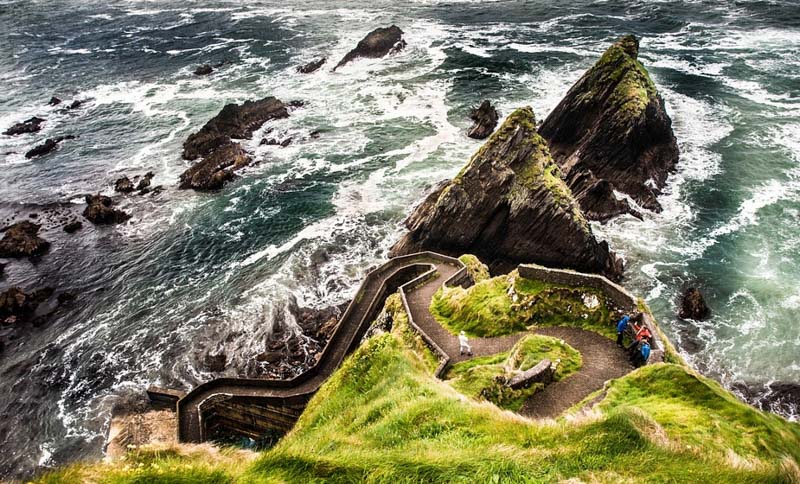 However, Kerry's hidden gem has to be Dingle town. Dingle is home to Fungie, the most famous dolphin in Ireland if not the world! You can take a boat trip into the bay to meet him.
There's also whiskey making, brought back to life in Dingle's own distillery which can be found a short walk out of the Dingle town, where you taste the future of Irish whiskey. There are loads of fun things to do in Dingle to keep you busy.
9. Cobh, Cork
Cobh is well known for it's vibrant, comfortable streets and especially the one pictured! Known as the 'Deck of Cards', the street is a row of beautifully painting houses stacked up on a hill with St Colman's Cathedral perched behind them.
The picture depicts Cobh 'reimagined' without light pollution so unfortunately, the stars won't be as vibrant in real life! But who needs the stars when the houses are so beautiful and multicolored.
We have arrived at the bottom of Ireland's great West in Cork. As you have visited the most northern part of Ireland. A visit to the most southerly point of Ireland is a must, Mizen Head.
Mizen Head is so remote that the peninsula is accessible by a large bridge, where you will find an old signal station, a weather station, and a lighthouse.
Crossing the bridge can be a bit intimidating if you have a fear of heights! This unique location is the home to fishermen, whale watching and a whole host of wildlife.
Like This Article? Pin it!