April is definitely a great time to visit Ireland as the winter chill will finally be ending and spring is in the air. That being said, what is the perfect Ireland packing list for April?
We'd recommend erring on the side of warmth. Over the past few years, March has been one of the coldest months in Ireland and this chill can sometimes spill into April. Though sometimes April can be very mild too. Irish weather can make packing very confusing indeed!
April is a month of rebirth in Ireland and If you are visiting in April be prepared to see a lot of baby lambs running around in the fields and the flowers will have began to bloom. It really is an absolutely beautiful month to visit.
In April the temperature range averages between 5°C/41°F – 11°C/52°F. You will get about 5 hours of sunshine in April and the evenings will certainly begin to stretch, allowing for more daylight.
You have heard of April showers being a thing around the world but surprisingly, April is known for being one of the dryest months in Ireland. We would still recommend being prepared for rain wherever you go because nothing is worse than being soaking wet while exploring a new country! Here's what we recommend to pack if you're coming to Ireland in April:
IRELAND PACKING LIST FOR APRIL
Layers, layers and more layers! April is an excellent month to come out and hike in Ireland but you will definitely need to have plenty of layers on. This means wearing a base layer to keep you dry, a mid layer to keep you insulated such as a fleece, an outer layer to protect you from cold and wind and a shell to prevent you from the rain.
It can be very chilly in the mornings and evenings so it is a good idea to wear long sleeve tops and bottoms.
You will definitely need a good raincoat while travelling in Ireland. Patagonia and North Face do some excellent quality raincoats that will come in handy.
Shoes are an important choice. If you are out hiking, then a good pair of hiking boots with ankle support is a must! But if you plan on seeing tourist sites and walking around the city then a comfortable pair of waterproof sneakers are extremely important. You don't need rain boots.
Thick, insulated socks.
A nice, warm coat and a hat, scarf and gloves. It can be very windy near the coast and at some of Ireland's most popular tourist sites.
Jeans, but be aware that it takes a long time for jeans to dry which is no fun at all!
A universal adaptor, most hotels should have a hair dryer in the rooms but if you bring your own electronics, then a universal adaptor is very important. Some even have USB chargers built in which make them very convenient!
A small compact umbrella.
A day pack while you are out exploring the towns and cities.
GOING OUT ON THE TOWN
If you are visiting Ireland then there is no doubt that you will end up in some wonderful restaurants and very quaint pubs. The important thing to remember is that Irish people are not very fussy! There is rarely a dress code or a certain requirement on how to dress. If you are covered in mud after a long days hike and want a pint of Guinness in the local pub then that is no problem whatsoever!
It is important to remember what we said about wearing layers though because pubs can become very warm and cosy and you will want to take off as many layers as possible so you don't get too hot.
If you end up going to a nightclub then you may see Irish people dressing a bit nicer with men opting for jeans and a nice button-down shirt and women wearing tights, skirts or dresses with ankle boots and a lighter jacket. Most nightclubs or music venues have cloakrooms so you can safely store your bigger coats and handbags (though keep your valuables close just to be safe)
GOING HIKING IN IRELAND IN APRIL
Ireland is a beautiful place to hike in April. Like we said earlier, it's definitely one of the drier months and once you are wearing the right clothes you will have an amazing time.
You need to remember that it can get very cold in Ireland, especially in the coastal areas and during long hikes up mountains so you will need to wrap up warm. In 2018, we visited the beautiful Slieve League Cliffs in Donegal in April and it was very windy and cold so we had to wrap up warm!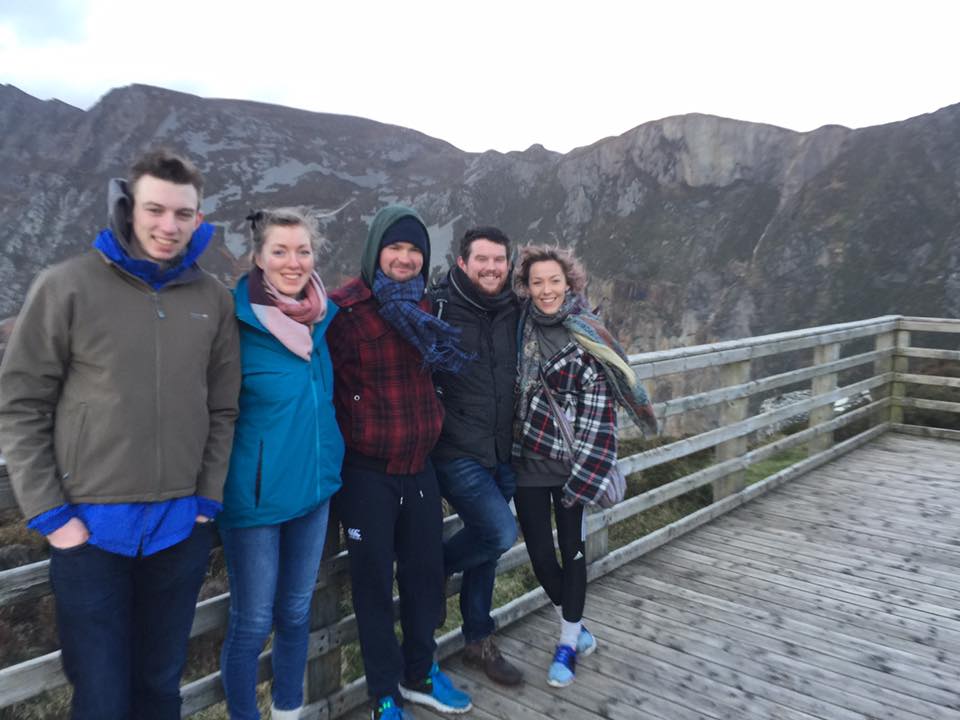 If you want to do longer hikes then waterproof boots combined with thick, insulated socks are very important. There's nothing worse than water getting into your boots and having wet feet all day. Hiking boots with ankle support are a great idea because they are can help against your ankle rolling.
As well as that you should wear the layers we mentioned earlier and find some stretchy, waterproof trousers so that you can stay dry while out on a hike. I usually wear shorts regardless of the weather but I have been caught out a couple of times and ended up very cold indeed! Snoods are great around the neck because they are very warm and less bulky than traditional scarfs. On your back, you should have a small daypack with you with a bladder inside so you can drink water on the go.
WALKING AROUND THE CITY
If you are visiting Ireland there will be a good chance you will spend hours walking around the streets of Dublin, Galway, Cork, Belfast and many other beautiful towns and cities. The most important thing above all else is comfortable footwear! You would be surprised as to the amount of mileage you can accrue so make sure you have a comfortable, sturdy shoe or sneaker. Many Irish streets have cobblestones and can be uneven so a high heel would not be the best idea…. Unless you are going out on the town! Don't foget to check out our list of the most unusual pubs in Dublin, they are well worth a visit!
AND FINALLY…
You really can't go wrong with a good, warm coat and a proper pair of shoes. They should be the most important when travelling to Ireland.
Don't worry if you arrive over here and are missing an item, there are plenty of shops around where you can grab what you need.
Above all else, make sure you have the best possible time during Your Irish Adventure!
Like This Article? Pin it!