In nine short days, my husband and I travelled the entire island during our Ireland road trip. After much research, I made a list of major filming locations that we must do including Game of Thrones, Braveheart, Harry Potter, and Star Wars the Last Jedi.
This was the trip of a lifetime that I can't wait to share with you.
With months of planning and looking back, I did some things really well and I also had some hiccups along the way. My hope in sharing this adventure is that you will be able to take my research and hard work, put it to good use and have an adventure of your own. Hope you enjoy!
I am a teacher of ten years and a professional photographer. I have always been seeking an opportunity to take my photography skills and push myself both personally and professionally and hope that you enjoy reading about our wonderful trip around this magical country.
A Photographer's Definitive Ireland Road Trip
Day 1: Arriving in Ireland, Tollymore Castle Park and Castle Ward
We started our adventure flying from Minneapolis to Charlotte, NC, the weather was bad in Charlotte and caused us a one-hour flight delay – we were worried we wouldn't get through our first day's event but were happy we were in the airport waiting out the weather and not up in the air!
This was a very fast storm with a lot of lightning, causing many flights to be delayed, but watching it in the airport, I found it beautiful. As soon as it passed, we were quickly loaded and off to Dublin!
Booked out flights via Orbitz – I have used them for years and I have always been happy! We booked American Airlines and were beyond impressed with both their domestic and international flights. Our international flight came with two full meals, snacks, and complimentary beer and wine. Nice work American Airlines!
We decided on Hertz International car rental. Research showed that this was my wisest choice and had gotten the best reviews… We chose their smallest vehicle and were more than happy we did and we ended up with this Kia: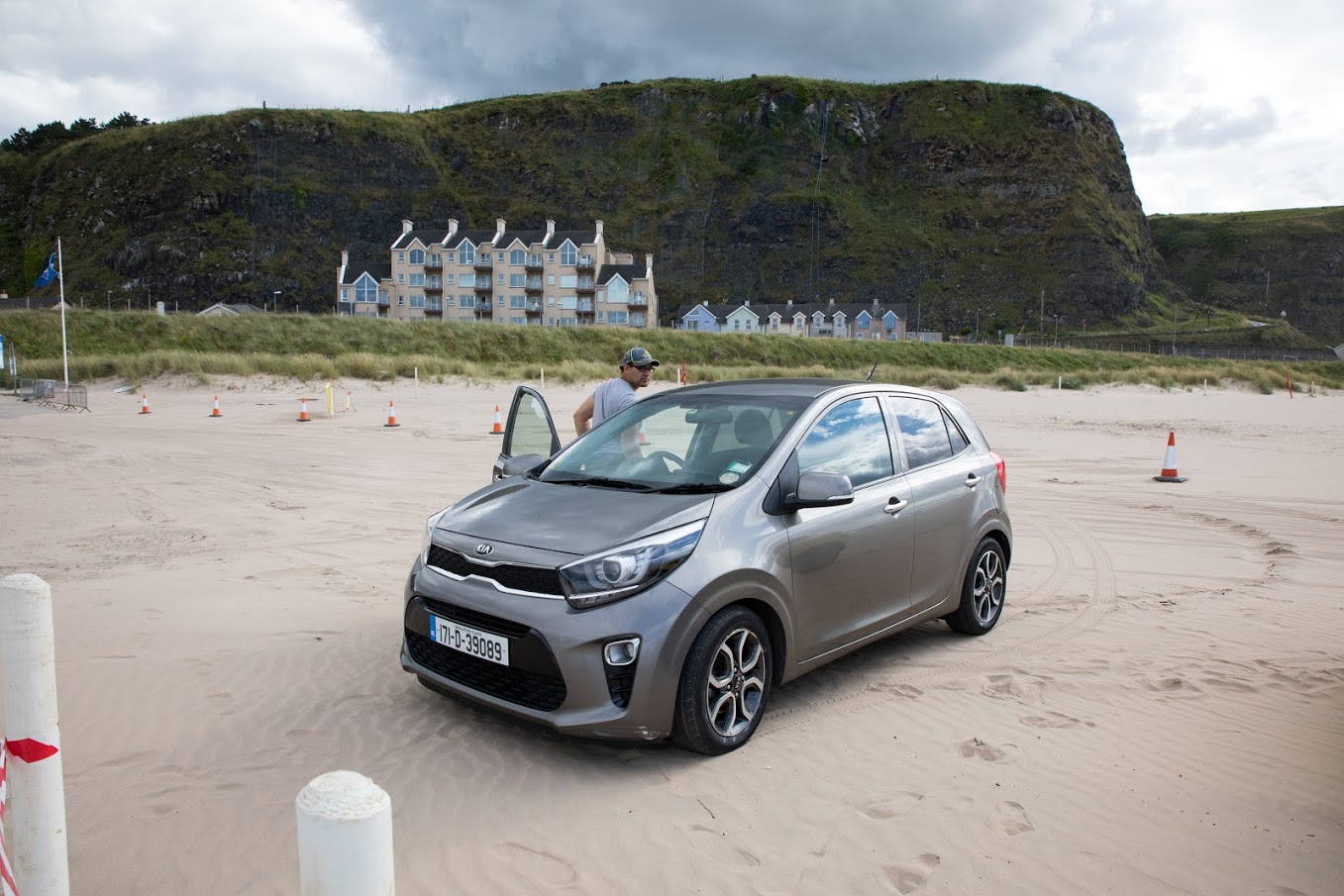 I strongly recommend adding GPS to your car rental. It cost us an additional $70 for the length of our trip. We were international and did not have the luxury of using our phones google maps (trust me it's a luxury!). Make sure you are well versed in how to use and change between the United Kingdom and Ireland if you plan to travel to both countries.
We landed in Dublin an hour later than originally planned but onward and upward we went directly from the airport and drove straight north to our first destination Tollymore Forest Park!
Tollymore Forest Park
Bryansford Road Tollymore Park, Castlewellan, Newcastle BT31 9BU, UK
Knowing what I do now – I should have selected a closer first destination – Tollymore Forest Park is a two-hour drive from Dublin.
Tollymore Forest Park is home to magnificent redwoods that were planted in the 1700s, centuries-old stone structures and the forbidding White Walkers. Known as the Haunted Forest in Westeros, this expanse of wild woodland is where we first came face-to-face with the cold-blooded creatures. It's also where the Starks encountered their newborn dire wolves for the first time. This park is the first state park in Northern Ireland.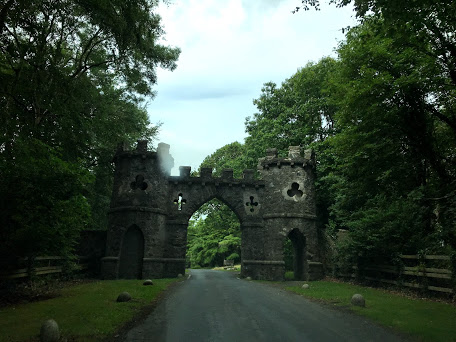 This forbidden forest has three trails – Blue trail (1 mile), Red (River trail 3 miles), and Black (mountain trail 5 miles). We loved this forest so much we walked all three trails! On one of our trails was a hidden unmarked path with worn trails and wooded areas that were cleared out – clear to us that we had found one of the filming locations!
This park was full of beautiful landscapes, woods, and trees more magnificent than anything I have ever seen! If you are on a time crunch, I would highly recommend the River trail over the mountain trail due to the variety of landscapes you would see. However, we found our hidden path for the filming site while we were on the mountain trail!
Make sure you stop before the entrance – they have a beautiful stone archway as you drive in. You will exit a different way and not be able to capture this.
We got caught up in the beauty of the trees and landscapes and after 9 miles walking and exploring, we realize we still had so much more to see and lost track of time. We hopped into our trusted Kia and onto Castle Ward!
Castle Ward
Strangford, Downpatrick BT30 7LS, UK
Castle Ward is also known as Winterfell, ancestral home of House Stark. This place is a haven for any Game of Thrones fan. In Winterfell, you can practice archery in the same spot as Jon Snow, model some authentic Westeros attire and feast on a lavish medieval banquet inspired by the show. This is a National Trust park and does have an entry fee.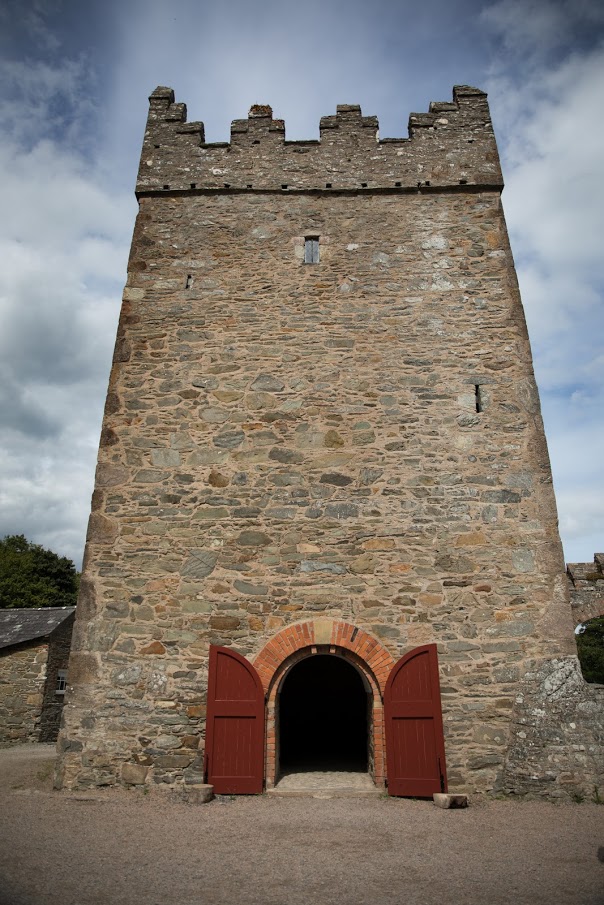 Castle Ward was originally a corn mill that has been transformed into an iconic filming location. The site has been preserved for tours and allows you to experience everything that happens in the movie! You can physically walk inside the Winterfell castle and see shots from the movie framed inside.
Castle Ward is an entire complex so plan to walk (or rent a bike) and spend some time here. On the property is Ashland Castle. This castle you could go inside all the way to the top and overlook the water, town, and the Battle of Oxcross where Rob Stark is the new king of the north. The size of this complex is not be underestimated! Also, Ashland castle is where Bran Stark fell from the window.
There is also a Victorian Sunken Garden located at Castle Ward. This area has the largest trees that I have ever seen in my life! The pine cones were the size of my head! The sunken garden was well planned, arranged perfectly and just impressive to look at. Past the trail is a mansion that you can walk to for tours – we skipped this.
Overall impressive site, lots to do and see. Plan to spend at least a half-day here! The grounds are clean, well maintained and do a great job labelling where locations were used for filming sites.
We probably pushed too hard today! We travelled 3.5 hour and 150 miles today. We used AirBnB and stayed in the Cozy Cottage with super host Mark in Belfast. It was late at night and hard to find, but Mark came to us, opened everything up and let us in. Very private studio, well-stocked kitchen and perfect for the two of us! This was our first bed in over 40 hours…. We overslept due to pure exhaustion!
Day 2: Belfast Castle, Carrickfergus Castle and the Dark Hedges
Jet lag hit but we woke up fresh in Marks Cottage! We thought we were going to leave at 7 am but we slept through both our alarms and it was noon before we woke up! Thankfully Mark had the Cottage stocked with breakfast foods for us to enjoy on the spot and we were able to eat and run!! I think oversleeping was probably the best thing for us looking back because from there we were able to enjoy the day and everything that we had planned!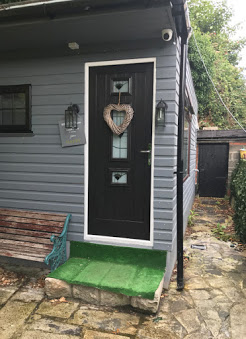 After packing up we went to Belfast Castle! The roads and streets are very different compared to America. Narrow, tight, and winding roads are what led us up to Cavehill Park.
Belfast Castle
Antrim Rd, Belfast BT15 5GR, UK
Cavehill Park and Belfast Castle are on the same property. You could hike to the top of the peak (4KM) which would take up to three hours to complete. We overslept so we didn't have the time. The roads leading to the car park were very tight, narrow and steep – drive safe! The castle is free to walk through and worth it. It has such a Victorian charm to it, felt like I had stepped back in time!
In the basement is a café – seemed overpriced so we didn't grab anything but saw many families bring picnic food and enjoy outside at the Victorian gardens. This castle rests on the cliffs of north Belfast. Because of its location, it has the most amazing views of downtown Belfast and the harbour and where the Titanic was built!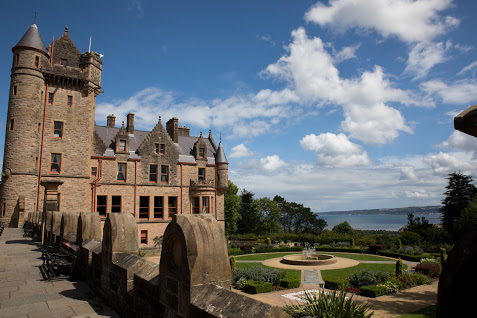 This is such a beautiful location – anyone in Belfast looking for a wedding venue – I would jump at the chance to have it here!
I strategically scheduled each destination to make the most sense driving past so we didn't lose any time backtracking to our destinations. From Belfast, we made our way to Carrickfergus to see the 12th Century Castle. This is 20 minutes away from Belfast.
Carrickfergus Castle
Marine Hwy, Carrickfergus BT38 7BG, UK
This castle is downtown Carrickfergus and is extremely easy to get too. Parking in the area is free and very convenient. This castle is from the 12th Century and the town of Carrickfergus was known as the largest and most important port city before Belfast. This castle is truly an iconic war castle with oil crevice's, defences, and massive cannons that were on steel wheels which rotated to aim at enemy ships entering the port. Nearby there is a pier that is great for walking – allows for a different view of the castle! This castle is used in GOT for the House of Stark and Winterfell.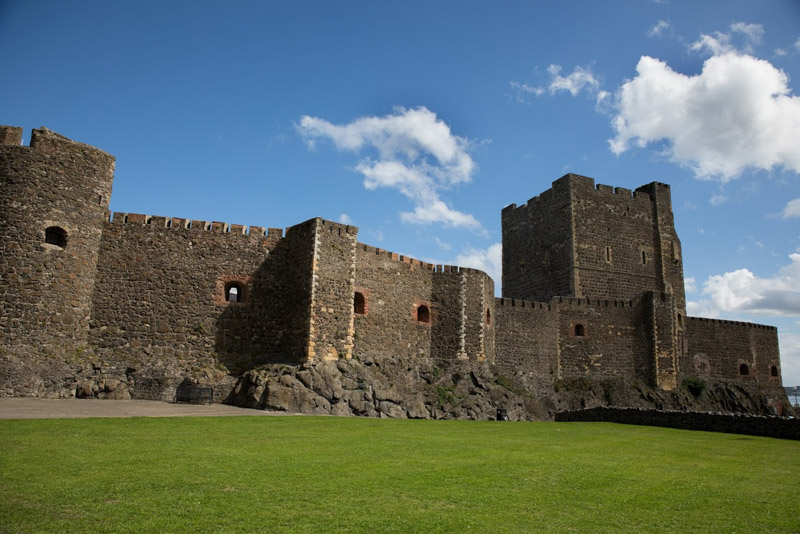 In the same car park, we decided to have lunch at The Swift. This was our first real meal since landing in Ireland. Gene ordered Fish and Chips and I ordered the Irish roast! Both were amazing and to this day, Gene said that was the best Fish and Chips he has ever had. They fed us way too much, when I asked for a to-go box, they were confused, did not understand. I ended up getting two coffee cups with tin foil in a paper bag!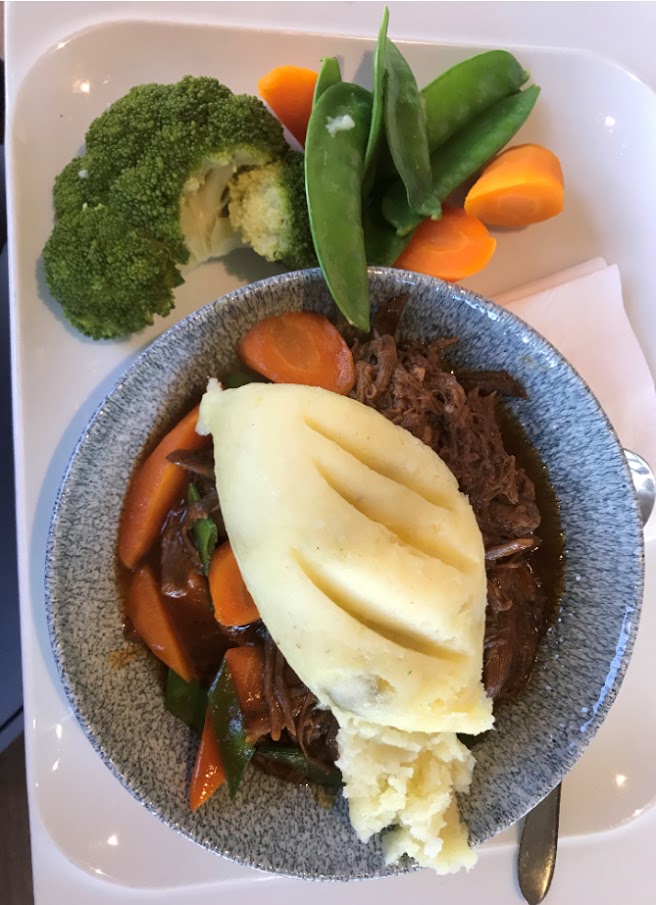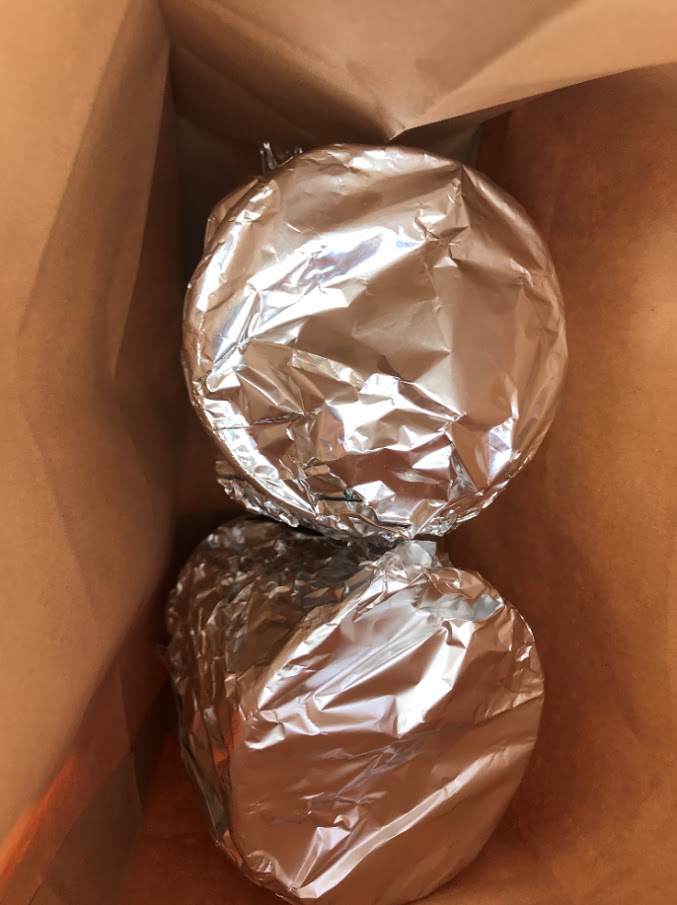 After lunch, we made our way north towards the Dark Hedges. We decided to check into our Airbnb and get settled and then go check out the Hedges. We ended up staying at Fernmount B&B with Alice and William who are listed as super hosts. This BNB is 10 minutes from Dark Hedges.
Dark Hedges
Bregagh Rd, Stranocum, Ballymoney BT53 8TP, UK
After checking into our AirBnB we took a short drive to the hedges. William was great at giving directions! You must park about a block away and walk down the road to get to the hedges. They have become so popular it's nearly impossible to drive down the road, and in recent years been changed so you're not allowed to drive on the road. Back on our first day, we met a local in Belfast that is shocked that "some silly trees that have been here for hundreds of years can get so much hype – no one cared about them until now!"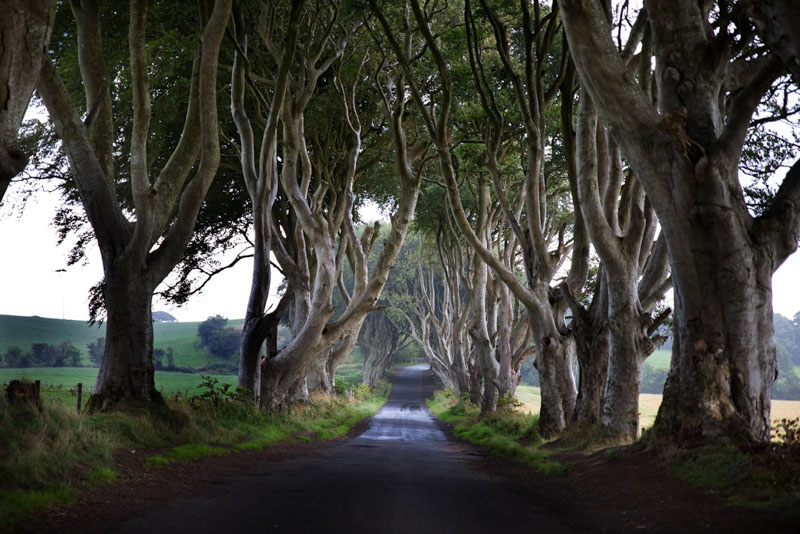 We decided to go in the evening – I have heard and read that the hedges are very busy with tour buses in the mid-morning. we still experienced the rush of tour buses as we saw 4-5 buses stop with loads of tourists.
As a photographer, I was worried this consistent rush of tourism would make for a rough evening. Mother Nature was on my side – when my husband and I hit the middle of the hedges, it started to rain, enough to cause everyone to rush back to their tour buses and cars. I came prepared, I had my rain jacket on and all my rain gear packed in my backpack. I bundled all my gear up and waited for the hedges to be all mine!
And I did- Ireland's weather is very unpredictable- one minute it can be beautiful and sunny and the next minute it's raining- I took advantage and got all my magical shots of the hedges while everyone had run away! It didn't last, the rain soon ended, and the people came back out! This is when we walked the length of the road and tried to get inside the house, it was too late, already closed.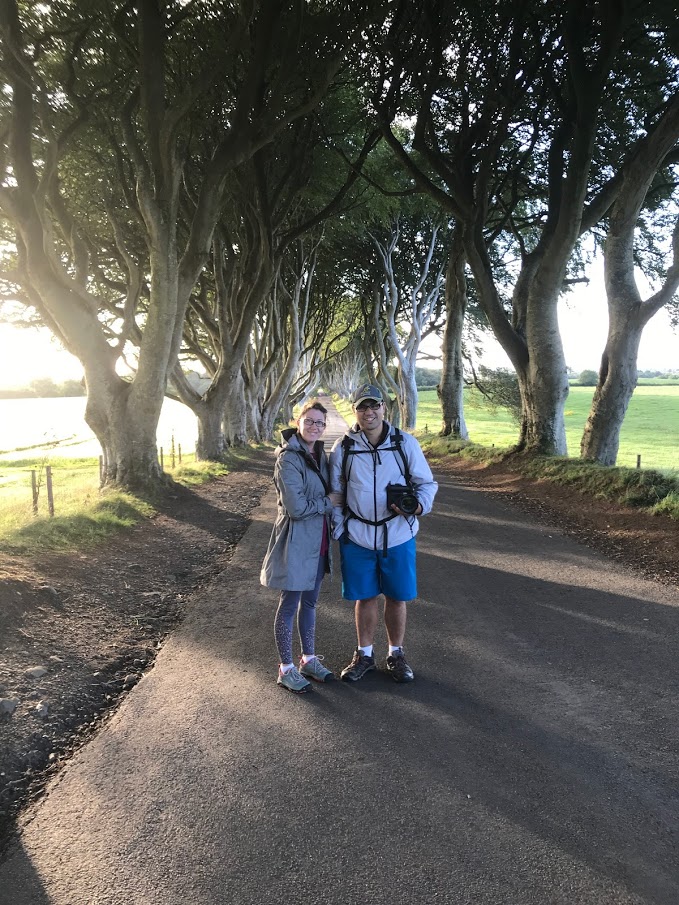 Some history and facts on the hedges – all Beech trees – amazing how dense the trees are that as you look up at the trees they appear to get darker. The tree trunks are thick with a smooth silver-grey coloured bark. We loved walking down the middle of the road with the tall branches and dense leaves
For my GOT fans, Dark Hedges is a row of 300-year-old beech trees that are said to be haunted. It feels almost surreal with these winding branches arching over you as you walk through. You can walk the full length of the road which leads you to the Gracehill House.
This complex also has a golf course. If you are able, head inside the Gracehill house to see one of the GOT doors – the house is only from noon to five, so we missed it. This house has door #7 of the Game of Thrones doors (a number of doors that were built with wood from trees which fell down which were part of the Dark Hedges), commemorating Bran's transformation into the Three-Eyed Raven.
This is the place where Arya Stark first appears dressed as a boy on the Kings Road, having just escaped from King's Landing. It's the most photographed of all Northern Ireland's natural wonders and today there are several people adding it to the collection of snaps.
Because of the time I chose to go – I was able to get daylight, rain, and sunset – in my photography world that is three different looks because of how the golden hour looks! Mother Nature was on my side that day.
I would highly recommend travelling here. This location feels untouched by civilization! We took our short drive back to William and Alice's place – even stopped to see a rainbow. Settled in for the night knowing we had another full day ahead!
Day 3: Rathlin Island, Carrick-a-rede Rope Bridge and Mussenden Temple
Alice made us the largest, Irish breakfast anyone could ever ask for! When Alice brought over one plate of food, my husband and I naturally started to split the plate to share what she had made. She quickly brought us a second plate with every Irish breakfast item you could dream of! William and Alice are the perfect example of super hosts!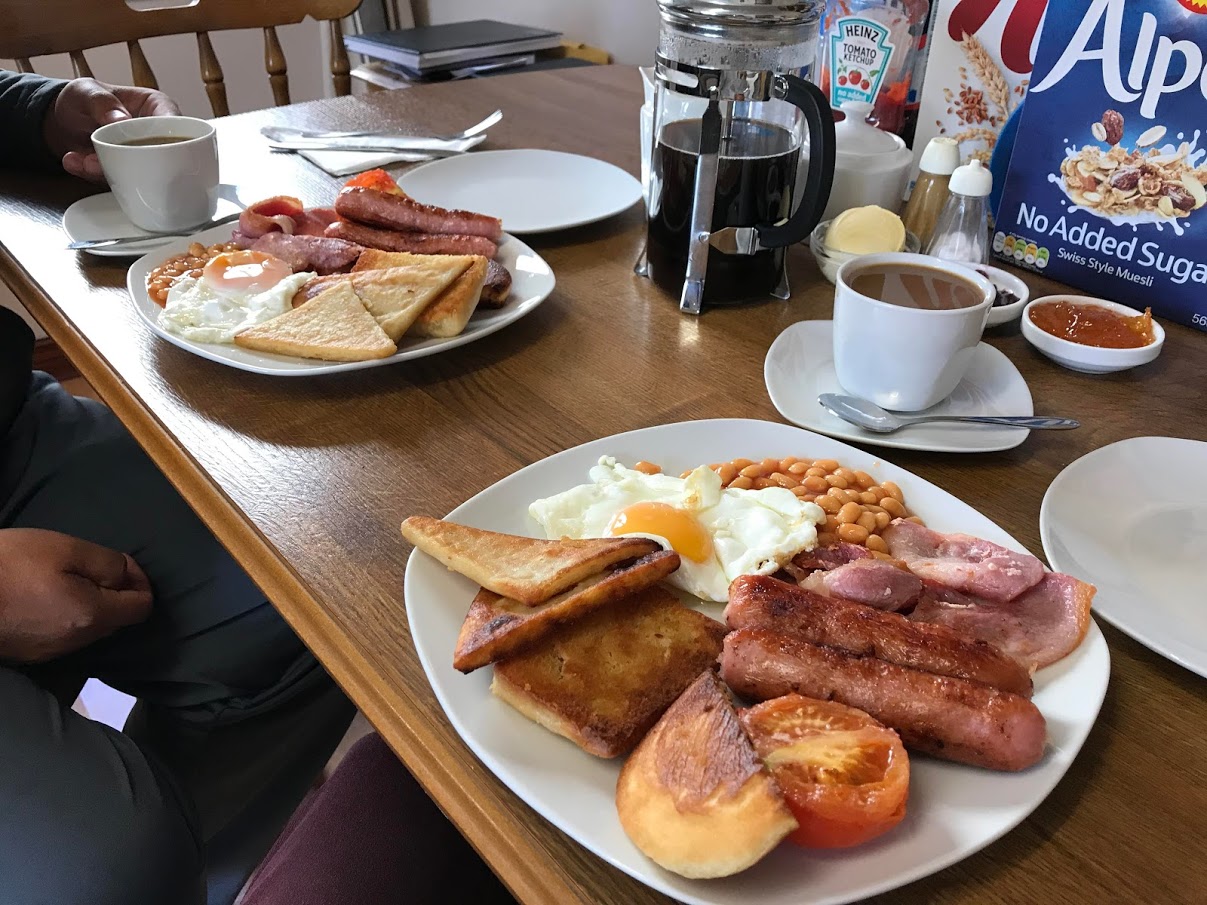 William showed us that at their Airbnb they have a hot tub, bar, and patio space to enjoy! If we had more time, we would have stayed to enjoy it fully! We packed and planned for our next destination, Ballycastle, 8 miles away.
Rathlin Island
Ballycastle Marina, 5 Bayview Road, Ballycastle BT54 6BT, UK
We made it just in time for the first ferry and quickly grabbed last minute tickets for $24 each. This ferry is a thirty-minute ride from the Ballycastle harbour. Water was fine, but we hit a couple of big waves to remind us we were truly in the ocean!
Once you land on the island you can make two choices;
Hop on a bus to drive four miles to where the puffins' nest
Walk the island until our ferry was ready to leave.
So, we chose option 2 as it was off season for the puffins so it wasn't going to be as populated as it is in the spring. I wasn't on the island just to see puffins. I came for the landscapes! However, on the boat, we were told that the seals visit nearby at Mill Bay- I wanted to see the seals!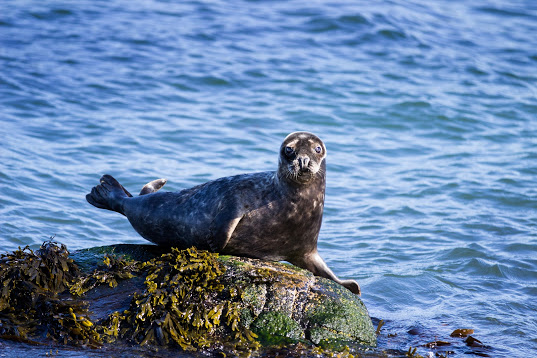 We hiked along the very rocky coastline, but it was worth it because we ended up seeing a group of six seals! Since I am a photographer, I had my Canon 5D Mark IV with my 24-70mm lens on for all the landscape shots I was taking – Once I saw the seals, I had to get my husband to get my Canon telephoto lens out so I could capture some better shots of these amazing animals without scaring them away!
They ended up being very playful with me and watching my every move. One seal splashed into the water and then followed me- swimming back and forth – spying on me to see if I had left my spot.
Rathlin Island is known for the wildlife that seek refuge here. The puffin's nest and mate here in the spring months. Many other birds also nest and mate on this island. The seals love the rocky coast and protected waters of the bay.
If you are a history buff like my husband, you would love to know that Rathlin Island is best known for King Robert the Bruce fleeing his country and seeking refuge on this island for protection. This is mentioned in the visitor centre on the island and mentioned in the movie Braveheart and the Netflix original, Outlaw King.
I was generally surprised at the number of people that lived on the island. There is a lot of farmland that is used for both sheep and goats. You can also rent small cabins or stay in the local hostel. Noon came faster than we expected and we had to take the 12 pm Ferry in order to stay on track and get to the Rope Bridge!
Carrick-a-rede Rope Bridge:
119a Whitepark Road, Ballintoy, County Antrim, BT54 6LS
This is a National Trust Park in Northern Ireland. Parking is free and there is plenty of it but you will have to buy tickets in order to cross the Bridge (It's worth it). Second, plan wisely, this is a very busy hot spot in Northern Ireland. Many tour buses and caravans travel here so you will be surprised at the number of people at this destination!
Once we parked and purchased our time blocked tickets – we had to wait 1.5 hours before we could start the walk down the path to cross the bridge.
While you are waiting for your time block, there are other paths, walkways and trails you can hike to bide your time. We had packed food from a previous destination and made a picnic lunch to make sure we slowed down enough to enjoy the views and each other.
Once your time block for your ticket hits, you can start your journey down the paths. The path to the rope bridge is 2km (1.2 miles) and has rough terrain and lots of steps (be prepared for the steps). Along the way, they have lookout spots that are great for pictures and views of the ocean that are breathtaking. At the end of the trail, we ended up waiting in line to cross the bridge because they only allow one-way traffic – so be prepared to wait to go both ways.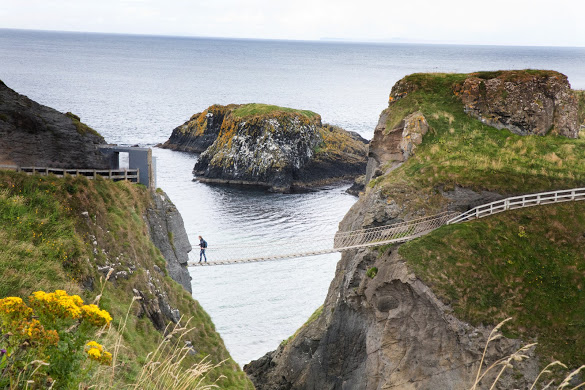 I loved crossing the bridge! If you are afraid of heights – do not look down – this bridge is 30 meters (98 feet) above the shoreline and spans between the mainland and a small island. The Rope Bridge is 20 meters (65 feet) long and rocks and moves easily with the wind.
The day we crossed the bridge it was windy, the bridge swayed, rocked and moved as we crossed it making it a fun and exciting experience. After you cross the bridge – you are on an island that is very rugged. The first trail you walk on is steep and does not have designated stairs to use (plan your footwear accordingly).
Once you reach the top of the island, you can look out and see the whole world in addition to the island you are on as well as three more smaller islands. In my research, this bridge and island were ordinally used for fishing purposes.
If you are GOT Fan – the nearby Larrybane Quarry is the site of Renly Baratheon's Camp of course before he got killed by the Shadow Prince but there Margaery and Renly watch Brienne of Tarth fight Ser Loras Tyrell.
I had a few more big destinations that I wanted to reach today. One being Giant's Causeway. With our time getting tighter and Giant's Causeway, Dragonstone and a drive to our Airbnb left, I decided to take Giants Causeway off the table. I have some moments of sadness about this but I couldn't imagine missing out on Downhill Beach and Mussenden Temple!
Mussenden Temple
Seacoast Rd, Coleraine BT51 4RH, UK
This is another National Trust preserved park. Parking is free, we chose to park near the Bishop Door which after paying for our entrance tickets, you were led through a beautiful garden that had trees and plants throughout the world. When we did buy our tickets, we were asking what we were hoping to see while we were there – she carefully highlighted all the major spots that most people visit, mostly the GOT scenes.
The grounds close at 5 pm daily – which mostly means that door to enter the Temple closes at 5 pm so if you would like to go inside the Roman Temple that is a replica of Temple of Vesta in Rome, Italy, make sure to get there before it closes. This temple was built by Lord Bristol and served as his library. Today, the inside of the temple is very plain, empty, but beautiful in its construction. Seeing the dome from the inside is truly an architectural phenomenon.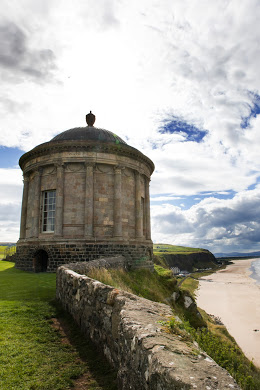 While you are looking around the temple, keep in mind that below the temple is Dragonstone from GOT. True GOT fans will remember this is where Stannis Baratheon rejects the seven old gods of Westeros. He is proclaimed as the champion of the Lord of Light by Melisandre and enters Dragonstone into the War of the Five Kings. The aerial views of Dragonstone were breathless.
Around the grounds are many ruins. One being Downhill Demens. This mansion's exterior walls are extremely intact while the inside being in complete ruins. The National Trust has done a great job of properly labelling what rooms you would be visiting if the estate was still standing today. North of the mansion is a monument dedicated to the bishop's brother. We jumped a small trench (moat?) to get there – I thought it was easy, however, my poor husband who was carrying all my gear (the entire trip) found this small moat to be bigger than we originally thought.
Our final walk back the car was through the park where there were magnificent trees that continued to surprise me – both in the age of them and size.
Downhill Beach
Just minutes from Mussenden Temple is Downhill Beach. Downhill Beach is a stretch of spotless white sands, overlooked by Mussenden Temple. Here, tourists and locals alike converge to watch surfers take on the waves. You can take your car and drive on the well-packed beach sand.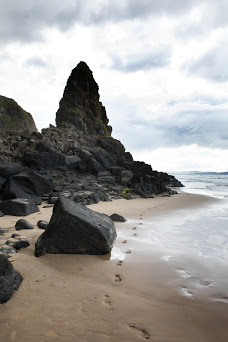 After our day of hiking, the sand felt amazing to walk on – so soft and cleaner than any beach I have ever been too! Downhill Beach has the most amazing white sand with these contrasting dark rocks. These dark rocks are considered Dragonstone in GOT.
As you walked along the shoreline on our way to Dragonstone, watch out for jellyfish! We found a few stranded on the beach, some too large to feel safe enough to try and rescue! If you walk far enough – you will end up at a cave that you can climb all the way into.
For my GOT fans – Downhill Beach, where in season two, the seven idols of Westeros are burned and Melisandre the Red Priestess proclaims: "The North remembers, for the night is dark and full of terrors."
Today we pushed way too hard – missed a few spots that will have to wait for another trip – covering 85 miles of travel which was 4 hours driving. Today I overbooked us, and I should have taken it slower!
Night 3
We stayed in the Secret Garden Sanctuary in Hidden Donegal. This estate is called the Dunmore Gardens. We had major issues finding this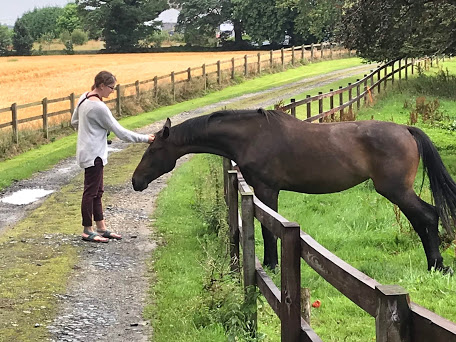 BNB because of our GPS system. Because it is an estate, it has a long driveway with a gated entrance – it was hidden and off the beaten path but Amelia McFarland, our host met us at a nearby shop and lead us to it. Once there, this location is amazing. This estate was built in 1742 for a Scotsman marrying into a Northern Ireland family. This estate was built as a wedding gift for the McClintock's. This estate reminded me of an entirely different century complete with horses pastured out front.
Attached to this estate is 3 km of paths and gardens that have been around since before the house was built in 1742. The gardens are amazing, filled with flowers, trees, and ponds.
Day 4: Slieve League Cliffs and Glencar Waterfall
Last night we did some research on Slieve League and discovered that it is labelled at the "hidden gem" of Ireland – it will be a long drive, but I am sure it will be worth the trip! It is the highest sea cliffs in Europe – 600m (1,968.5 feet).
Before we started our journey, we found a gas station that was on the border of Northern Ireland and the Republic of Ireland. This gas station was able to exchange out Northern Irish Pounds to Euros without a fee! It was a local gas station that many visit.
We had a few encounters with the locals that left us laughing; A guy waiting in line with us yelled, "Get rid of your sterling – it's going down!" referring to the currency between N. Ireland and the Republic. Another man could tell we were not locals, asked where we were from, we said the United States – he said looks like Ireland vs. the US and we are winning – not sure exactly what he was referring too!
And last to ease the minds of many, including my own parents, Ireland does not have currently have any border control, checkpoints, or steps that must be taken to travel between the two. After our trip, hearing from the locals, and the current controversy with Brexit – I can not say that this will forever be the case. While we were there – we never experienced any issues.
Slieve League Cliffs
Slieve League Ave, Cappagh, Teelin, Co. Donegal, Ireland
Slieve League is in Teelin – one of the few towns that speak the Irish language. Linguists have travelled to Teelin to study Irish here since it is such a part of their culture. The roads in Teelin that lead to Slieve League were very slow, winding and most of the road signs were in Irish, so we reached a few points wondering if we should just turn back!
Slieve League has two car parks – one lower and one upper – the lower car park requires you to walk quite a way but has public restrooms and the upper car park has some very steep and curvy roads to manoeuvre – make your own choice but we chose to park at the lower car park. To enter you must walk through a gate – its gated to keep all the livestock in.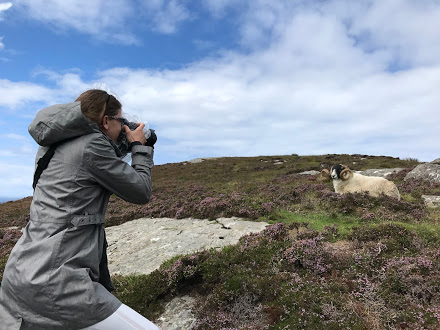 We had a very long walk and it was very steep, but we saw so many sheep along the way – they hardly noticed us! After our long walk, we got to the top (which was just the beginning of the park paths!) We stopped at the local food truck parked at the entrance – amazing lobster rolls and hot dogs.
After reading the sign posted – I should have read it back in Ireland before we started our climb! "From this point, the path continues for approximately 400 meters to a secondary, but unmarked viewpoint. However, the path from this point is steep and rough underfoot. It is also remote and subject to extreme weather conditions including high winds and fog. It is therefore not suitable for the casual visitor and should only be attempted by those with appropriate equipment and experience."
Well, we made it! The trails were rough, steep, and more steps than I have ever walked in my life! The views were worth it and took my breath away! At 601m (1,972 ft), it has some of the highest sea cliffs on the island of Ireland. Although less famous than the Cliffs of Moher, Slieve League's cliffs reach almost three times higher.
Slieve League was certainly a highlight on our trip for me. This was truly hiking with few paths that you are forced to follow. It was like a secret treasure that not many knew about. With this – it was not commercial, felt local and secluded from the rest of the destinations we have visited.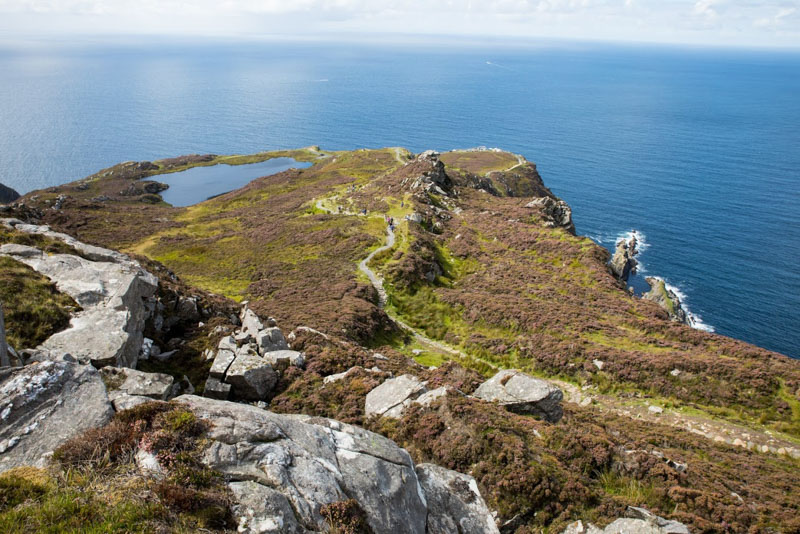 I mapped out that we needed to make it Sligo for the night. I booked an Airbnb in Sligo. Because of our itinerary change – this gave us a two-hour drive to Sligo.
Glencar Waterfall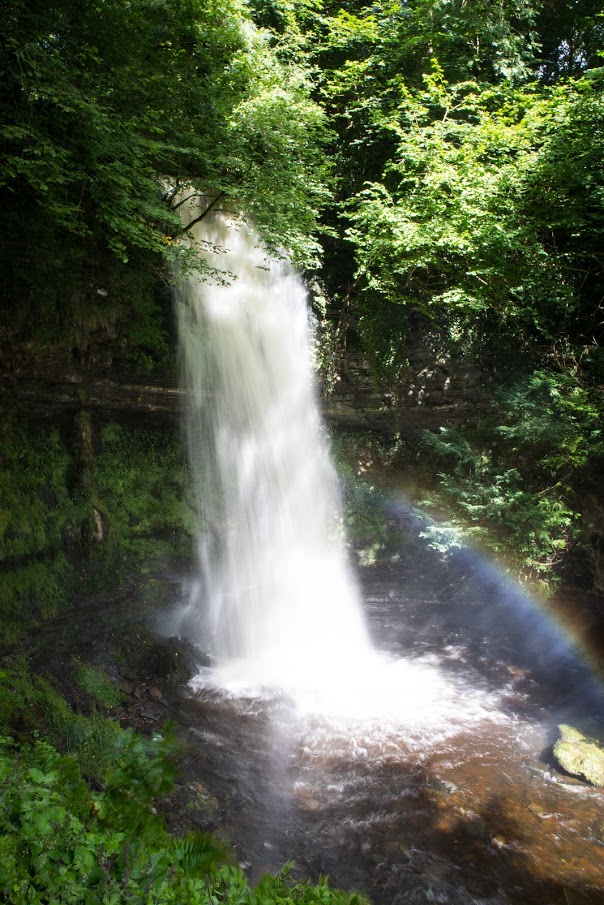 Anyone who follows me knows that my love for waterfalls is extreme – no worries found a few in Ireland to add to my collection! This waterfall was on our way to Sligo. Glencar was a very small, accessible park, paved paths and clearly marked routes.
After our day on the mountain peaks of Slieve League, this was about as much as I could handle! This waterfall was very tall, secluded and had tons of greenery around it. Anyone from Minnesota could easily understand my reference of Minnehaha Falls being very comparable to this waterfall.
The sun was shining, and I was able to capture a few rainbows! Luck of the Irish I suppose! After the waterfall, we decided to check into our BNB and then find something for dinner.
Night 4:
Anne and Frank from Sligo were our Airbnb hosts for the night. Anne was out of town for a funeral, but we were in good hands with Frank. Again, more issues finding locations – but after calling Frank, he met us at the end of the drive with his friendly cat and old dog. We had a room upstairs for the night with a view that overlooked the North Atlantic Ocean.
Frank asked us what our schedule would be like and what time to expect us down for breakfast – we responded that we were on a schedule and would like to have breakfast at 7:30 am much to his surprise!
We headed down to Rosses Point for dinner – found a restaurant called The Driftwood – great local food and a great local town that was filled with life we were able to eat out on the patio with that same great view of the Atlantic. After dinner, we walked down to the point where there was a lighthouse and a pier on Oyster Island – we saw a dozen jellyfish floating and swimming in the water! This town felt authentic and nearly untouched by tourism.
After our walk, we finally walked into our first bar in Ireland (four days later)! Harry's Bar was a small, authentic bar that you could only find locals inside. This bar was decorated with coastal décor so thick that you didn't even see the walls. They had a few fish tanks and memorabilia from events that have taken place over the years. In the corner, was one 20-inch TV that was turned off. Something unheard of in the US. My husband and I sat and compared Harry's to any bar we have visited in the US – conversations were quiet and welcoming; the lone TV was off and is only turned on for Rugby games or football games.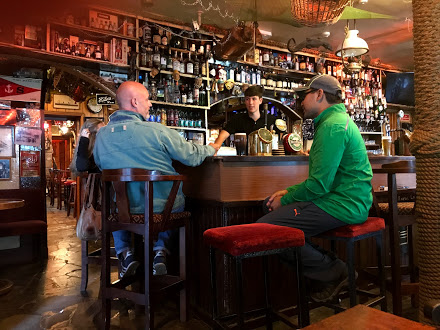 My husband was able to quickly engage with the locals over the Guinness he ordered. Life lesson while in Ireland should you order a Guinness: Guinness takes up to five minutes to settle once it has been poured from the tap, they leave it to sit on the counter, then will refill once it has settled.
When you order a Guinness, expect a five to seven minutes minute wait before you get your drink! My husband ended up asking if he should walk down to the end of the bar to grab his drink, they laughed and asked where we were from, knowing we were far from home! Back to that Guinness – everyone always asks, does it taste the same?! My answer – NO WAY! Its better – a trick I picked up is that you should ask to add a splash of black currant into your Guinness – makes it sweeter! I don't know if I can ever have Guinness without it again! I haven't yet.
Day 5: Doolin and The Cliffs of Moher
Breakfast with Frank was rather entertaining. My husband and I have fallen in love with Airbnb – the ability to travel, get to know local people and hear their insight into the town, the city and the life they live is fun! Frank was no different – we learned he was a successful business owner for 30 years until the internet hit his business hard and he had to close. He told us stories of his childhood. This local perspective on Ireland I will never forget!
We were packed and out by 8:30 am – Frank went back to bed! We were off to the most iconic landmark in Ireland, The Cliffs of Moher.
Doolin
We rushed to a small town called Doolin to catch a ferry to have a water view of the Cliffs of Moher. Again, being a photographer I am always looking for another perspective! We tried to make the noon boat but parking was tough, so we ended up on the 1 pm boat. My husband dropped me off to buy tickets – at the counter, the gentleman said it was finally nice to see a local face! Once I said hello, he immediately asked where I was from and how I looked so Irish! I shared I was from America but had deep roots in Ireland and that is why I was visiting – he ended up giving me a discount for our tickets!
Since we missed our noon boat, we found a local food truck and ate lunch, walked the grounds and enjoyed the coastal views! A few dolphins were spotted near the pier where all the boats dock at.
We used Doolin2Aran Boat Tours as our preferred choice – I had heard good things about them and was excited to use them. They did not disappoint! My husband and I were very impressed with our boat ride! They drove us all the way to the iconic rock that Harry Potter and Dumbledore stood on in the movie The Half-Blood Prince. Just as we made the turn to see the iconic rock, it started to downpour, just like the movie! I was prepared, ready, and waiting! I ensured that all my camera gear was well covered and protected. I continued to shoot and didn't let a drop or rain get in my way! The captain must have been impressed, because he stopped the boat, backed up and gave our tour a longer look at the rock!
On our drive back to the pier, I approached the captain's quarters and asked if I could enter his space to put all of my camera gear away – he was quick to say yes! The crew made room for me, offered the bench and a towel to dry off with. I was able to get both cameras and lenses safely tucked away into my backpack. They asked where I was from and shared how impressed they were with me and my camera equipment, that I was not an everyday person he sees on his ships. He shared that he tried to get me a little bit closer than normal and I thanked him for being so helpful!
Cliffs of Moher
Lislorkan North, Liscannor, Co. Clare, Ireland
It was a short drive from Doolin to the car park of the Cliffs of Moher. These roads are very steep and very narrow so be careful because the tour buses fly through these roads like they are major highways! Once at the carpark they charge you $8 per person.
After travelling for days, it was refreshing to see clean, well-paved sidewalks and pathways with clear maps to show you where to go and what you will see when you get there. This destination was by far the most commercial location we have been too yet. I will also say that this was the busiest location we have been too. I stopped counting at 15 tour buses parked in the car park on our way in. Both Doolin and the Cliffs of Moher have great areas for shopping and getting any needed souvenirs, we were thankful for the long hours these stores were open and how they accommodated high tourism!
The Cliffs of Moher are a sheer wall of cliffs that cannot be underestimated. They are beautiful and breathtaking all in the same moment. The marked paths allowed you to see some amazing views, but the unmarked rough paths are where I found these cliffs to take my breath away. It was here at these cliffs that I found myself frozen for the first time in my life looking down at nothing but the sea under my feet. I have never experienced this before, and now, looking at my photography work, I am not surprised!
We spent our entire day travelling, driving, or seeing the Cliffs of Moher from all angles. Once we had exhausted all paths of the Cliffs we decided to check into our Airbnb.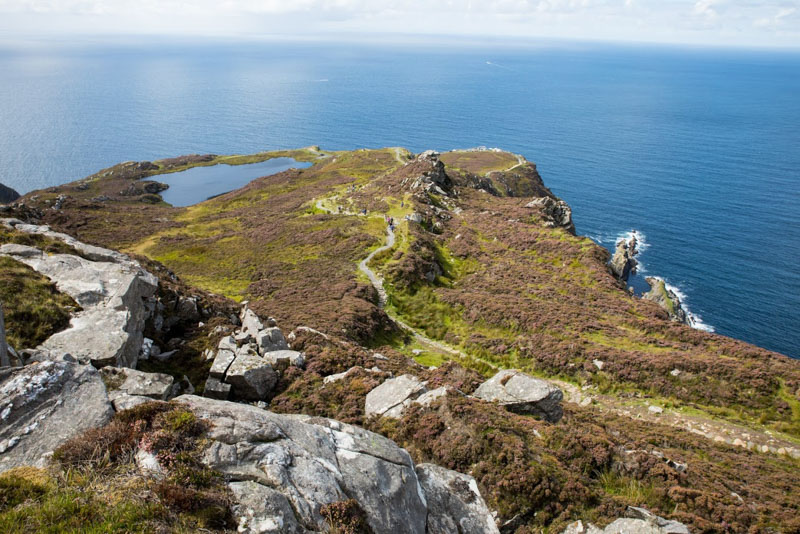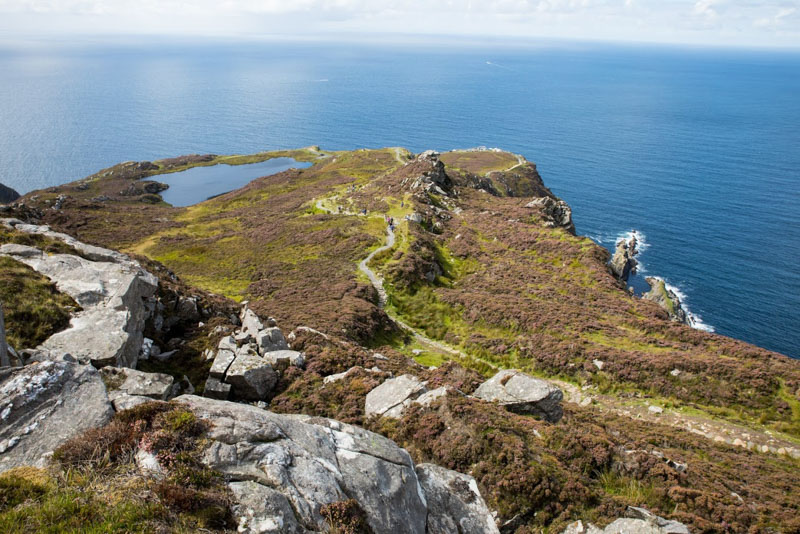 Night 5:
Our Airbnb was with Orla in Doolin with ocean views. She is considered a super host and if there were a higher ranking system, I would tell you she earned it. This by far was my favourite BNB yet, maybe it was the days of travel or the cold damp feeling I wanted to escape that evening! Orla thought of everything.
After checking in we took Orla's recommendation and had dinner at The Ivy Cottage. It was great and did not disappoint – my husband ordered what he considers his second-best fish and chips on our entire trip and I had the best burger ever!
We ordered a cappuccino to share and found the Ivy Cottage to be our perfect little spot. After dinner, we walked Doolin. This is a tourist town with lots of shops that are open later and a few bars to enjoy. I did a little shopping and then we walked into what seemed like the best bar on the street. We found it to be very commercial, tourist, and filled with travellers – not what we were looking for on our Ireland escape! We left shortly after and headed back to our BNB.
Day 6: Portmagee and views of Skellig Michael
Breakfast was a stocked kitchenette with yoghurt, cereal, croissants, fruit, and coffee. We left by 9 am because we were bound for Portmagee and we knew it was going to be a long drive! On our travels, we ended up driving through the annual Puck Fair – known as Irelands oldest fair that takes place annually. After getting through the puck fair we also found ourselves trapped in a Tractor parade that was raising money for a defibrillator for their small town. Eventually, we found ourselves on the northern Ring of Kerry in order to reach our destination, Portmagee.
Portmagee
Portmagee is a small port town that was originally used for all the smugglers! This town is small, directly on the water and full of life. There was so much activity happening when we arrived it was after we had checked into our hotel that we discovered that there was a series or rowing competitions taking place. The bridge was flooded with spectators cheering on their favourite racers while the pier was filled with fishing boats coming in from the days work.
We checked into The Moorings, the hotel directly on the ocean. When we decided on Ireland for our ten year wedding anniversary trip, my husband's one request was to see Skellig Michael. The Mooring, upon booking, offered to reserve a spot for the two of us but never guaranteed that we would land on the island the day of our trip. We knew, at best, we had a 60% chance of being able to land on the island the following morning. I booked this hotel and boat tour nine months in advance.
Since we had made good time from Doolin, we were walking through town and were offered an Eco tour of Skellig Michael for a fraction of the cost. An eco-tour travels around the island and does not have permission to land. We jumped at a secure opportunity to see Skellig Michael and hopped on a boat less than an hour later.
Our Eco-Tour took us 45 minutes in a boat to travel to the small Skellig which is 7 miles west the mainland. The water was rough and the waves were larger than I could have ever imagined.
This was the first time I have ever travelled by boat in the open ocean. The small Skellig is home to hundreds of thousands of Gannets, the largest seabirds in the North Atlantic. From afar, the island looked as if it was snow-capped, but it was just the number of seabirds that call it home.
As we approached, you could hear and smell the number of birds that inhabit this island. We then visited Skellig Michael, home to the famous monks and inhabited lighthouse. We drove around the entire island and saw where the monks from the 6th century had carved steps from the stone to have access to this steep and inhospitable island.
I hate to admit it, but I got seasick! I have grown up on the lakes of Minnesota, jumped into every boat I ever could as a child and find myself to be an avid water-skier! Admitting to myself and my husband that I was seasick was comical and miserable all at the same time.
I would say that having both cameras set up (as you can see in the picture above) and standing, looking through my viewfinder, did not help my equilibrium on this very unsteady, moving boat. On our way back, I calmed down, set my gear down and was able to come back from my seasickness. After our Eco-tour, we headed back to The Moorings, got our rain gear off and headed downstairs to The Bridge Bar.
The Bridge Bar was everything we were looking for in a true Irish Pub. Great local people, amazing food, and a nice glass of Guinness with a hint of blackcurrant! We enjoyed dinner, which was probably the best food I have had this entire trip!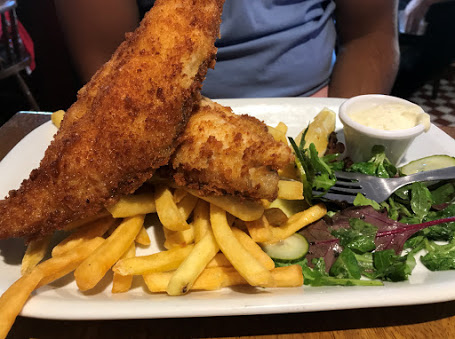 But after dinner, we were in luck…. The Bridge Bar hosts a Musician Night – Any musician is welcome to bring an instrument and play live music with everyone in the bar. We spent the night, dancing, singing, and emerging ourselves into the Irish culture.
Fun Facts: Mark Hamill (Luke Skywalker) walked behind this very same bar and was challenged to pour the perfect Guinness pint! And the entire cast from Star Wars the Last Jedi stayed at The Moorings during their time filming the movie!
We went to bed tired, full, and feeling like we had finally checked off every box on our bucket list and yet we have so much more to our trip!
Day 7: Exploring Skellig Michael
Today was the day for our landing tour of Skellig Michael! We were told to be downstairs by 8am to check in with the front desk to check on the weather reports if our boat would even leave port. The swells were high but they said that they would leave port and make a final decision at Skellig. They had complimentary breakfast for us while we waited for the crew to get ready. In addition to self-serve items, they allowed you to order hot food from the kitchen. The croissants they had melted in your mouth and I could have stayed there all day! We left breakfast full and excited for our journey to Skellig, The Moorings even provided us with a bag lunch to bring with us. They treated us so well!
Landing Tour at Skellig Michael
Our boat ride was a repeat of yesterday, only cooler. Again, I came prepared with all of my gear ready to capture anything that arose. I stood for a while and remembered how I felt yesterday so I decided to preserve my strength for the island and sat down. Ironically once I sat down, a pod of dolphins surfaced right next to the boat and then swam into the open ocean. I never captured an image of them, but I did hear them.
The boat ride felt longer but I think we were both anxious to step onto Skellig. The word "Skellig" is derived from the Gaelic sceilig, meaning a splinter of stone. The island is named after the archangel Michael. Docking our boat, landing and stepping off the boat would probably fall under a small miracle. Imagine a boat lifting and dropping 2-3 feet because of the waves coming by and you are supposed to step onto a narrow, wet, cement staircase that has a rope for a railing. So many moving parts yet we all managed to get onto solid ground safely!
The path to the tour guide station was paved, winding, and uphill, nothing serious. We were paused at the guide station where we were briefed and educated about the dangers of the rock stairs and how to keep safe.
My husband and I leapt to be first in line to start our journey up. The trip up was 600 hand laid rock stairs that have never been permanently secured, rocks were sometimes rocking and moving so your steps had to be clear and secure with each step so that you did not lose your balance. The stairs touched the rock cliffs on one side and were fully open on the other, rarely were there handrails except in a few dangerous locations.
Halfway up you come to a clearing between the two large peaks called Christ's Saddle which I think is just made to prepare yourself for the steepest part of the staircase that then leads you to the monk's monastery. The climb is worth it! You will arrive at the Monk's monastery from the 8th century and be standing 600 feet in the air, on a clear day you can easily see the mainland which is 7.2 miles away!
Today, Skellig Michael is protected and only 180 people can visit the island per day. I am grateful that we were able to have great weather, a wonderful captain and crew, and the ability to climb at this elevation with ease and control. My husband and I were able to spend ample time at the to peaks and got to soak in every view this amazing island has to offer. I have so much fine art photography to share with the world! We travelled via The Lady Clare and had a wonderful crew that treated us with such kindness I will never forget!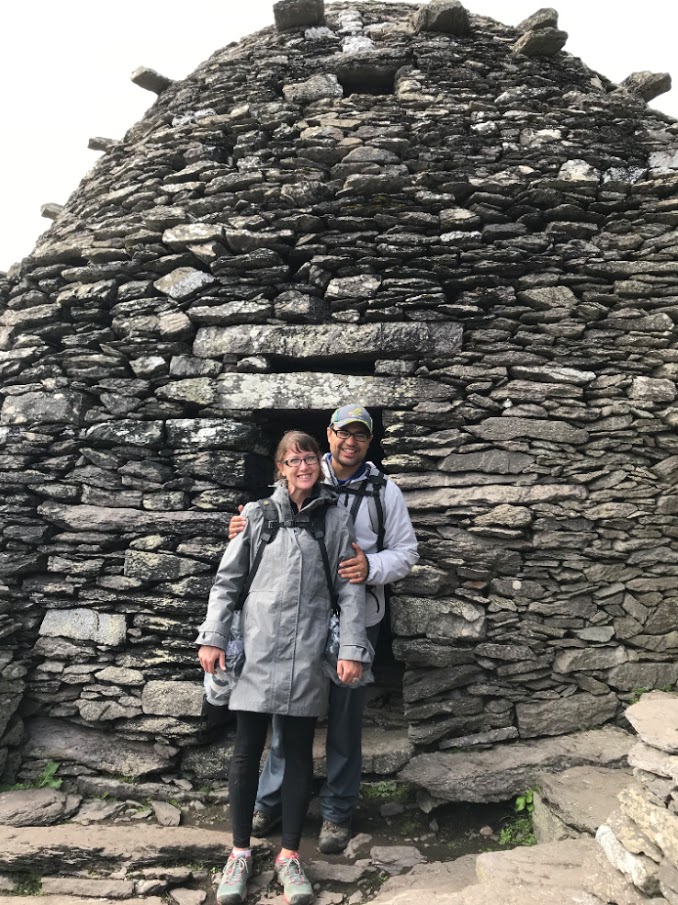 Our journey back down the stairs was slow, we took our time as we watched ourselves descend 600 feet back down. Remember our packed lunch? We stopped on the way down near the Wailing Woman rock to grab a quick bit but found far too many seagulls and Gannets interested in our food to stop for a picnic. We packed it back up and saved it for later!
Once we returned to the mainland, we decided to have lunch at our favourite bar one more time before we started the journey back to Dublin. Skellig Michael was the last secure planned item I had on our ten-day journey, so we felt like we could slow down and enjoy.
After lunch at The Bridge Bar, we were packed and ready for our drive back to Dublin. Portmagee to Dublin is about five and a half hours to drive. Our goal for the day was to drive about two to three hours and then find a local Airbnb, hotel, or inn to stay the night. This was the only night that I did not pre-book because I was unsure how long we would be at Skellig and how exhausted we would be. We drove for hours and hours! Going back to all our research, my husband had discovered that Ireland may have one disc golf course an hour outside of Dublin and on our way back. This destination turned into our goal site for the night!
We are both very driven and found ourselves pushing to the limit and drove the four and hours to Kippure Estates, the intended disc golf location. As the sun began to set, we found ourselves looking for a location to rest our head. We stopped at a few locations that were full and then found an Inn on our way to the disc golf location. This "Inn" was far from an Inn and was just an old bar. The woman behind the bar gave me directions to go down the street, turn right, and look for Alice – she would let us stay at her house for the night!
I thanked her for the directions and decided that finding "Alice" may not be the best choice for us. We ventured on until we reached Kippure Estates at dusk. They had a designated parking zone for "Disc Golf" and then we walked up to the estate which felt deserted. By now it was dark and cold. My husband and I decided that we would just sleep in the car for the night, unable to find any nearby housing. That packed lunch from the Moorings turned into our romantic dinner for two! My husband and I still laugh at this night.
Day 8: Wicklow Mountains, Guinness Storehouse and Dublin Castle
We woke up ready to find that disc golf course we had ventured so far for! This estate is massive and is tucked right next to the Wicklow mountains that are the backdrop of the ever-famous Braveheart. The walking trails were beautiful, serene, and unbelievably green.
One thing I can not get over is the size of the slugs that made this mountain valley their homes – so big! We searched for over an hour until we found a local that said that they had taken the disc golf baskets down years ago and that it was no more. We felt defeated in our journey! We walked back to the car where I heard a creek flowing – I needed to see it before we left so we walked down to this amazing destination that I will forever remember during our day in the Wicklow Mountains.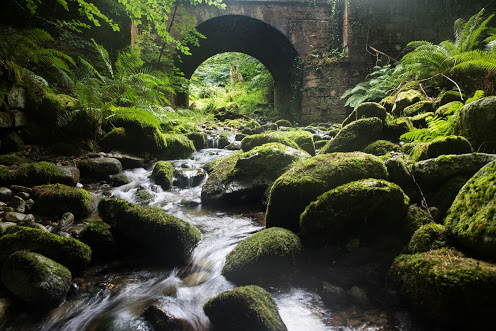 Off to Dublin, a short drive from Kippure Estates. Our first intended location was going to be the Guinness Storehouse. We arrived too early, it wasn't open yet, so we found ourselves at a local coffee shop that was just outside the walls of the Guinness Storehouse. We met a gentleman that has been here since he was a child, shared amazing stories of "old" Dublin compared to now. He made us both exceptional coffee and we enjoyed the company. Hopefully, we didn't look too ragged from our night before!
We drove around the corner to Guinness Storehouse that had ample, free parking as long as you had proof of entry from the tours. The storehouse is filled with a rich history of Guinness.
They have levels and levels of history, the process of making beer, and even sculptures from the traditional advertising they used. You can stand next to the original harp that is the iconic symbol of Guinness. Once you work your way all the way to the top of the tour, you will be at the Rooftop Bar which is complete glass walls that overlook the entire city! Save your entrance ticket – its worth a free pint! Also, if you're exploring Dublin on a budget don't forget to check out Your Irish Adventures list of Free Things to do in Dublin!
From our adventures of the brewery, we took a walk downtown that lead us to the St. Patrick's Cathedral. The line was long, and you had to pay €10 per person to enter. My husband sent me in solo to capture some of my traditional Catholic roots. I took my first moments enjoying the immense scale of this church and its general architecture. I then found a tucked away chapel to light a candle to honour everyone that I have lost in my life and pray for those that I cherish most. The last thing I did before leaving was to touch a few of Saint Patrick's relics.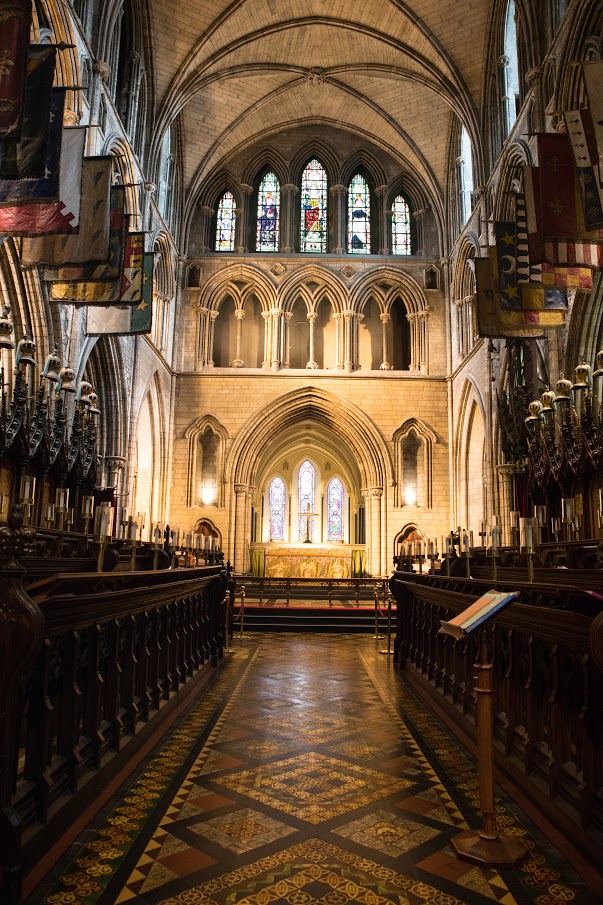 Our last stop before checking in for the evening was the Dublin castle. This castle also has a potential paid tour that will lead you through the great halls and share some amazing history. We were beat and didn't find this to be ample use of our time. We browsed the courtyard and saw the iconic sculpture of justice. Remember the coffee shop owner next to the Guinness Storehouse? He said the people find it offensive that she is facing inward to the political agenda of parliament and has her rear facing the people of Dublin.
My dream end to our amazing journey was to spend our last night in a castle somewhere in Dublin. I knew that we would need some R&R but I never imagined that our trip would be as extreme, intense, and adventurous as it ended up being! We travelled over 950 miles of Ireland's countryside, six nights in Airbnb's, one night in our car and our final night was scheduled for Clontarf Castle Hotel.
The castle was beautiful, historic, and held onto the charm of what a castle should feel like. They have a wonderful restaurant that we were able to try out for dinner. Our waitress was fun and found our American accents to be refreshing. She says that she sees people from all over the world looking to travel to downtown Dublin. She described it as a melting pot of all ethnicities and cultures. What she saw as amazing we found to be a struggle. We were hoping that Dublin had the life of an Irish town unlike any other yet we discovered it was truly a melting pot. We finished our dinner, took a stroll through Dublin and along the Dublin Bay. We were trying to soak up every last minute of our time in Ireland, knowing that early the next morning, we were on our flight home. After our adventures that was the most amazing bed I have ever slept on!
Day 9: Heading Home
We were up very early to get to the airport, drop off our rental car and make sure that we were checked in for a long day of travelling home. Checking our car back in went smooth for the most part, we ended up with a flat tire that we paid for and then were charged again at the airport. I didn't fight or fuss because I knew that I would just have to contact Hertz with proof later.
Ireland often makes it on travellers' lists of the best road trip destinations around the world and for good reason. You could spend weeks here travelling around and still only scratch the surface. Give yourself time, get out, and explore.
P.S This is a rough idea of our grand path that we travelled while we were in Ireland. We travelled over 950 miles. This is a general map of some of our stops, not all, just to give you a clear vision of our journey!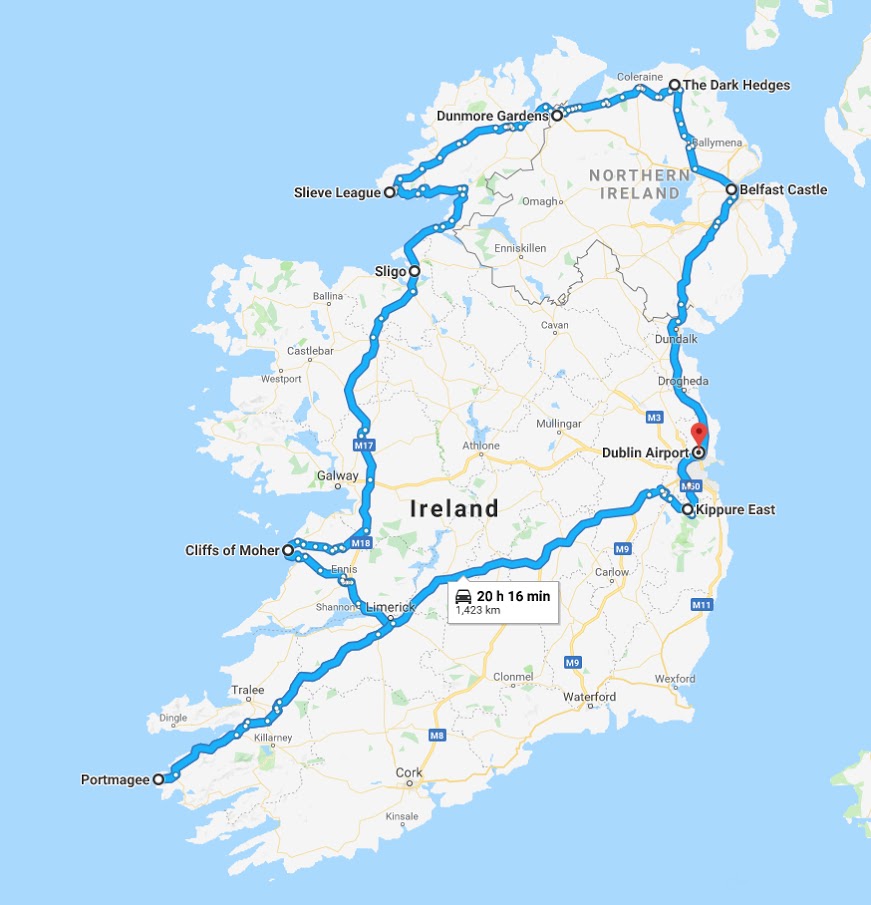 Like This Article? Pin it!