If you are looking for some interesting things to do in County Sligo then a visit to one of the best caves in Ireland, Diarmuid and Grainne's cave, is an absolute must.
I had seen pictures of this cave before and have always wanted to make my way over to it but I was also a little bit unsure if it was even possible to get up to the cave without some form of climbing equipment.
Well, now I know the answer! You can do it without any form of equipment but it's a tough hike and very steep.
Our initial plan was to hike BenBulben in Sligo but we thought we'd drive into the Gleniff Horseshoe first to take some pictures. For those who don't know the horseshoe is one of the most photogenic places in Ireland and it's not hard to see why. Have a look at this:
The weather was a bit overcast and didn't make for fun photos so we thought, feck it, let's head up to the cave and see what it's like. Visiting this Diarmuid and Grainne's cave is one of the best things to do in all of Ireland — don't' miss it!
How to get to the Gleniff Horseshoe
To get there is very simple. The Gleniff Horseshoe is about 30 minutes north of Sligo town and you drive along the N15 until you see the turnoff for the horseshoe. You can also add an extra 30 minutes and visit the beautiful Glencar Waterfall in Leitrim if you're looking to see as much as possible.
You'll definitely know when you're in the horseshoe as you'll be surrounded by mountains on either side. When you get to the ruins of the old schoolhouse you're in the right spot. There should be other cars parked there as well.
Most people then head up the mountain and go left, where there a trail leading to an old mine that is fun to visit. But if you go past the schoolhouse and then turn right and head straight up the mountain, you will find the cave 400 meters above you. Just a note that the cave is on private land so the owner does have the right to refuse admission.
There is no trail whatsoever and there are points where it gets incredibly steep. I certainly wouldn't recommend doing the hike in wet or icy conditions. There were points where the only things we could hold onto were tufts of grass and a small slip on your feet would see you tumbling down to the bottom.
We hiked straight up and then walked around the mountain until we came to the base of the cave. We had another 100 meters to go and at this point, there are some ropes that you can use to help you.
BE VERY CAREFUL with these ropes, they have been there for years and years and should not be trusted with your entire body weight.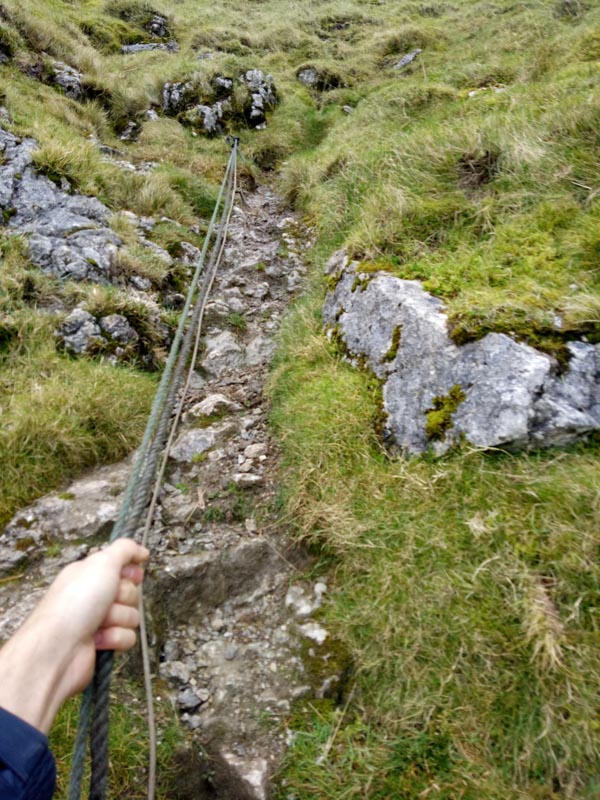 Here's an idea as to how steep the climb was, with a view of the cave at the top:
We gradually made our way up until we got to the cave and it was definitely worth the climb! The cave itself is quite deep on the inside and a lot of fun to explore but the real treat is when you turn around and have this spectacular view looking back out over Ireland.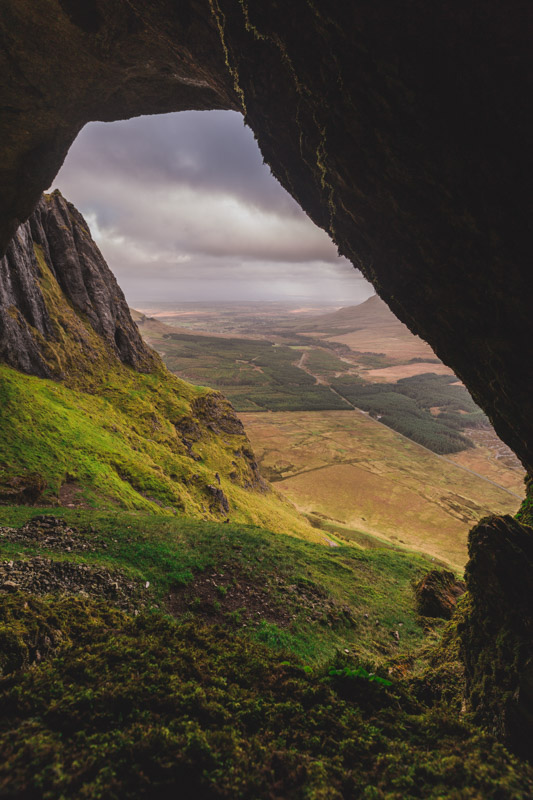 Our one mistake was that we only hung around in the caves for about 30 minutes. From what I've read there are a number of spots where you can climb into them to lead you to other parts of the cave and bigger caverns.
They might require a bit more skill and expertise than what I posses though! It does sound a bit claustrophobic though but I would have definitely like to check it out.
I even managed to send the drone out to get some shots but it was a bit awkward taking off on such a steep ledge!
Climbing down you need to be extra careful as any loose rock can gather speed very quickly down the mountain and give someone a nasty knock on the head. We went slowly and steadily and made sure not to rely too much on the old ropes. After climbing very carefully down the part with the rope, the rest of the way down went very smoothly.
For those who aren't familiar with Irish mythology, Diarmuid and Grainne is a famous Irish legend of love and loss… As usual! There are no happy endings in Irish mythology!
Grainne was the most beautiful woman in Ireland and was promised to Fionn MacCool, the High Chief of Ireland. But on the night before the wedding, she fell in love with Diarmuid who was one of Fionns best soldiers and the two of them ran away.
They evaded capture and spent years travelling around Ireland on the run. It was on Benbulben that Diarmuid was fatally gored by a wild boar and passed away.
I'm not too sure why they named the cave after them but it must be because it could be seen as one of their hiding places during their time on the run.
The whole region of Sligo is well worth exploring and this is just one of many beautiful caves and mountains that is worth checking out. Be warned though, though the hike is short and only takes about 45 minutes, it is not for the faint-hearted because of how steep it is. This probably isn't suitable for someone who has a fear of heights!
If you're looking for some more wonderful places to explore then be sure to check out the fantastic Dunluce Castle in the North of Ireland. There is a beautiful cave under the castle which leads straight into the ocean and the whole place is like a playground for photogrpahers.
Like This Article? Pin it!