Weather in Ireland in December
Who doesn't love a winter getaway? Coming to Ireland in December might not be a winter sun holiday but it can still be a great time to visit.
There are fewer tourists at this time of year than pretty much at any time of year, so you'll be able to enjoy the big tourist sites by yourself. The weather in Ireland in December can be a bit tricky, but if you know what to expect when you're going in, you can at least go prepared.
If you do visit in December, there are some amazing Christmas Markets and unique winter activities to get into, so even though the weather doesn't seem too favourable, remember there are still a lot of things to do in Ireland in the winter. Also as December is the offseason, a lot of hotels have amazing prices!
All around Ireland, you will see how much Irish people embrace Christmas. Every town, large and small will have Christmas lights, markets and even parades like the one in Killarney!
Temperature
December isn't actually the coldest month to visit Ireland, and the temperatures average between 7-10°C (45-50°F). In recent years there have been some colder spells, but it's pretty rare to see it go below zero (32°F).
Do keep in mind that although this doesn't sound bad, there's usually a strong wind going. This means that windchill can really bring the temperature down. If you're planning on being outside a lot while you're visiting, a good pair of gloves is key!
It's important to note that these averages are for daylight hours. It regularly goes below zero at night, so ice can develop on the roads.
Wind
Speaking of windchill, exactly how windy is it in Ireland in December? In short, very.
In Ireland, July has the lowest average wind speed, with 17km/hr (10.6 Mph) being the lowest average day. In December, you're likely to see speeds up to 27km/hr (17 Mph).
This does just mean that the low temperatures are really compounded by the wind. The wind really picks up along the coast, and in particular on the West Coast.
If you are visiting some of Ireland's famous cliffs, just be aware that the winds can be dangerous. High winds can also be a problem if you're planning on going out to some of our amazing islands. Ferry schedules can change day to day, but some like trips out to the Skellig Islands simply don't run.
This isn't to say that there are no calm days.
Those stunning crisp winter mornings do exist and they are great for walking around nature. Do remember that if you're planning on hiking, you will be more exposed and will be more likely to come into the wind and maybe even snow on the higher peaks.
Snow
According to Met Éireann, the Irish National Meteorological Service, Ireland usually only experiences 2-3 days of snow in December, with it only counting as snow cover one day.
In recent years this has gone up and we are seeing more days of snow, but to have the best chances, the Mourne mountains up in Ulster or Errigal in Donegal are your best bet!
There are some amazing photos taken of Ireland in the last few years while it was under snow, so maybe you'll be lucky. Ths photo of Errigal in Donegal is simply stunning!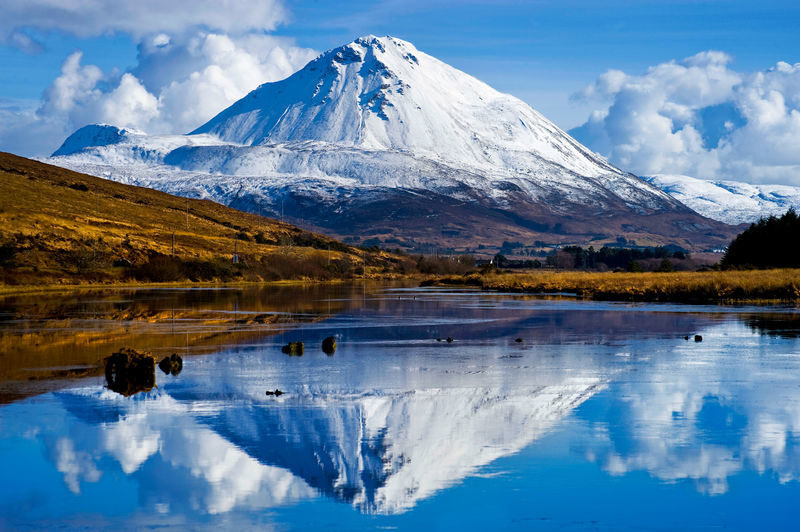 Rain
I've said this in other posts about the weather in Ireland, but the idea of a perpetually rainy Ireland just isn't true. The chance of rain does increase as you get closer to the new year but at the most, you'll see rain on 45% of days. At the start of December, it's as low as 36%.
Basically, if you come early in December two-thirds of your days will be dry! Do still bring your rain gear though!
Daylight
December is home to the shortest day of the year on December 21st, and the rest of the month isn't much better. You'll have to content yourself with less than 8 hours of daylight per day, and only 7 and a half hours on the winter solstice.
The good news for the photographers among us is that sunrise is after 8 am, and even goes as late as 8:40 am by the end of the month. Sunset follows pretty quickly after, starting just after 4 pm.
However, if you think that this is the perfect month for photography, the cloud cover might cause a problem. Overcast and cloudy conditions make up around 70% of the days, and the rest will most likely have partial cover.
The winter solstice on December 21st is an important day in Ireland, in particular for the passage tomb in Newgrange. If you haven't heard of this amazing ancient phenomenon, have a look at our article about it here!

Should you visit?
So the question remains, should you visit Ireland in December with the weather like this? Well if you love the feeling of being secluded and exploring a peaceful and wild county, then December is for you.
The famously narrow roads will be less congested with tour buses which will make driving a little easier. That said, you will have shorter days, so long road trips might not be an option.
Even though it doesn't go below zero on average, that doesn't mean the nights won't go below freezing. This means that our roads are prone to frost and ice, making driving in the morning especially dangerous. Have a look at our guide to driving in Ireland to help with other problems you might have!
The weather in Ireland in December can be limiting, but there are plenty of things to do in Ireland that are inside — pubs, live music, museums and more!
Like This Article? Pin it!