Situated just 10km northwest of Dublin city lies Ireland's fifth-largest urban area containing some of the city's best nature trails, pubs, and water slides. Back in the 17th Century, Blanchardstown was covered by expansive forestlands and was overrun with wolves.
Nowadays there are more things to do in Blanchardstown than hunting wolves, so take a trip down the M50, exit at junction 6, and discover what this history-rich, metropolitan hub has on offer.
The Best Things Do In Blanchardstown
Not content with simply being a commuter town for Dublin, Blanchardstown, or "Blanche" as it's known locally has a pile of amazing stuff to do!
Here's our guide to spending a little of your time in this almost tourist-less place!
1. Stretch your legs along the Royal Canal
Leaving the city smoke at your back, the Royal Canal is a 105km, six-day trek from Ashtown, Co Dublin to the village of Abbeyshrule in Co. Longford. This trail begins right on Blanchardstown's doorstep and is not to be missed!
If you're looking for somewhere to sleep and eat, The 12th Lock Boutique Hotel & Tapas Bar sits right on the water's edge with a beer garden more reminiscent of a Carlsberg advertisement than anything you could imagine. This picturesque waterway scene, that would have Monet reaching for his paintbrush, lies just 4km from the trail's start point.
Visitors are spoiled for choice when it comes to resting their head for the night as it is possible to stay on one of the many canal boats that line the bank. Or if your sea legs are feeling a bit weak than The Carlton Hotel Blanchardstown or the Travelodge Phoenix Park have got your back.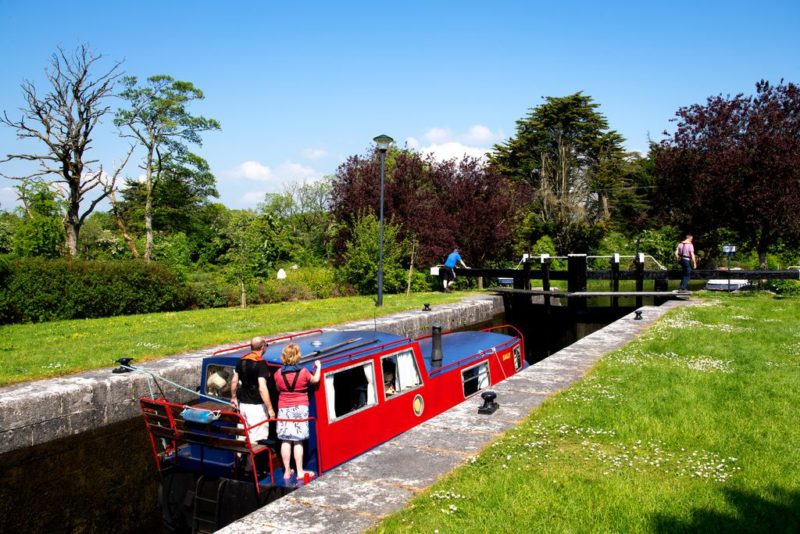 2. Home of Dublin's Best Bar
Just last month 98FMs Best of Dublin Awards named Blanchardstown's Clonsilla Inn as the best bar in the entire city. Their strawberry daiquiris are a known local delicacy and the staff are always churning out new recipes to add to the expansive bar menu.
The Inn doesn't skimp on entertainment either as their Thursday Night Bingo pot often goes up as high as €8,000. They regularly have some of the best tribute acts in Europe come by for shows. If you really want to meet local people, Bingo is easily one of the best things to do in Blanchardstown!
Although the wolves are long gone, they have returned to the village somewhat with the opening of the Black Wolf. Situated in the heart of the old village the watering hole is one of the most popular spots on any given evening.
There's something for everyone as the venue boasts an impressive gastro menu, a whiskey club for those with refined tastes, and 10 large HD screens broadcasting a range of sporting fixtures.
However, if it's cheap and cheerful you're after, the UK pub giant Wetherspoons revived long lost forestlands back when they opened The Great Wood in the heart of the town. Weekly pub quizzes and the cheapest drinks in town (where else in Dublin would you get a pint for €1.95!?), made the pub an overnight success. They have extensive outdoor seating and a separate smoking area so you're bound to strike up a conversation with a new friend.
3. Immerse yourself in the culture at Farmleigh
Now that your food and accommodation are sorted it's time to soak up the Blanchardstown culture. On the outskirts of the old village lies a preserved Edwardian estate and mansion. Farmleigh is now used as the Irish State guesthouse hosting a long list of foreign dignitaries, among them even Queen Elizabeth II.
The 78-acre estate is open to the public year-round and was once owned by Edward Guinness, great-grandson of Arthur – the man who blessed the world with pints of the black stuff. Tours of the mansion run every day, priced at €8.00 per adult with concessions for children, families, students, and seniors. A trip to Farmleigh won't break the bank as entry to the surrounding gardens and art gallery is free.
To get the best of Farmleigh check the venue's website in advance as their summer timetable is jam-packed full of markets, concerts, and theatre shows.
Farmleigh's pièce de résistance is taking place in mid-August when the venue transforms itself for India Day, which marks Indian Independence Day. A plethora of Indian song, dance, music, and folk performances will take place while the aroma of Indian cuisine fills the air. Not what you would expect from a visit to Ireland, but it's a great way to see the cultural melting pot that Ireland is becoming!
While you're in Farmleigh, take your time to walk around the Phoenix Park. You might even get to see some of the wild deer while you're there!
4. Set your adrenaline running at Aquazone
Ireland's National Sports Campus is just a 15-minute walk from the village and hosts an Olympic sized swimming pool, indoor running track, outdoor all-weather pitches, full gym suite, and everyone's favorite, Aquazone.
Rain or shine the Aquazone has your leisure needs covered with an indoor wave pool, lazy river, flo-rider, kiddies pool, and three thrilling waterslides. Each one ramps up your adrenaline with the Master Blaster slide taking pole position as water rapids power you up and down a series of inclines and sharp declines in a rubber ring.
Aquazone is value for money as the admission fee (Adults €15, kids €13) means you can stay as long as you like. With so much on offer, it's bound to tire the kids before bedtime.
5. Take a load off at the Blanchardstown Shopping Center
A trip to Blanchardstown would not be complete without a day browsing through Blanchardstown Shopping Center. Opened in 1996 the center brought the city to the suburbs and has only grown in size.
Over 180 outlets occupy the complex and parking is never hard to find as there are over 7,000 spaces available. Among other big brand fashion names it is home to the nations favorite department store – Penneys – as well as tech stores, fitness outlets, restaurants, and entertainment facilities such as the Leisureplex and an Odeon Cinema
Not to hype it too much, but rumours were confirmed that the mouth-watering donut company Krispy Kremes will be opening the countries first ever drive-thru facility in October 2018. Take my money!
If you're interested in seeing Irish Designer clothes, have a look at our guide to 5 Irish designers You Need to Know!
That's all from us, have we missed a little gem in Blanch? Or do you have a different town outside Dublin you think we should feature? Let us know in the comments!
Like This Article? Pin it!