A weekend in Cork is the perfect amount of time to spend in this glorious city located in Ireland's southern region!
With two days, you can explore the historical and cultural sites of the city, try some of the food that makes Cork the country's foodie capital, and even take a day trip to Blarney Castle & Gardens.
Plus, if you're planning on spending a week or two in Ireland, you can easily travel to Cork from almost any other city or town in the country because it's so well-connected.
I was lucky enough to spend two days in Cork, Ireland myself whilst I was studying abroad in Dublin and can't recommend it enough — it really is one of the top places to visit in Ireland.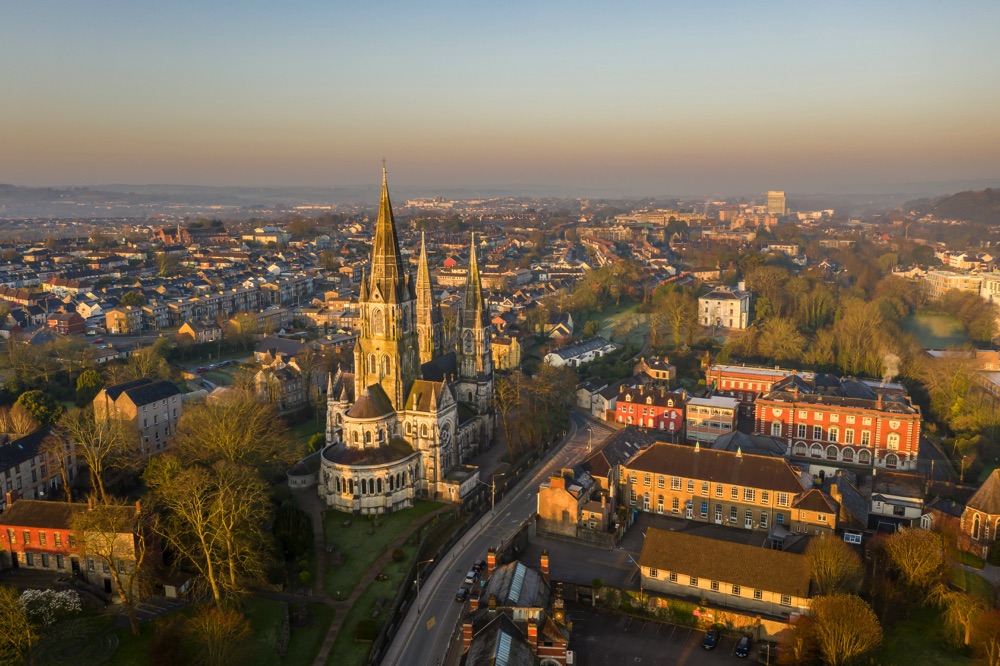 So, what are you waiting for? Read this Cork travel guide and start planning your weekend trip!
Day 1 in Cork
I suggest spending the first day in Cork trying to get acquainted with the city. So, this would consist of taking a walking tour and visiting some of the more historical parts of the city.
This is the perfect way to kick off your weekend in Cork!
Be sure to wear your best and most comfortable walking shoes or your feet are going to be hurting at the end of the day.
Morning
When you first wake up, don't bother having breakfast at the buffet at your hostel or hotel if there is one. Trust me, you're going to want to go out and have breakfast at a real restaurant to start your Cork food experience.
Go straight to Ali's Kitchen. This is one of the best breakfast restaurants in all of Cork! Since you're visiting during the weekend, you'll be able to order from their special weekend-only brunch menu.
I suggest ordering their Eggs Benny even though it's not a traditional Irish dish because it's just so delicious. You'll be able to grab more traditional food later in the day.
Most meals here will cost around €10 ($11.50) for breakfast/brunch.
After breakfast, it's time to finally acquaint yourself with the city by taking a food and walking tour. I recommend going on the Cork Food and History Tour because it will bring you through Cork's history while enjoying tasty food from Cork. This tour starts at 10 a.m. sharp and will end right around lunchtime.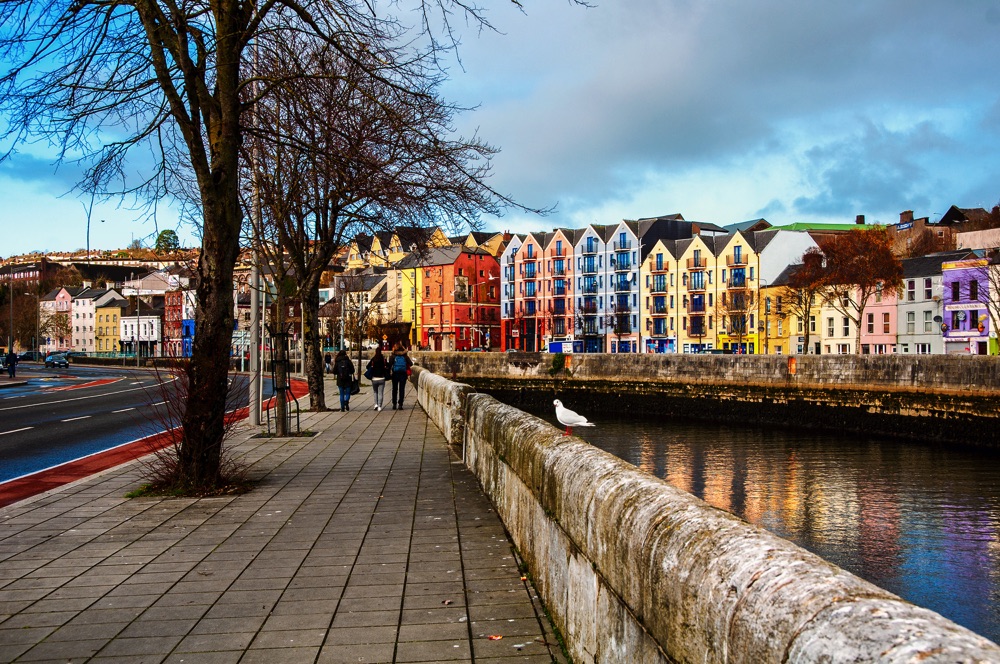 If you're too full from your Eggs Benny breaky, consider joining a walking tour minus the food! This walking tour takes you through the history of the city while walking to many of the major sites. It's free to join, but a tip is appreciated/expected at the end of the tour.
Afternoon
You're probably hungry after the walking tour (unless you joined the foodie tour), so I recommend you go to lunch at the English Market. This is the most popular food market in Cork and they have something for everyone. Even if you're not eating, it's an interesting place to visit.
If you walk the stalls and found that there's nothing you're interested in eating, walk right upstairs to the Farmgate Cafe. This cafe sells classic Irish dishes and you surely won't be disappointed.
After lunch, it's time to finally start exploring some city highlights!
The first stop of the afternoon is going to be Cork City Gaol. This jailhouse first opened in 1824 and served as a prison until the beginning of the 20th century when it was converted to a radio station.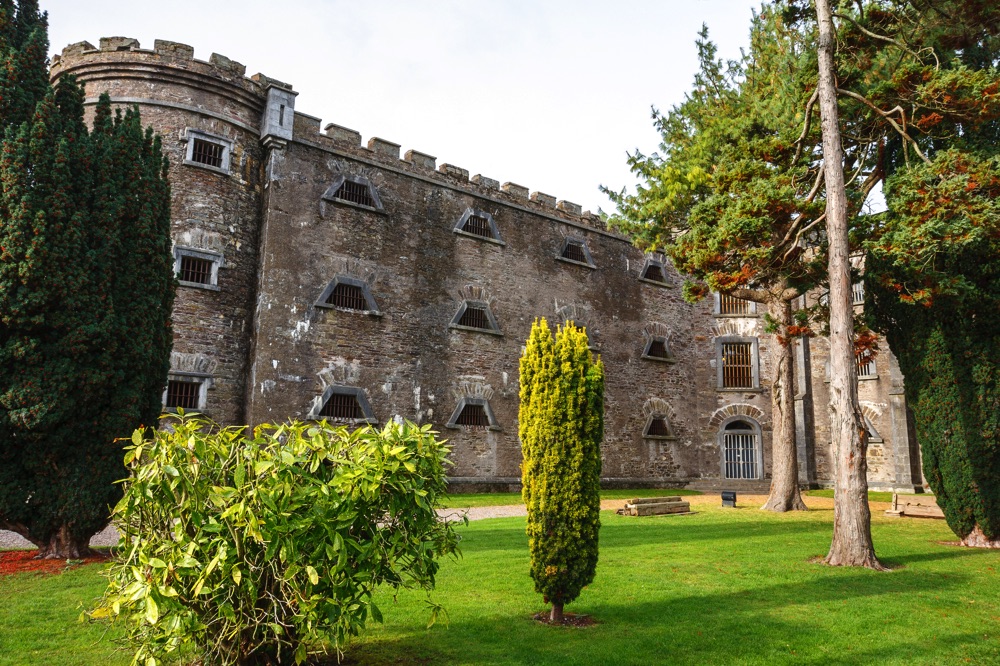 These days, it's a great museum that can give you a glimpse into a bit of Cork's past. I suggest allocating around two to three hours here maximum to fully explore!
Once you're done exploring Cork City Gaol, you'll find that it's probably just about time to do a bit of exercise and burn off your lunch and food tour, so I recommend you head to St. Anne's Church.
This church was built in the 18th century. The main reason I suggest visiting is to climb the bell tower to get a great view of Cork from above.
It only costs €5 ($6) to climb to the top and you'll see the Shandon Bells on your way up. Plus, the climb isn't that long since it's only 132 steps.
The last stop of the afternoon that I recommend is University College Cork. I truly think that the universities in Ireland are crazy beautiful and I always like to visit them because they're free.
When you get there, just meander around the university and see what you stumble upon! There's even a great Visitor Centre which will introduce you to the university's history.
Evening
Now it's finally time for dinner. Tonight, I suggest you eat at Market Lane. This is a mid-range priced restaurant that sources the majority of its ingredients from The English Market where you ate earlier.
It's also conveniently located in Cork's city centre.
After dinner, head to Sin É. This is the perfect place to spend the rest of your evening because they typically have live trad music sessions.
Sin É officially opened in 1889 and has been serving great Irish meals ever since. Try your best to get here early because this place can get packed and you want to make sure you get a seat — it's one of the best nightlife spots in Cork.
After a long night of exploring, sit back, relax, order a pint and listen to the great music. Then, head back to your accommodation and get prepared for another busy day!
Day 2 in Cork
For your second day in Cork, you are going to spend the majority of the day at Blarney Castle & Gardens, which is one of the best day trips from Cork. Yes, I do suggest that you set aside at least 5 to 8 hours to fully explore the area — it's huge!
But first, I recommend you start your morning by getting a Full Irish Breakfast at one of the best breakfast joints in Cork.
Morning
For breakfast your second morning, I suggest eating at Goldbergs, which was my favorite brunch spot.
This restaurant has the best Full Irish Breakfast in the whole city, but you can only get their Sunday brunch menu on, you guessed it, Sundays.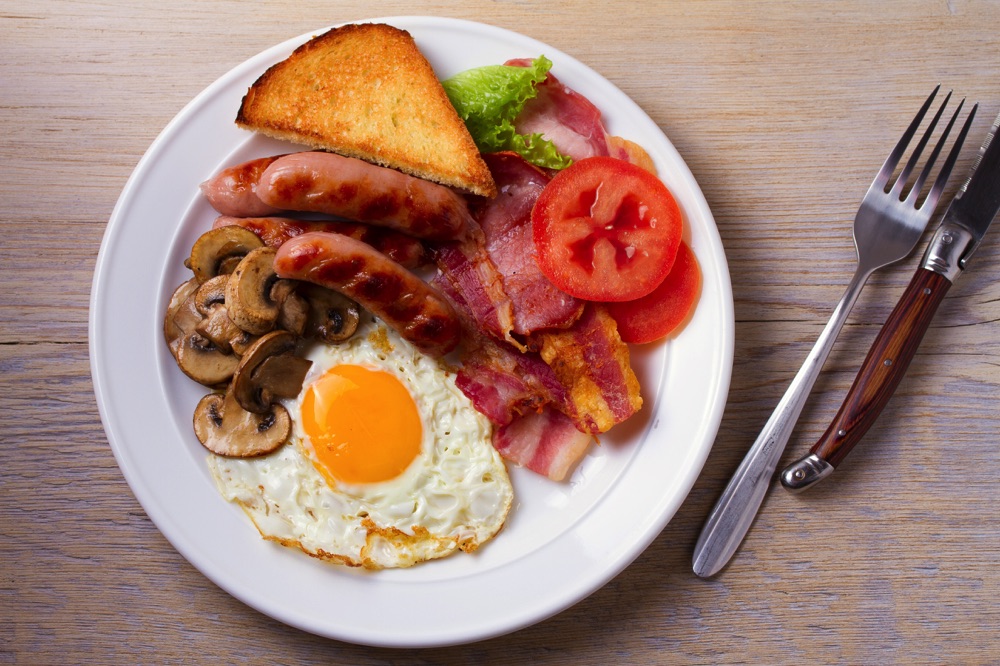 Luckily, today is Sunday, so you can go and get it!
What's so great about Goldbergs' Full Irish Breakfast is that it features Clonakilty black and white pudding, which is made within an hour of Cork city. Talk about eating locally.
If you're curious as to what else comes with a Full Irish Breakfast, it comes with two eggs, sausage, mushrooms, bacon, toast, and black and white pudding.
The breakfast at Goldbergs will put you out €11.95 ($14). Don't worry, there are many other breakfast options on the menu, including vegetarian choices.
After breakfast, I suggest you set out to visit Blarney Castle & Gardens. This way, you'll have the rest of the day to explore it all.
To get there from Goldbergs, either drive or hop on the 215 bus towards Mahon Point and get off at Blarney Church. By bus, the ride won't take more than 45 minutes, while if you drive you can get there a lot quicker.
While you're on your way to Blarney Castle & Gardens, I recommend pulling up an online map of the grounds to start to plan and map out where you'd like to go once you get there.
If you'd rather get there by tour, check out this hop-on bus with Paddywagon Tours which provides transportation to the Blarney Castle, Cobh and other optional stops. Learn more here.
Afternoon
Now is the perfect time to spend the afternoon exploring all that Blarney Castle & Gardens has to offer! This is definitely one of the castles in Cork (and Ireland) that you won't want to miss.
Once you get to the castle, walk up to the ticket booth and purchase your tickets or show them your tickets if you purchased them online.
Make sure you grab a map at the entrance. Trust me, this will come in handy in the coming hours when you realize how big the grounds here are.
Begin your time at Blarney Castle & Gardens by immediately heading to kiss the Blarney Stone. This is the most popular attraction at the castle, so be prepared to wait in line.
I think it's best to visit this site first so you'll have the rest of the afternoon to continue exploring the grounds.
You'll want to make your way towards the castle and begin the trek up the tight stairways to the top. If you're not a fan of heights, then opt-out of this.
Once you get to the top, you'll find that you may have to wait in a line to kiss the Blarney Stone. That's okay, enjoy the great scenic view of Blarney from the top of the castle while you wait.
Now, when it's your turn to kiss the Blarney Stone, don't be worried. A worker cleans it after every single person touches it and holds you while you kiss it. They'll even tell you some great craic while you do it!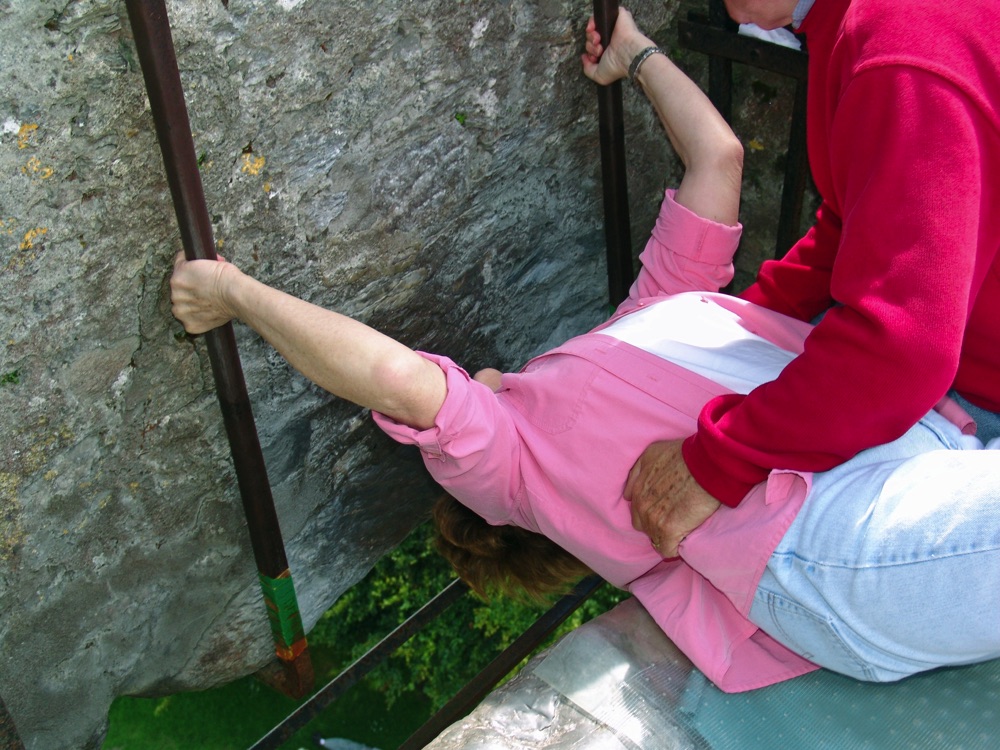 Also, if you want to go and see the Blarney Stone but not kiss it, that's perfectly fine too. That's what I did, and they don't hold it against you.
After you kiss the Blarney Stone or climb up to the top of the castle, make your way to the Stable Yard Cafe to grab yourself some lunch.
This quaint little cafe on the castle grounds offers some great sandwiches, pizzas, and soups that are sure to fill you up. If you need a caffeine fix, they also serve coffee.
Once you're done eating lunch, it's time to go out and explore more of Blarney's extensive gardens.
The first stop on your list should be the Poison Gardens, which is home to a bunch of poisonous plants. Don't worry, the super dangerous ones are caged off so you can only look at them!
Next, I recommend you visit the Bog Garden and the Jungle, two of my other favourite sites that I stumbled across while exploring the gardens. They're otherworldly!
Use your map to see if there are any more places in the gardens that you're interested in exploring and then hop back on the bus to Cork for dinner.
Evening
For dinner on your last night in Cork, I recommend eating at Greene's Restaurant. This restaurant is one of the most popular restaurants in Cork.
Though this isn't the most budget-friendly place to eat, the atmosphere of the restaurant alone will make you want to go there and spend your money. It's located inside an old 18th-century warehouse.
If you're lucky enough to make it there between 5 p.m. and 6:30 p.m. on Sunday, you'll be able to catch the early bird menu. This means you can get a three-course meal for just €37.50 ($43).
From Greene's Restaurant, I suggest you go to the Crane Lane Theatre to enjoy a night of Cork's best live music. Honestly, you don't even need to hop on public transport to get here. It's a short ten-minute walk away over the River Lee.
This great place is open seven days a week until 2 a.m., so you're welcome to stay here late or just spend a few hours here and then go back to your hotel to hit the hay. It's the perfect way to end your two days in Cork!
Insider's Tips for a Weekend in Cork
Like most cities in Ireland, there are a few tips that will help your weekend in Cork, Ireland to run a lot smoother.
Below, find some of the things that I recommend doing to save yourself some money, especially if you only have a weekend to spend in Cork.
1. Stay in an Airbnb to save major money
Most people will opt to stay in a hotel, hostel, or bed and breakfast because that's what normally comes up in a simple Google search.
However, if you want an overall affordable place to stay, I suggest you consider booking an Airbnb for any weekend breaks in Cork, which can cost closer to €45 ($51) even near the city centre.
What's so great about Airbnbs is that you can opt to purchase your own groceries and cook for yourself.
The downside to this is that you may not fully get to experience all that the foodie capital has to offer, but you'd have a whole apartment or house to yourself.
I personally always chose to stay in an Airbnb in Ireland while I was travelling. Click here to search for Airbnbs in Cork.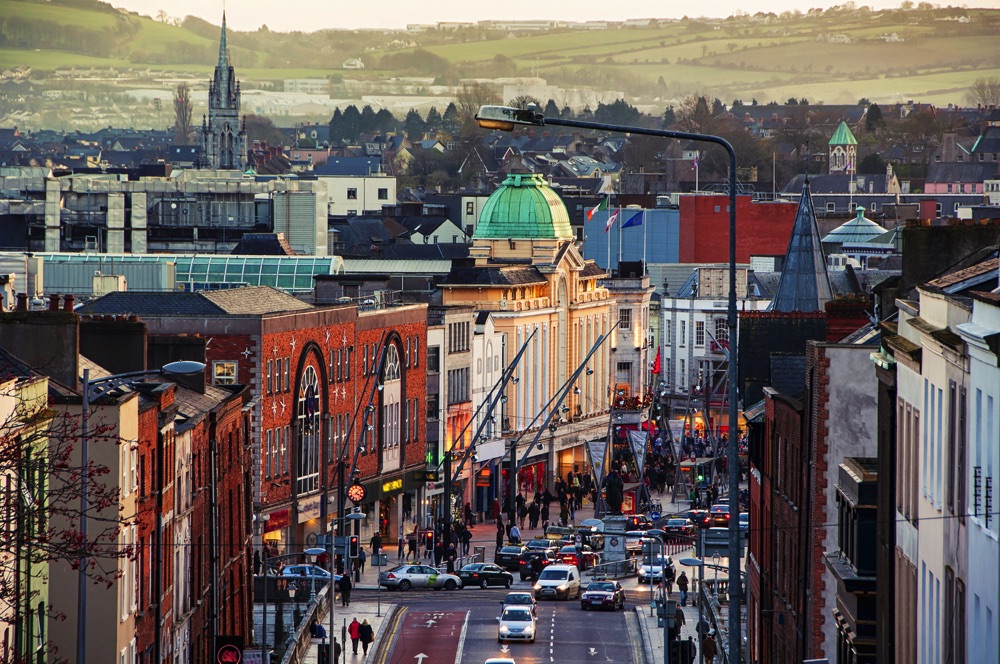 2. Buy your monument tickets ahead of time
You don't necessarily have to purchase your tickets to attractions ahead of time, but honestly, it will save you money. Even though it's normally only about €2 to €4 saved, it can make a difference.
I always like to try to book my tickets ahead of time too just in case it ends up being a really busy day.
You don't want to get to an attraction you planned on visiting only to find that you can't be let in because they're at capacity and are no longer selling tickets.
Trust me, I've been there, and it's not fun! Visit Get Your Guide to see if you can book tickets online.
3. Invest in a Visitor Leap Card
I feel like I suggest this to absolutely everyone who visits Ireland, but you 100% want to invest in one of these cards. They will save you a lot of money and work all over the country.
Plus, this card is reloadable at many gas stations and convenience stores. You can purchase one online or from a verified agent. Learn more here.
Getting Around Cork
Since Cork is the second-largest city in Ireland, there are quite a few ways to get there.
First of all, you could be getting there by bus or by plane to Cork Airport.
Another way to get to Cork is by train, which is how I got to the city. Cork's train station is called Cork Kent and tickets can be booked on the Irish Rail website.
No matter how you get to the area, the cheapest way to get to Cork's city centre is to take the bus. This shouldn't cost you more than €8 ($9) maximum.
By Bus
It's super easy to get around in Cork by bus. This is the main way that I travelled in the city, besides walking.
The buses in Cork are serviced by Bus Éireann and you'll find that they can get you around the city rather quickly and also can get you to and from attractions like Blarney Castle & Gardens.
One way on the bus costs about €2 ($2.30).
By Metro
There isn't any type of Metro that you can take in Cork city. Stick to the bus, trains, and taxis.
By Train
A popular way to get to Cork is by train. This is my preferred method of travelling between cities and towns in Ireland, just because the countryside is so scenic and breathtaking.
Just be sure to get off at Cork Kent Station. Once you're in Cork, you won't be using the train to travel around the city, but if you are visiting neighbouring areas, then you may find yourself making use of it.
The price of the Irish Rail depends largely on the distance you're going.
For example, my ticket from Dublin Heuston to Cork Kent cost me €36 ($41) round trip with my Student Leap Card, since I was studying abroad in Dublin at the time.
From the train station, you can catch a cheap bus to Cork city centre.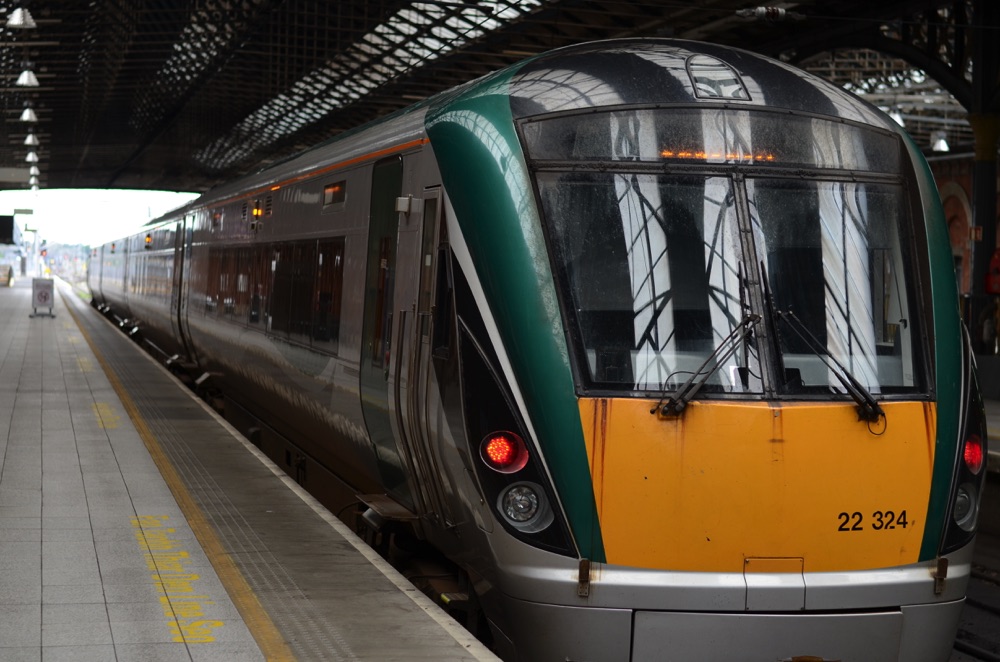 By Taxi
Since Cork doesn't have any Ubers, you may find yourself making use of the taxi system. I didn't use any taxis in Cork, but I have been in my fair share of taxis in other areas of Ireland.
Taxis here are quite easy to order. Just download the app called Free Now onto your phone, and order one the same way that you would normally order an Uber or Lyft.
Most taxi rides won't cost more than €20 ($23) unless you're going a very long distance or it's rush hour.
Best Place to Stay For a Weekend in Cork
Luckily for you, there are a bunch of great places to stay in Cork.
Some of the options are closer to the city centre while some are not, so you'll just have to decide how close to the hustle and bustle of the city you'd like to stay.
Cork City Centre
My favourite place to stay in any city is the city centre which is why Cork's just had to make the list.
If you stay in the city centre, you won't have to make as much use of public transportation, but you might find that rates are a bit higher. If you're not planning on staying in an Airbnb, here are a couple of options.
Best Cork City Centre Hostel: Kinlay House Cork (from €48/$55 a night)
Best Cork City Centre Hotel: Lancaster Lodge (from €100/$113 a night)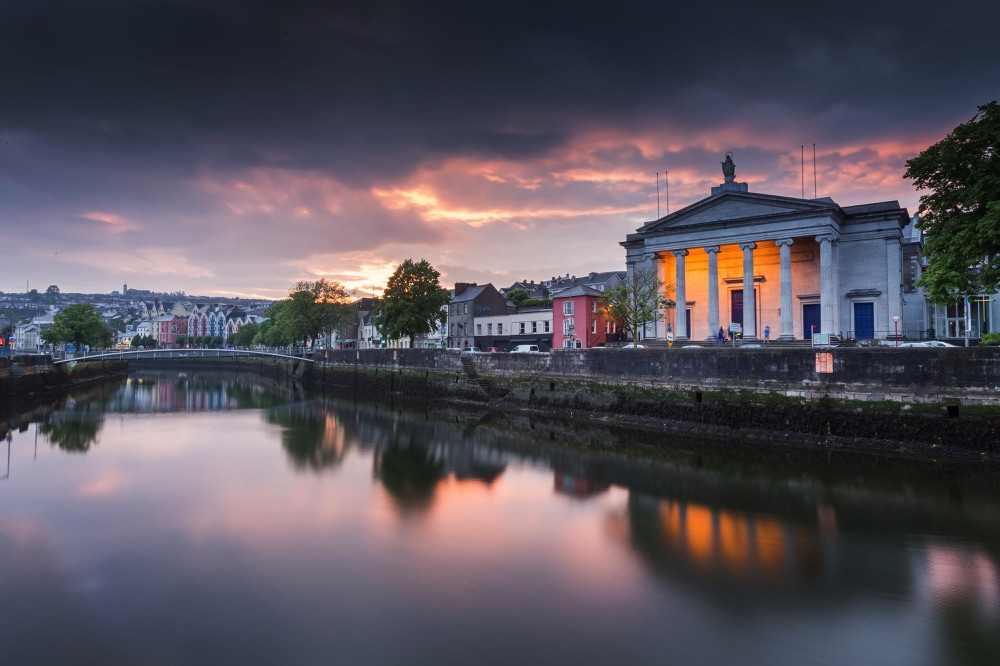 Victorian Quarter
The Victorian Quarter is a very historical area of Cork that feels very 19th-century. This area has a lot of trendy bars, pubs, restaurants, and bookstores. If you aren't planning on staying in an Airbnb, here are a couple of options.
Best Victorian Quarter Hostel: Bru Bar and Hostel (from €61/$70 a night)
Best Victorian Quarter Hotel: The Metropole (from €119/$136 a night)
St. Luke's
I often think that this area is overlooked in Cork, but it's located conveniently next to the Victorian Quarter and Cork Kent Station. This area is filled with great bars and restaurants. If you aren't planning on staying in an Airbnb, here are a couple of options.
Best St. Luke's Hostel: Sheila's Cork Hostel (from €17/$19 a night)
Best St. Luke's Hotel: Gabriel House Guesthouse (from €66/$75 a night)
Enjoy your weekend in Cork!
Well, now you know how to spend the perfect weekend in Cork.
I managed to visit the majority of the places on this list in 2 days in Cork, but I can tell you that after getting a taste of the city, you're going to be planning another trip back! To learn more, have a look at our list of the 21 best things to do in West Cork and this list of the top things to do in Cork.
Like This Article? Pin it!