Ireland is one of the best countries in the world to enjoy the luxury of staying in a five-star hotel due to our abundance of beautiful castles that you can stay in. Many people don't know that there are a lot of dog-friendly hotels in Ireland that are very luxurious indeed!
My father turned 60 last week and wanted to celebrate in style. So we decided to spend the weekend in the beautiful Lough Eske Castle Hotel in Donegal. It really is an absolutely stunning hotel in a gorgeous location tucked away in the trees on the edge of the Eske Lake. It is also a fantastic example of a luxurious, pet-friendly hotel in Ireland.
It is right beside Donegal town and is the perfect location to act as a base camp if you want to spend a few days exploring Donegal. We've already featured Lough Eske Castle Hotel before on our Wild Atlantic Way Trip Itinerary.
How is Lough Eske Castle Dog Friendly?
You will find a welcome doggie bed and bowl in your room
They offer dog grooming for between €30-€50 depending on dog size.
They also offer a dog walking service for €15 per hour
They can even organise a pet health check and can bring your pet to the vet for €36 between 09.00-17.30 Monday – Friday and 09.00-13.00 on Saturday.

Our family also has a 12-year-old basset hound called Temoco and wanted to bring her along to celebrate with us. Temoco has been a part of our family for a long time and requires a bit of extra attention as she gets older so we didn't want to leave her in a kennel during the weekend away.
We decided on Lough Eske for two reasons; The first being that it has a reputation as being one of the best hotels in Ireland and the second was that we knew they had dog-friendly rooms.
The dog-friendly culture is not as big in Ireland as it is in the UK. Over in England, dogs are allowed in many pubs and hotels, especially in walking areas such as the Lake District. In Ireland, this is something which is starting to become more and more popular.
Arriving At Lough Eske
After a three hour drive from Dublin, we finally got to see Lough Eske Castle in the flesh and it looked incredibly rustic. The hotel was quite busy as 200 out of 230 rooms were occupied over the weekend so there was a constant buzz of people arriving. Despite this, it never felt too busy or crowded. The standard of service in the hotel was excellent and we were always incredibly well looked after by the staff.
There are also plenty of nooks and crannies where you can have a private drink with your family without feeling too crowded. There were six of us and a baby in total and we were always able to find a spot to relax and have a quiet drink around the hotel.
The dog-friendly rooms are found in the courtyard right beside the bar. Temoco, my girlfriend and I stayed in the dog-friendly room while the rest of the family stayed in the regular rooms. The dog-friendly rooms are slightly different from the regular rooms. The only difference I noticed was that instead of there being carpet on the floor, there are tiles. They also provide a small doggie bed and doggie bowls.
The doggie bed was lovely but a tad small for an incredibly long basset hound but luckily we had brought our own doggie bed for her instead.
We arrived in the afternoon and had an extremely smooth check-in, with the concierge bringing our bags to our room while we brought the dog.
After we had unpacked our stuff we headed down to the lake to give Temoco a run around after the long drive. Along the way, she managed to raise a squirrel which quickly climbed up a nearby tree. Though she has always enjoyed chasing squirrels she has never actually caught a single one! There was a nice trail along the lake that we followed for a while before heading back to the hotel to get ready for dinner.
We were worried about leaving Temoco in the room during dinner and drinks but she was completely fine and very relaxed. We made sure to pop back every hour to let her outside and use the bathroom but she never barked or made a mess in the room. There were two terriers next door who also seemed to be very well behaved in their rooms.
Dining In Lough Eske
In the mornings, you can sit down in the restaurant and order off the menu or go up and select your food form the breakfast buffet. This is no normal buffet though! A chef will be waiting for you and will make you an omelette, pancakes or potato bread right in front of your eyes. The omelettes were absolutely gorgeous and I even went back for seconds!
As well as that there are the makings of a fry, smoked salmon and capers, hams, cheeses, pastries and many other healthy options. We were completely spoiled for choice and the breakfasts would leave us totally satisfied until dinner.
Dinner itself was definitely the highlight of our stay here. The food was out of this world. For my starter, I had the red wine poached pear with goats cheese which was an incredibly flavoursome and light dish.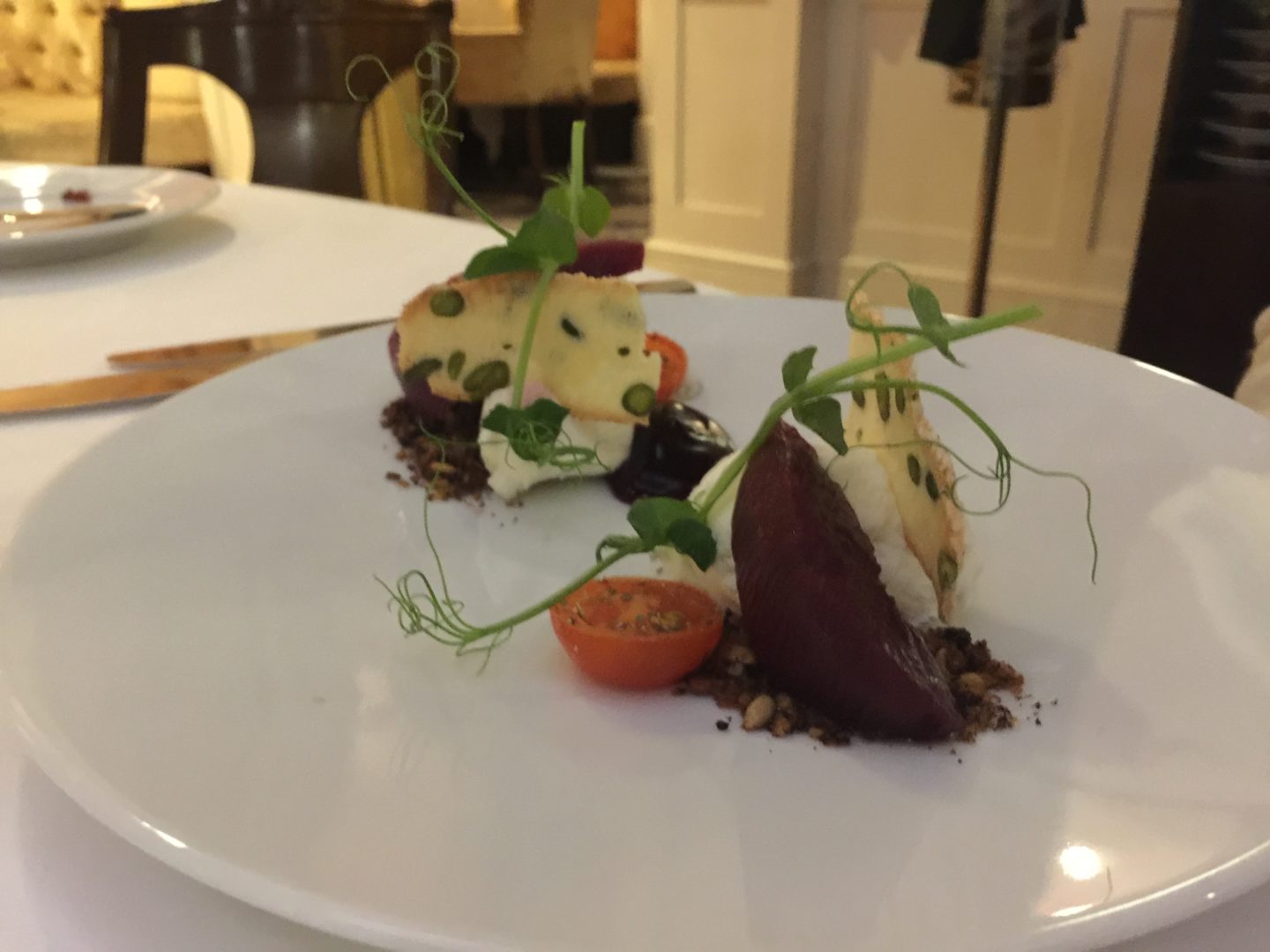 For the main course, I opted to share the biggest steak I've ever seen in my life. It was a 2 pound/ 32oz Tomahawk steak. It was an absolute monster of a steak and incredibly flavoursome. I had it with onion rings, chips and a pepper sauce and was blown away by the taste and texture. The steak was so big that we even managed to save a bit to bring back for Temoco which doesn't happen very often!
My girlfriend opted for the chicken and truffle which was also lovely without overdoing the truffle flavour too much.
Then for dessert, I went for the melting chocolate ball. I've seen it online a lot but never had the chance to try before. It was absolutely delicious and the sauce poured over it was extremely rich and decadent.
The whole thing was by far the best meal I've had in a long time.
After the meal, we stopped by the bar to listen to some live music and once that was over everyone was still in the mood to sing so a number of people started singing some old Irish songs. It was a really beautiful experience and a lovely way to end the evening. We then headed back to our room to have a nightcap and cuddle with the dog before heading off to bed.
If you want to check out the rates and availability, click here.
Like This Article? Pin it!