Whether you came to Ireland to drink whiskey, or now drink whiskey because you came to Ireland, it's hard to deny that you are spoilt for choice when it comes to Whiskey in Ireland. 
The word "whiskey" is actually the rather dull Anglicisation of the happily coined Gaelic phrase, 'uisce beatha', meaning "water of life". Irish Whiskey is renowned for its smooth finish as it doesn't use peat in the malting stages unlike a lot of Scottish whiskeys.
Ireland and whiskey have had a long-standing relationship, so much so, you couldn't really separate them until 'political correctness' somewhat liberated us from its malty clutches. Even Mark Twain once had a crack at us once:
"Give an Irishman lager for a month, and he's a dead man. An Irishman is lined with copper, and the beer corrodes it. But whiskey polishes the copper and is the saving of him."
Although surveys show Irish people are actually consuming less alcohol year after year, I'd argue we still know how to make the good stuff.
Much like our Irish craft beer scene, Ireland has seen a huge influx of indigenous distilleries popping up around the country.  According to the Irish Whiskey Association, as of August 2017, there were 18 distilleries in operation with plans for another 16 in the pipeline. This is great news for everyone, more choice, more employment and most importantly, more whiskey.
The choice of this gentleman's (a very loose definition) beverage is personal and doesn't always entail a good time, for you or the people around you. However, enough of the Greats seemed to like it and who are we to say they were wrong?
"The light music of whiskey falling into a glass—an agreeable interlude." – James Joyce
Keeping in mind the subjectivity surrounding taste and quality, here are some whiskeys that are definitely worth a sip if not a bottle for the cabinet.
2 Gingers (€20)
Relatively speaking, this is a 'new' Whiskey, 2Gingers is a great alternative to Bushmills and Jameson whiskey as it is hitting in that same buyer-friendly price range with the same level of quality.
The Whiskey is known for its smooth and 'easy-drinking' qualities and has been described as having a tinge of honey and citrus, lending it a peculiar sweetness. The whiskey is matured for four years before it hits the bottles.
Also, you get to tell the most Irish story I've certainly ever heard. Founder Kieran Folliard named the whiskey after his aunt, Delia and mother, Mary, encouraged him to follow his passion of distilling; both being traditionally red-headed ladies (I know, you just couldn't make it up).
Paddy Irish Whiskey (€20-€25)
First produced in 1779, this triple distilled whiskey really has an Irish bite to it. A straight-up Irish Whiskey with a toffee, vanilla, oak, and pepper tinge; you can't go wrong for a whiskey at this price.
Another very Irish story. In 1913 they changed their name to Paddy, after a 'legendary' salesman conveniently named Paddy Flaherty. Before that, it was rather elegantly named after its home… "Cork Distilling Company Map of Ireland Old Irish Whiskey".
Powers John's Lane Release, 12-year-old Pot Still Whiskey (€64)
https://www.instagram.com/p/4PpvIaQa7H/?hl=en&taken-by=powers_whiskey
If you're in the market for something a little fancier, you can give this tongue tickler a go. With its rich, smooth texture, it packs a rather spicy punch. A great gift to any whiskey drinker.
Tullamore D.E.W 12-Year Special Reserve Irish Whiskey (€45)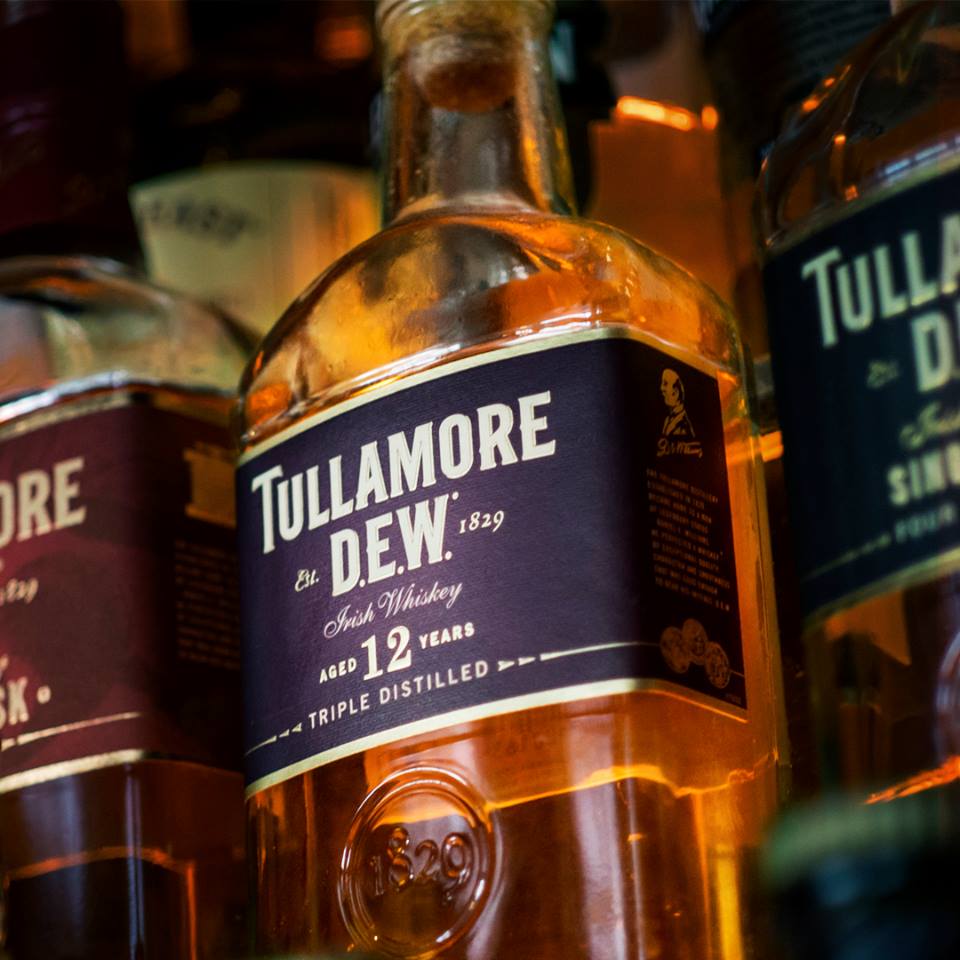 Although this particular whiskey was originally launched for the travel retail market, its popularity has seen it enlisted into the shelves of mere off-licences all over the country. I'd recommend drinking this one neat to appreciate it.
Tullamore D.E.W whiskey is known for its smooth and gentle complexity. Its name (the D.E.W part) is derived from the gentleman who pursued his simple passion, Daniel E Williams.
The Irishman Single Malt (€47)
A smooth whiskey which is a nice step up for any beginner whiskey drinkers. This is distilled in Walsh's Distillery who has been around since 1999. Also home to the tasty 'Writers Tears'.
Each batch of the Single Malt is limited to 6,000 bottles, each bottle proudly proclaiming its unique number and batch on the label. This whiskey claimed a Double Gold Medal in "The World Spirits Competition" in San Francisco and a Gold Medal in ISW Germany.
Redbreast 21-year-old (€190)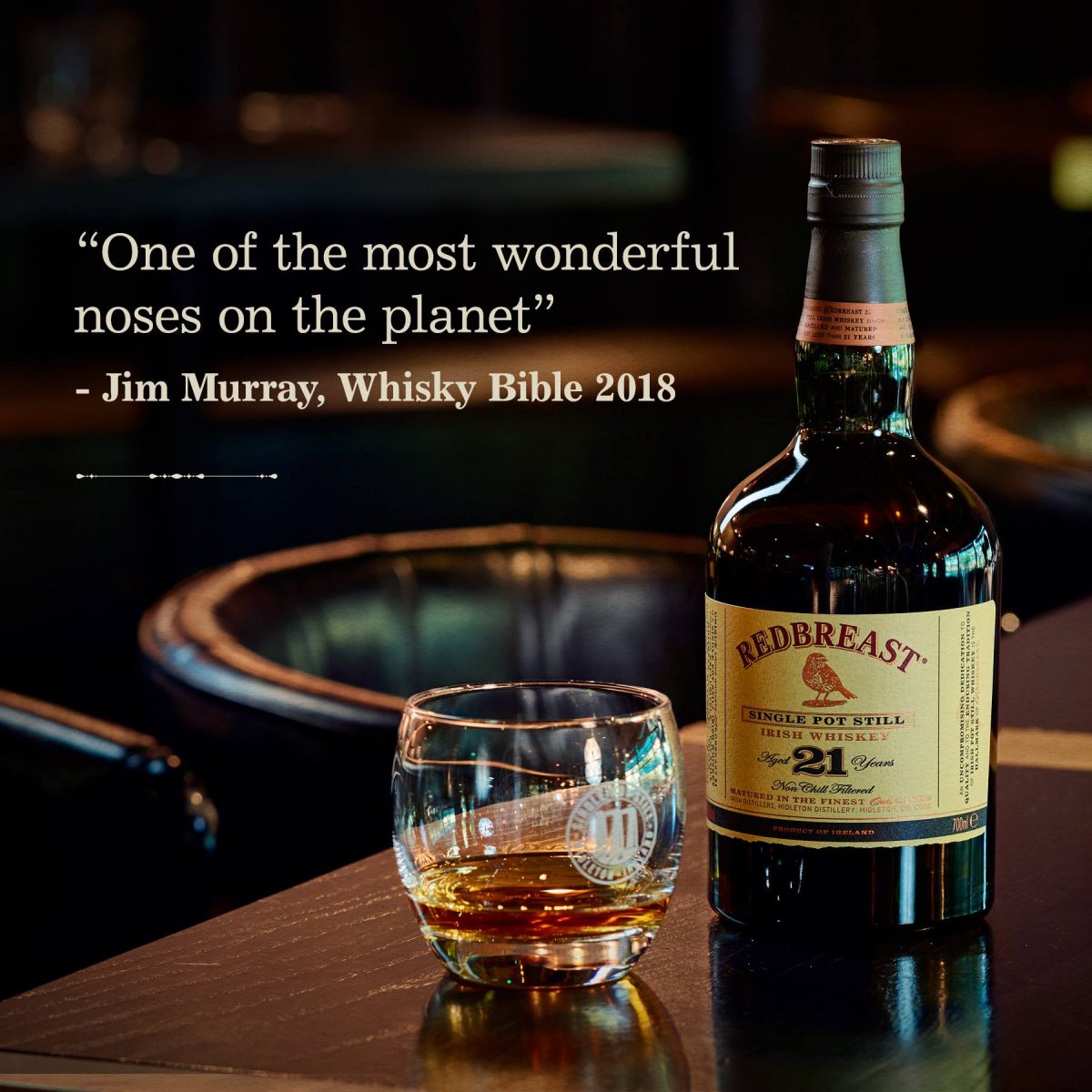 If you're still reading at this point I will presume you are somewhat of a whiskey fan or that your thirst hasn't been adequately quenched by the previous recommendations.
Well, here you go! The coveted Rebreast; an elegant, smooth and all the other necessary adjectives that a €200 bottle whiskey demands. This is one to put in the cabinet and impress the father-in-law with.
A Single-Pot Still Whiskey that owner of the World Whisky Awards 2017, 21 Years and Over title. Enough said.
In Conclusion
This list is not the definitive "10 Best Irish Whiskeys", they are just suggestions. I purposefully left out the obvious whiskeys such as Teelings and Jameson as they are pretty much a staple part of any whiskey drinkers diet (or at least the most common whiskey you'll find in a pub)
The list has something that will appeal to everyone. In general, the sweeter whiskeys are for people who are younger or don't enjoy the strong bite that the likes of Paddy Irish Whiskey can have.
Also, while price can be an indicator for quality, it doesn't necessarily mean you'll enjoy the taste. So always try it before you buy it.
Author bio:
Nick has always had a fascination with the outdoors. He enjoys the simplicity of being outside and the calmness that comes with it. You can check out his Twitter feed 
here.
Like This Article? Pin it!