Do you like the idea of a spa getaway but an entire weekend of relaxing sounds a little boring? Well then, Finn Lough Resort offers an incredible Surf and Spa Break Package that could be the answer.
Run by siblings Gillian and Michael Beare, Finn Lough Resort is situated on the water's edge of Lough Erne in County Fermanagh, Northern Ireland, which is only a two and three-hour drive from Belfast and Dublin respectively. Their new Surf and Spa break package has been designed for a weekend you won't forget and I was lucky enough to experience it first hand.
Shortly after our arrival at Finn Lough Resort, we discovered the package and the resort itself offers one unique experience after another. Here's what we loved the most…
Gin Tasting 
On our first day in Finn Lough we tried the gin tasting experience available in the resort. It was amazing. We had the opportunity to sample up to 20 different types of gin and homemade chocolate was provided to cleanse the palate after each tasting. Advice was provided by staff on the different combinations of gins and tonics and what garnishes worked best.
Learning all of this was very interesting and being able to discover which combinations and garnishes I liked the most was very enjoyable. Also worth noting, if you or your group are not gin-drinkers, a whiskey tasting experience is also available along with a selection of cigars. (Cost is £25pp – chocolate is included!)
Delicious Food & Drinks
The food was sensational for every sitting we had. The presentation, tastes and flavours were all top class and they were very generous with their portion sizes, always an added bonus! The menu is limited for dinner, but they offer a good selection of fish, meats and veggie options, which caters for all. In my opinion the less on the menu the better as choosing amongst the four mouth-watering options was tough enough! The dishes were all creative yet uncomplicated and tasteful and comforting at the same time.
I think the fact the resort grows its own produce is amazing and it ensures head chef Ryan McFarland and his team are provided with quality ingredients which they transform into delicious dishes.
I was also very impressed by the selection of beers, wines and spirits on offer and the staff were very helpful and knowledgeable, matching our drinks with the meals we'd chosen. A friend of mine who recently visited Finn Lough, received the same treatment, so it's great to see this very personal touch is given to all guests who visit.
*All food is included in the package and includes a forest barbecue, a breakfast hampers to your room, a lunch pack, a three-course dinner in the restaurant (Alcohol isn't included but wine pairing is an additional £16.50pp) and a pizza platter lunch on your last day.
Surfers Paradise
The location of the resort 30 minutes away from some of the best surfing spots in Ireland (and potentially Europe) is a huge bonus. The resort has partnered up with Bundoran Surf Co in Donegal. and I thoroughly enjoyed the whole surf experience. From pick-up to drop-off, it was super.
The instructors were very friendly and they gave clear instructions to help us stand up and catch some waves while making it fun and enjoyable.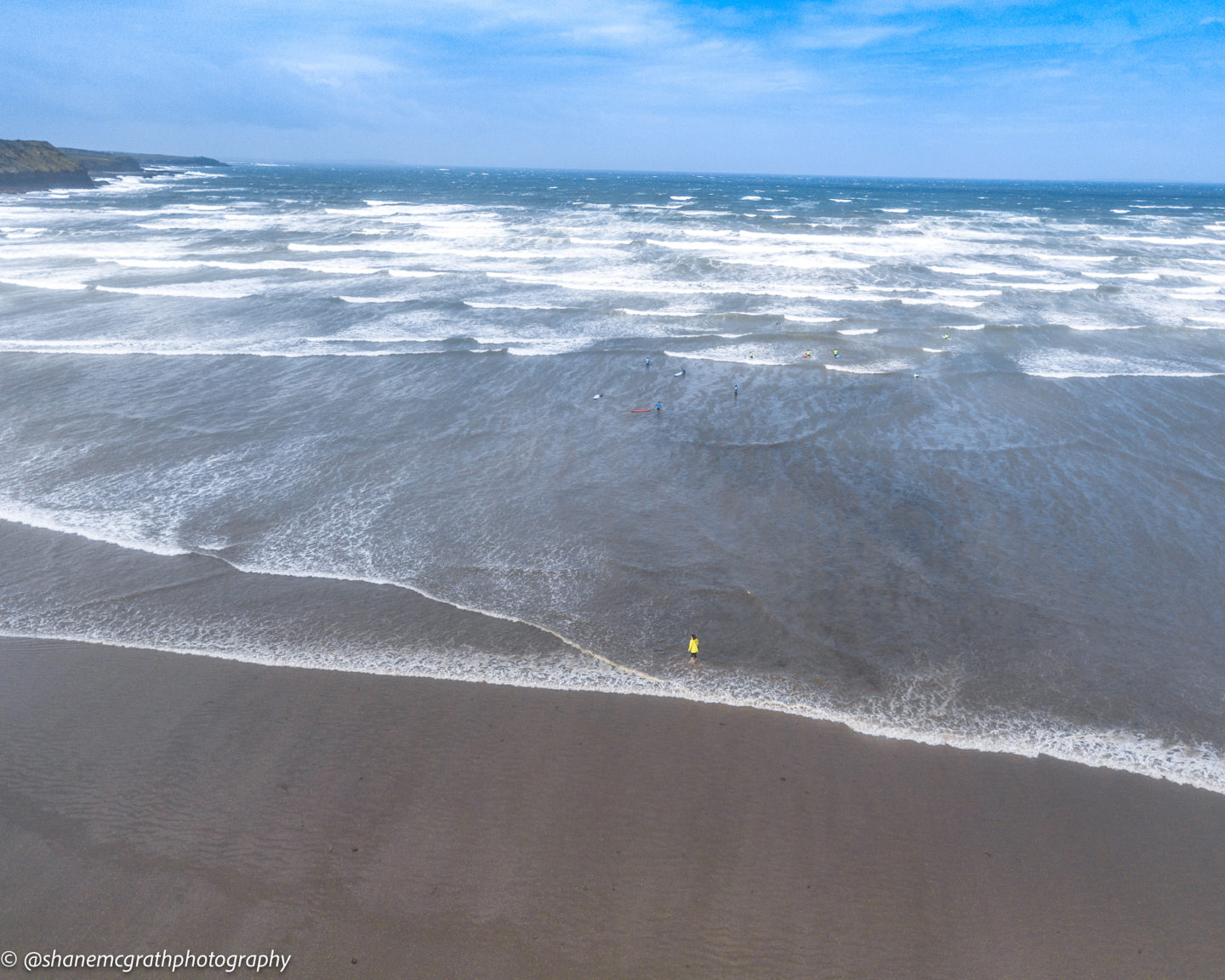 Spa time
The Element Trail Spa was truly unique. I've been to a lot of spas but this was an experience like no other. The whole trail is intended to last around two hours and includes a salt room with float pool, a lakeside Finnish sauna, an aromatherapy room, a hot tub with a view of the lake and a fireside relaxation room.
The setting of the trail is what makes it so special. It's situated amongst the trees right on the water's edge. I particularly liked the way a private and intimate setting is created as guests are staggered entering the trail by 30 minutes. I also loved being able to plunge into the lake after using the Finnish sauna and being able to relax in the hot tub, whilst overlooking the lake. As I sat in both, I really felt like I was somewhere else in the world other than Ireland.
Sundowners at the Lake 
One activity that I'd highly recommend is the sunset drinks by the lake. You get your own private fire-pit with blankets and you're able to toast marshmallows and make s'mores while watching the sun go down.
Kayaking (usually £25pp for 1.5hours, but included in the package)
I've been kayaking a lot in my life but I've never experienced pedal kayaks, which is what Finn Lough offers. Kayaking can be tough even if you've tried it before, so this is a great addition to give people of all experience levels a chance to enjoy the activity. It's incredibly easy to do and is suitable for all fitness levels. You can explore and navigate around the small islands situated in the lake and take in the beautiful scenery on offer.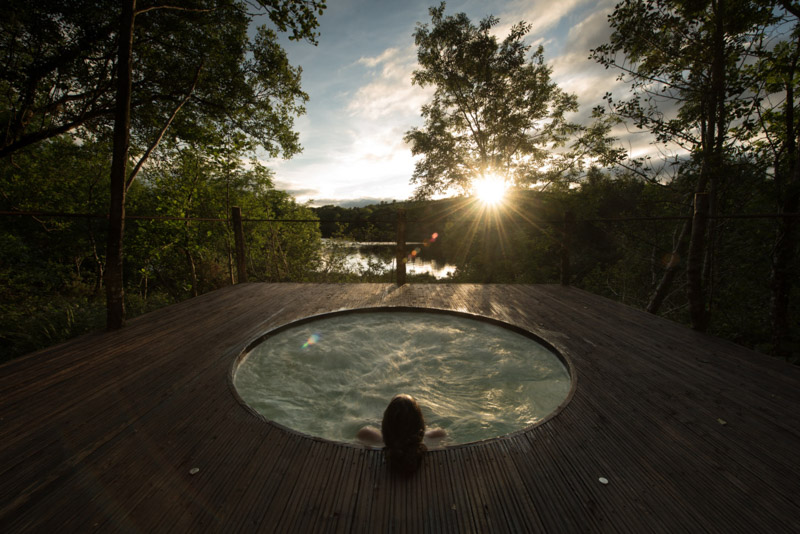 A Room With A View

Finn Lough offers multiple accommodation types to cater for all. They have lodges to rent, hotel suites and perhaps the most impressive, the Bubble Domes.
The Waterside or Lakeside Lodges are perfect for families and groups. You can enjoy sizeable two and three-bedroom lodges, complete with a fully equipped kitchen, lounge and Wi-Fi. They also offer open fires along with fantastic lake views from the private waterside garden and balcony. They can sleep up to 6 people.
The suites are perfect for couples looking for a more traditional boutique hotel stay. Located in the main building they offer king-size beds, roll-top baths, walk-in showers, TVs, Nespresso machines and WiFi.
The main attraction in the resort is, of course, the very impressive, bubble domes. There are a total of seven assembled around the woodland, with seven more currently under construction. Each dome is totally private and secluded with 180-degree transparent walls and roof, giving amazing views of the surrounding woodlands and nature.  It offers guests the opportunity to do something that is completely unique to Ireland and the UK.
A night in a bubble dome offers the experience of sleeping under the stars, but also in the comfort and luxury of a five-star hotel room.
The domes are open all year rain, hail or shine, so guests can always cuddle up in four-poster beds under a canopy of stars. The domes are quite spacious and include great amenities such as a Nespresso machine, comfy armchairs, fluffy robes and a telescope for stargazing. The larger domes have a second room with a roll-top bath too. As expected, the domes don't have wifi, so it allows you to truly disconnect from the noise of everyday life.
Amazing Staff
From the bar and kitchen staff who gave us advice on food dishes and drinks to the spa workers who ensured we experienced the spa trail properly, the staff at Finn Lough truly added to our stay. Gillian and her team were exceptional throughout and made sure we had a five-star experience.
I've stayed in some magnificent hotels around the world but staying in the Finn Lough Resort was one of the best resort experiences I've had the pleasure of enjoying and I would genuinely recommend this to everyone.
**The Surf & Spa Break Package starts from £255/pp. It includes collection to and from Finn Lough from the airport (Dublin Only), full board, surf sessions, spa, and kayak excursion.
Click here for more information about the Surf & Spa break package.
Since we're talking about lakes, why not have a look at some of Northern Ireland's best lakes!
Like This Article? Pin it!