It may be one of the smallest counties in Ireland but it packs a mighty punch. Up until a few years ago, I had only ever driven through Leitrim on my way to Donegal. Never stopping. After an adventurous weekend on the Shannon with some friends, I was keen to return and discover more of the unique things to do in Leitrim that so many of the locals had told me about.
It turns out this often overlooked county has far more to do that one might think. From beautiful walks, to outdoor adventure, exploring the many rivers and lakes, foraging in forests to enjoying high tea in a castle or soaking in an outdoor hot tub at a luxurious local guest house, Leitrim is a place you'll want to keep coming back to.
So much so that one American couple I met said they've been coming to Leitrim for almost 10 years, and they use it as a base to explore places like the Cliffs of Moher.
Considering the distance between the two, they must SERIOUSLY love Leitrim!!
Here are some of the amazing things to do in Leitrim that I loved the most, from the ordinary to the extraordinary. These are the reasons I loved Leitrim, and why you probably will too.
Unique Things To Do in Leitrim
Spend a night in an Irish castle
One of the most beautiful castle hotels in Ireland, Lough Rynn Castle in County Leitrim is also popular with Irish celebrities! Former Ireland Ruby Captain Brian O'Driscoll and Irish actress Amy Huberman even chose the castle for their wedding venue! For many visitors to Ireland, staying a night in an Irish castle is a real bucket list item and we can't think of a more beautiful setting than Lough Rynn.
Visit Glencar Waterfall
Glencar Waterfall is the most famous waterfall in Leitrim and a very popular place to go walking. The waterfall is located near the north shore of nearby Glencar Lough, a beautiful and inviting freshwater lake. The 50 ft high waterfalls was inspiration for W.B. Yeats poem, 'The Stolen Child'. The wooded walk to get to the waterfall is a fun experience in itself, and is a perfect Sunday morning outing for all the family.
Try out SUP with Leitrim Surf
One of my favourite things to do in Leitrim was trying out SUP (stand up paddle boarding) for the very first time with a local company called Leitrim Surf. It was surprisingly easy to balance and I couldn't believe we were able to paddle down the river wearing our clothes! not having to put on wetsuits was a serious win!! The paddle was magical and I loved listening to our guide Lee's stories about his adventures overseas and how he came to set up this wonderful adventure company. Whatever the weather, sign up for a SUP adventure with Lee! You won't regret it.
Night on the town in Carrick On Shannon
Ahhh Carrick On Shannon, a relatively small town in the middle of Ireland known for its wild nightlife. if you're looking for a lively night out, you've come to the right place. Whether it's a few cocktails in Dunne's Bar or dancing the night away in Murtagh's, there's no shortage of nightlife options in this popular Leitrim town. if you're more in the mood for some craft beers, my personal favourite is The Barrelstore, a bar that produces their own craft brews in the nearby town of Drumshanbo.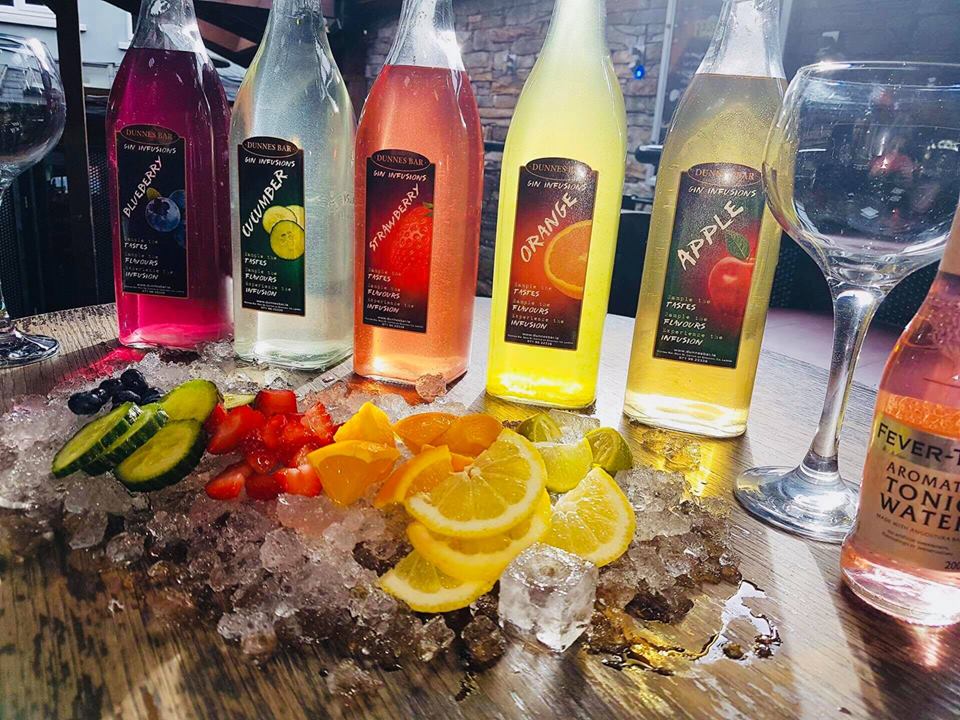 Enjoy award-winning cuisine at The Cottage
I've eaten at some amazing restaurants all over the world, but one of the most memorable meals I've ever had was at The Cottage in Jamestown, Leitrim. This multi-award winning Irish-Asian Fuzion restaurant is an experience in its own right, serving up no less than 5 course tasting menus of food that really does melt in your mouth. All ingredients are sourced locally and then prepared by Chef Sham, The Cottage's  Chef extraordinaire! Check out their menu or make a booking here.
Have an outdoor hot tub at The Old Rectory
Staying at The Old Rectory was an unforgettable experience. So much so that the minute I returned home, I kept telling everyone about this amazing guest house in Leitrim, and how everyone needed to book a mini-staycation there. We were served up Afternoon Tea in the most beautiful antique China on arrival, welcomed by owners Patrick and Julie. Julie gave my friend and I a quick tour of the property and there was no wiping the smiles off our faces once we spotted the size of their incredible outdoor hot tub.
Soaking in it while watching the mist come down over the local church in the near distance, and being greeted by the family horse who walked by to say hello, was one of those surreal moments where i had to remind myself that "Yes, I was still in Ireland. In lovely Leitrim. And NO, this was not a dream!" 
Stay in a "hobbit house" at Pink Apple Orchard
I think Leitrim is probably the only place in Ireland where you can live your best life and stay in a Lord of The Rings style "hobbit house". LOTR fans unite, and check into the quirky Pink Apple Orchard, where you can get back to nature and go glamping in the wild of Leitrim. If a hobbit house is not your style, you can choose from a yurt a teepee or even a unique Gypsy Wagon – your camping fantasy come true! There are loads of great facilities on site, including the opportunity to build your own pizza and cook it in their outdoor pizza over. What are you waiting for?!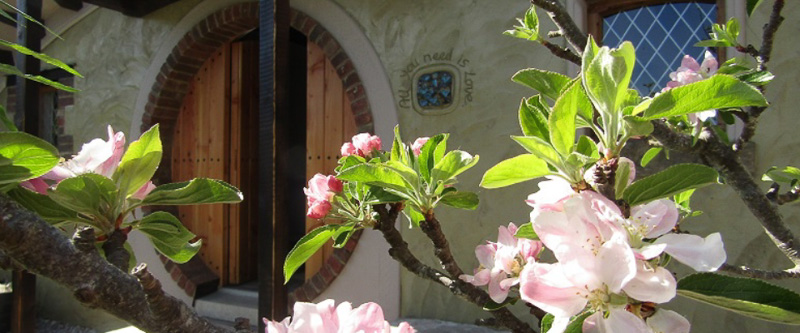 Eat dinner in an old cottage at Luna Restaurant
Another of Leitrim's foodie gems is Luna Restaurant in Dromahair. Located in a converted Irish cottage, this small but perfectly formed restaurant was by far one of my favourite places to eat. I love how open plan it is, and that you can easily peek into the kitchen to watch as they prepare your food. All ingredients are locally sourced, with firm favourites on the menu including lamb and duck confit.  Their pizzas are also some of the best you will taste and ordering dessert here is a must!
Take a boat trip down the Shannon
You can't go to an area of Ireland known as "The Lakelands" and not take a boat trip. Luckily for you, there's no shortage of cruise operators and be it a 3 hour trip or a week-long cruise where you drive your own boat, the options are endless. My friends and I just did a short afternoon trip from Carrick-On-Shannon but loved every moment of being out on the water. It was so still and peaceful and it was a lot of fun going through the various canal locks and learning how they work. A unique Irish experience and definitely one of the top things to do in Leitrim if you have the time.
Enjoy a Guinness on a cruise of Lough Gill
If you want a boat trip of a different kind, why not take a relaxing cruise on the Rose of Innisfree, a boat that takes tourists on a short tour of Lough Gill to admire the Lake Isle of Innisfree, the famed isle from one of W.B.Yeats most well-known poems of the same name. The boat also serves up tea, coffee and even pints of Guinness while the knowledgable captain talks you through what you're seeing, playing relaxing Irish tunes to put your mind at easy.
Explore tiny Fenagh's historic sites
Fenagh was a town I had never heard of before travelling to lovely Leitrim, but it one that I left knowing I would one day return to. Home to the incredible Old Rectory Guest House, which I mentioned above, there's also a historic (working) church and an even older (as in dating back to the 15th century!!) church remains that you can explore with the help of Patrick from The Old Rectory. He holds the magic key! If you're around at night, this beautiful site is lit up making it even more bewitching.
Take a short walk into the village, and drop into the picturesque (you'll take photos here, that I promise you!) Fenagh Visitor Centre to learn more about the history of this area and to see some ancient artefacts stored here.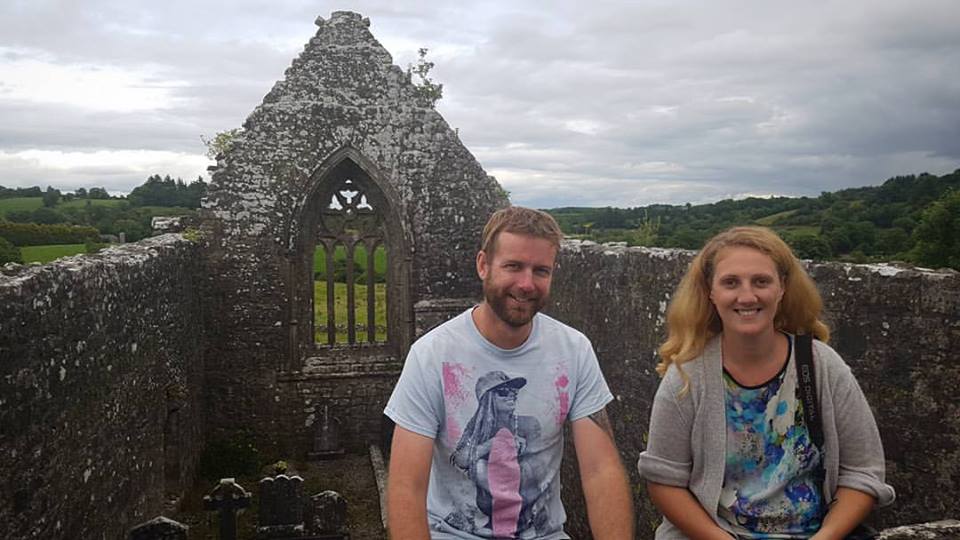 Experience Irish hospitality at Castle View B&B
Castleview B&B, located just outside if Dromahair and overlooking the majestic Parkes Castle, is a place you'll return to again and again. While the standards are high, the views unbeatable and the traditional breakfast they serve one of the best, it is the owner that makes staying here so memorable.
JJ is a man who truly cares about his local area and works tirelessly to promote Leitrim as a top tourism destination. You can feel the passion he has as he speaks about his B&B, Dromahair and even further afield. This is where i met the American couple who keep returning to Leitrim year after year, and after staying at CastleView, I now know why.
Down a pint in The Stanford Village Inn 
Stanford's pub in Dromahair has to be one of the most picturesque pubs in Leitrim. You simply can't drive past this gem of a bar without stopping to take a photo. The decor on the inside is even more eye-catching, but in a very different way. The walls are covered in old pub memorabilia, with the small door to the right leading into a tiny sub section of the bar where you'll no doubt pull up an old bar stool next to some local characters who will wear your ear off with some stories, folklore or not!
Have a spa day at Lough Allen Hotel
If you're looking to treat yourself to a spa day after a few days of exploring, I highly recommend a visit to the spa at the Lough Allen Hotel in Drumshanbo. The location of this hotel, right on the shores of Lough Allen, make it a unique destination and one where you won't find it difficult to feel relaxed. The Oshadi Spa includes an assortment of interesting treatments including Eye Treatments, Facials, Holistic Bodycare, and Seaweed wraps as well as traditional massages.
Taste some local gin at The Shed Distillery
If you only need one reason to visit Leitrim, this could be it! Situated on the end of a lake in rural Ireland, The Shed Distillery makes all types of tasty drinks from potato vodka to herbaceous gins hand-made Irish whiskey. While at the time of writing this is closed to visitors, I'm sure it will be reopened shortly and thus I'm including it on this list! For more info check their website here.
Go foraging with Leitrim Landscapes Guided Walks
I never IN MY LIFE thought i would spend a day foraging in the wilds of Leitrim. I definitely didn't think I would enjoy it as much as I would. And while the beautiful, lush landscapes, surrounding by rushing rivers and waterfalls helped cement the experience in my memory forever, it was my quirky guide Tina Pommer that made it unforgettable. What a woman, what a character. Tina is full of passion for Leitrim and for foraging and will get you hyped up about the experience within the first 10 minutes of walking through the forest. I made a video to better illustrate the day, it shows it better than my writing ever will.
Get Back To Nature – Leitrim, Ireland

I have SO much photos, videos and positive experiences to share with you all about lovely Leitrim. I'm going to start off with this short, sweet and hopefully fun, video about a foraging walk I did with Leitrim Landscapes Guided Walks.Massive thanks to Tina and her lovely dogs for making this so memorable and to Leitrim Tourism Network for organising.

Posted by Journalist On The Run on Wednesday, July 19, 2017
Enjoy afternoon treats at The teaSHED
Whether you're just passing through Leitrim or staying for a few days, a visit to the TeaSHED in Glencar is a must for tea lovers! Perfect if you'll planning a walk around Glencar lough or the nearby waterfall, this cute little tea room serves up hot soup, teas, coffees and of course some delicious baked goods and sweet treats.
Go canoeing with Way To Go Adventures
One of the best activities you can do in Leitrim is to spend a morning paddling down the Shannon-Erne Blueway in a Canadian canoe with Way To Go Adventures. While it might sound quite adventurous and the rain might try to put you off (or at least it tried its best to put me off), it's actually a surprisingly relaxing excursion. The pace will be determined by your guide, and how fast or slow you wish to paddle, but slow-paced is best as you can take in the picturesque lake and river side surroundings, as you pass under bridges, past churches, small villages, abandoned buildings and a whole lotta cows!
Explore the region on an electric bike
If you want to see as much of Leitrim as possible but don't have the energy to cycle everywhere, get your hands on an electric bike and make your life a million times easier! Electric Bikes are a great way to explore, and can give you that much-needed boost as you're struggling to make your way up an unbearably steep hill! Bikes can be rented from Carrick On Shannon or Leitrim Village, and they also have a fun cycle treasure hunt that you can follow. Find more info on the Electric Bike Trails site.
Get a history lesson at Parkes Castle
Parkes Castle is a true site to behold on the banks of Lough Gill. This stunning, recently renovated castle is a plantation castle that dates back to the 17th century.  The grounds also contain evidence of an earlier 16th century Tower House, owned by Sir Brian O'Rourke.  Parkes Castle has been very well-preserved you can easily spend an hour or two here walking around the castle, reading up on the history and enjoying the nearby surrounds. 
But some local produce at a Farmers Market
There are two notable farmers markets in Leitrim that we think are worth a visit, should you be in the region on market day! The Carrick On Shannon Farmers market takes place from 10am until 2pm every Thursday and you can find all sorts of delicious local fruit, vegetables, fish and even organic wine. There's also weekly market in both Ballinamore and Manorhamilton on Friday's, both of which are worth a visit!
Go Eco at Tawnylust Lodge
Last but certainly not least on my list of things to do in Leitrim, and reasons I love this wonderful country, is the chance to stay at an eco property called Tawnylust lodge. This eco-friendly self-catering accommodation is perfect for those looking to escape to nature while staying in Leitrim. A stay here can easily be combined with one of the foraging walks I talked about before, and is great spot for hill walkers or anyone just wanting to switch off for a few days. Owner Nuala is very eco conscious, and everything done here aims to have the least negative impact on the environment. More details here.
Like This Article? Pin it!