Fifteen Unmissable Things to do in Limerick
For me, coming back to Limerick is like the perfect cup of tea; warm, comforting and with a real sense of home. Limerick's size strikes the perfect balance between busy cities and quaint small towns. You can feel the buzzing nightlife or feel a million miles away with a walk along the Plassey River. No matter your budget there is always a place for you in Limerick. We simply couldn't name all of the sites to see and activities to do so we've compiled a list of our fifteen favourite things to do in Limerick!
1. The Milk Market
Every weekend, I haul myself out of bed bright and early to race all the other locals too the market before the good stuff's gone. On every Friday, Saturday, and Sunday Limerick's proudest market is packed with people looking to get the freshest fruit and veg, the most exotic street food, or some of the most mouth-watering desserts I've ever tasted.
Beginning in 1852 this market is showing no signs of slowing down and has expanded to include handmade jewellery, record stalls, vintage clothing and is even so lucky as to be surrounded by cute cafés, art galleries, and craft shops. Life truly spills out of the Milk Market. I never leave without sampling some creatively flavoured cheese at one of the dairy stalls. Chocolate cheese? Chilli cheese? Why not?
Once you've taken in all the delights of the market, grab a seat at one of the tables upstairs and watch the market go by with some delectable artisan coffee. People-watching the Milk Market from above has to be one of the most serene things to do in Limerick, I highly recommend it.
https://www.instagram.com/p/BecmflRF0Vb/?taken-by=thelimerickmagazine
2. The Treaty Stone
If Limerick's nickname of the Treaty City doesn't give you a clue to the importance of this attraction then I don't know what will! Sitting proud since 1691, the signing of the Treaty Stone marked the pivotal surrender of the city to William of Orange.
This was the end of the famous Siege of Limerick, and the Treaty of Limerick offered religious freedom to Catholics who had been loyal to King James II. The defeated army were given the option to leave Ireland to go to France, an option many of them took, and this event is known as the Flight of the WIld Geese. It also allowed land-owning Catholics to hold on to their land if they pledged their allegiance to the victorious King William.
Many of the Catholic landed gentry took this option, however the introduction of the Penal laws  a few years later introduced harsh laws governing land owning Catholics. This meant that the terms signed on top of the treaty stone were ignored.
3. Rugby in Thomond Park
If you ever feel like you're walking around a ghost town in Limerick, it's probably because there's a match on in Thomond Park. I'd highly advise following the town over to the stadium to watch the Munster match. You can check games and get tickets on Ticketmaster. If you manage to grab a ticket, you're going to be making a memory that you won't forget!
I'm not a rugby fan myself, yet I can't help but be swept away with the thickly charged atmosphere as the town roars for their favourite team. Fans and players alike are known for their passion with names like O'Connell, Foley, O'Mahony, O'Gara and Murray revered as Gods among men. 
The Munster crowd are vocal to say the least, have a look at this video of them singing the Fields of Athenry after a game in Thomand. They're not known as the Red Army for nothing. Even if there isn't a game on when you arrive, they have an amazing museum there so you can understand the importance of this ground to the people of Limerick.
4. St Mary's Cathedral
Founded in 1168, St Mary's Cathedral is celebrating its whopping 850th year this year and is said to have been built on a Viking Settlement. It survived invasions, the two sieges of Limerick, countless revolutions, the famine, and wars.
Tickets to visit the cathedral are only €5 (or €3.50 with a valid student ID) and your money could not be better spent. If you have an interest in classical music, you are certainly in luck. Every Wednesday at 1:15pm the cathedral fills with music played by local classical musicians. I'd urge everyone, no matter their level of music knowledge to indulge themselves to an afternoon of culture. This midday music session isn't really publicised that much, it's a real hidden gem and one of the best things to do in Limerick.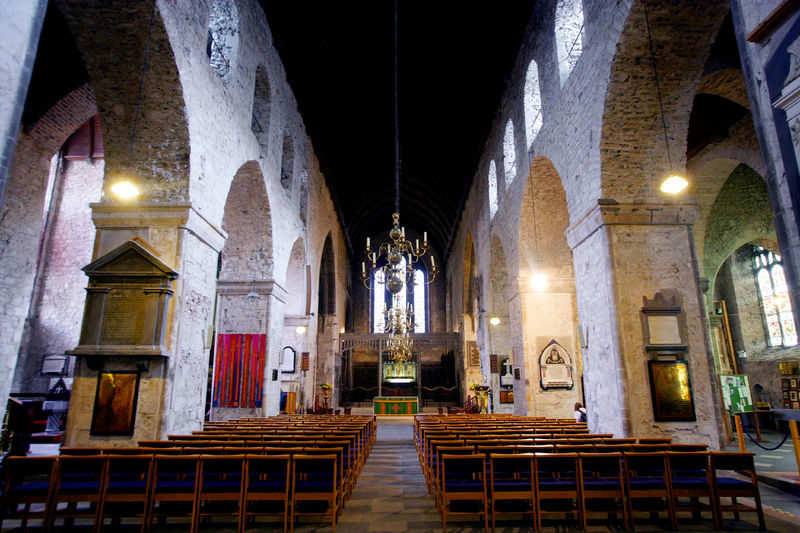 5. The Locke Bar
This bar couldn't be closer to the Abbey river if it tried. The Locke Bar offers plentiful outdoor seating and is bustling with customers in the summertime. If you venture indoors, you will find live traditional music and often dancing every night of the week. These completely free of charge sessions begin at 5pm then start up again at 9pm. 
This bar is a great way to see actual Irish trad in the setting it's supposed to be in. There are a lot of places that cater to tourists, and it's almost a caricature of Irish music and dancing, but The Locke Bar is the real deal. Not an experience you'll forget quickly.
6. Live music at Dolan's Pub
Any local will tell you that Dolan's pub, situated on the Dock Road is a hotspot for live music in Limerick. With acts no less than seven nights a week, all year round, you won't be disappointed no matter when you arrive.
If you are stopping by during the day, I'd suggest hanging around for a coffee or lunch. Portions are generous, and the price can't be beaten. I can never manage to drag myself away until I've had a slice of the lemon and pistachio cake, no matter how hard I try!
For a true Irish getaway, no matter where you're from, I must recommend attending a trad session in Dolan's. On seven nights a week from 9pm and absolutely free, these music sessions are lively, inclusive, and full of incredibly talented musicians!
If you stay later, you're sure to find a performance of some of music's best, be they the big names or the smaller ones. A trip to Limerick simply wouldn't be complete without a stop by the award winning Dolan's Pub.
No doubt that if Dolan's was in Dublin rather than Limerick, it would've been on our list for the Best Music Venues in Dublin, but I think Limerick will be holding on to this gem!
7. City Water Tour with GetWest Adventures
If run of the mill walking tours aren't really your thing, why not try something different? GetWest adventures offer tours of the city, by kayak! Trips are about two hours long and are suitable for ages 12 and up.
If you're looking for something really special, I'd recommend trying an evening of night kayaking. There's simply nothing so romantic as an evening on the water, watching the stars bounce off the river, with your loved one.
8. University of Limerick Campus Exploration
University of Limerick (UL) is located just a ten minute drive from the city centre and is a beautiful place to spend a day walking around and exploring. It is also completely pet friendly and you'll see locals walking their dogs though the huge campus.
The university stretches to cover a campus of an enormous 366 acres and is dotted with beautiful river banks, cycle trails, and forestry. I've been coming to UL on walks for years and still have so much left to explore. They even have a section of the Great Limerick Run that goes over the bridge on Campus!
One piece of advice I would give to visitors is to remember that UL have implemented a complete ban on smoking on campus. This certainly shouldn't deter you from visiting the university however as a day out there is always a pleasure! 
9. The Curragower Bar
Just across Thomond Bridge, the Curragower Bar is the perfect setting to eat delicious food while watching the sun set on King John's magnificent castle. The Curragower were made locally famous for their seafood and every time I visit I opt for a big bowl of fresh chowder. Filling and creamy, the chowder is a fantastic alternative to many of their more expensive dishes, I just can't seem to order anything else!
10. King John's Castle
After your lunch at the Curragower, why not hop on over Thomond Bridge to see what you might find at King John's Castle? In 2013, this 13th century castle was brought back to life after a gigantic renovation. Despite all this magnificent castle has to offer, King John himself never set foot in it as he died before it was completed. 
Old and new are brought together in King John's interactive experience which features computer animations, touch screen quality and much more without ever sacrificing any of the integrity of the medieval castle.  If you've little ones with you boredom certainly won't come into the equation, especially if you ask for a copy of the scavenger hunt at reception!
Every now and again, music fills the air of King John's Castle with appearances from some of the best Irish acts such as BellX1, the Coronas and Walking on Cars. Where but Limerick could you attend a concert right in the heart of a castle? You'll feel like royalty here for sure.
11. Adare Manor and Golf Resort
A short 20-minute drive will take you into the heart of Adare, a quaint village who pride themselves on their Tidy Towns awards and picturesque scenery. Walking the grounds of Adare Manor, I cannot help feeling that I've been placed in the middle of an episode of Downton Abbey, they even have falconry!
If you are looking to indulge in utter luxury, Adare is home to the world-renowned five-star hotel, Adare Manor. For those of you looking to be spoiled, why not book Afternoon Tea in the manor, it never fails to be exquisite. I should warn however that the waiting list to get into this exclusive daily occasion can stretch to as long as two years, so make sure to call in advance.
Adare also boasts one of Europe's finest golf courses which attracts celebrities from all over the world every year. Even if you are travelling on a budget, however, walking the grounds is well worth your while. The village itself is spilling with shops that sell everything from handmade lace to Celtic jewellery, ceramics, skincare, and antiques.
Top Tip: If you are looking to go to Afternoon Tea but the waiting list is too long, try calling a few days before you arrive and checking for cancellations, you never know if you might be in luck!
12. Local Theatre at The Belltable and The Lime Tree
The Belltable, located right in the city centre, boasts being Ireland's first regional arts centre. Hosting 221 seats, a performance at the here is always intimate, professional, and flocked with local theatre enthusiasts. 
The Belltable also shows movies, but you won't see standard Hollywood Blockbusters here. Every Monday evening at 8pm the Belltable hosts The Irish Film Institute to show offbeat and unique artistic films.
For a bigger theatre experience, the Lime Tree Theatre is the place to go. The 510 seat theatre in Mary Immaculate College boasts of all kinds of performances, including award-winning plays, music, and comedies. If mobility is an issue, I would definitely recommend visiting the Lime Tree over the Belltable. Disability parking spots, and specially reserved front row wheelchair spaces are all available here.
13. Curraghchase Forest Park
Just twenty minutes outside the city centre lies one of Ireland's greatest, least talked about treasures. Curraghchase Forest Park is home to over 313 hectares of mixed woodland ad 8km of purpose marked way hiking trails. The tranquility of the great park, added to by the shell of the 18th century manor Curraghchase House, never fails to bring me peace.
If you really want to get into nature, you can stay at the Curraghchase Caravan and Campsite right in the heart of the forest! Even in the peak season of July and August, you'll only pay €10 per night! You'll need to bring your own tent though!
14. The Eva Art Exhibition Trail
The international contemporary art exhibition, Eva, is Ireland's only biennial art exhibition, and makes its home in Limerick every two years. Partially taking place in a closed down toffee factory, the spacious and evocative location couldn't be better situated, it is also scattered around the city. 
Why not follow the exhibition around the city? You can see the rest of the exhibition in the Limerick City Gallery of Art and the Hunt Museum,. My favourite part of the exhibition is Rita Duffy's chilling and insightful work on the Troubles in Northern Ireland, which was in the Limerick City Gallery.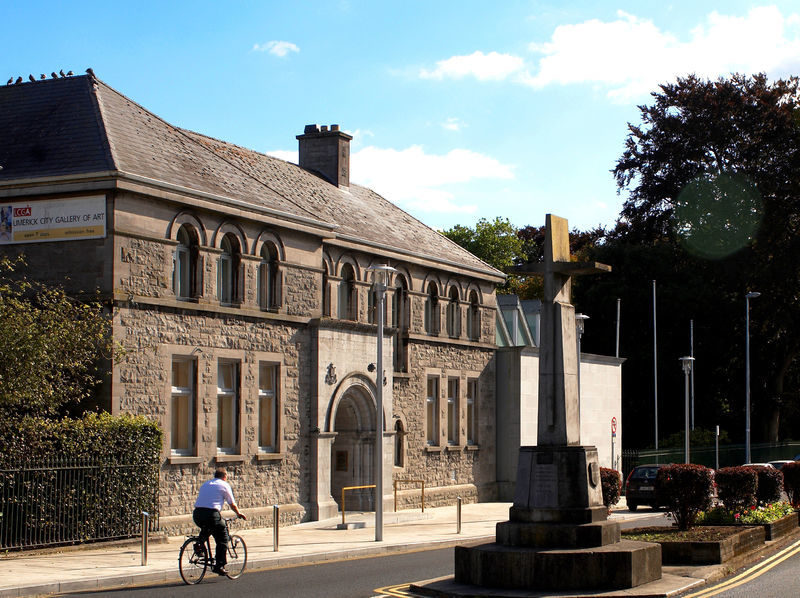 15. Riverside Dinner at The French Table
The river Shannon, Ireland's longest river, flows right through Limerick's city centre, offering fantastic opportunities for the city's rowing clubs and all other kinds of water sports. When dusk begins to fall on the city, the glow of the setting sun on the river is truly magical.
You're spoiled for choice for riverside dining with restaurants, but you can't go wrong with The French Table. As the name suggests, they serve French cuisine and they really know how to do it. Their evening menu starts at 6 pm and costs just €30 per person for a three-course meal. Their 7-hour shoulder of lamb is a dish that you'll be thinking about for a while after! 
The list really could go on as there are so much to do in Limerick.  Unfortunately though, we have to wrap it up here. Limerick is a city truly bursting with life, and any visit promises to not be a boring one!
Limerick is only an hour and a half from Cork City. Once you've taken in what Limerick has to offer, why not keep going south and explore what the Rebel County has to offer!
Written by Your Irish Adventure Contributor Sinéad Barry.
Like This Article? Pin it!